A Simple Guide to Getting More Online Reviews for Your Business
Great online reviews are gold. According to a recent survey by BrightLocal, 86% of consumers read local business reviews.  Not only that, but quantity matters. Potential customers will read 10 reviews on average before concluding that a business can be trusted to provide good service or products.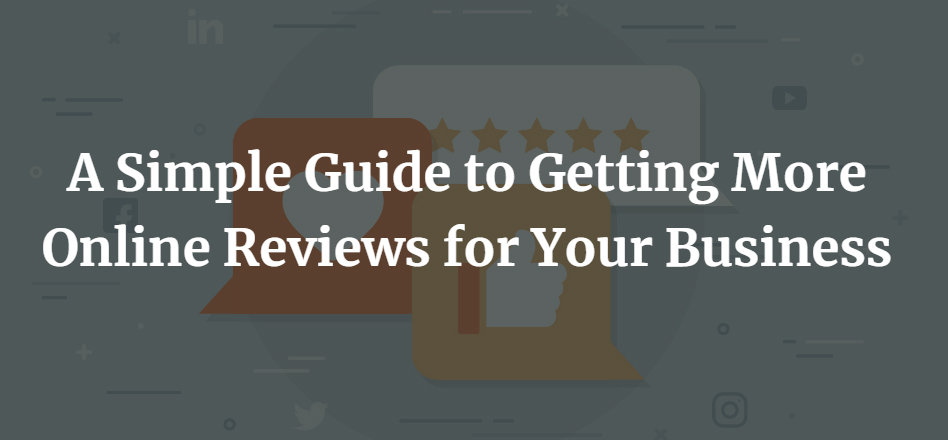 It's crystal clear: it's time to beef up your online reviews.  You don't have to just sit back and wait for them to come, however. There are several active approaches you can take to start increasing your numbers right away.
Get Registered: Have you set up a business page on Yelp, Google MyBusiness, and Facebook for starters?  If not, you better get on it! Even your most loyal customers won't be able to spread the word about you if they can't leave a review anywhere!
Be Responsive: Do be as active as you can on these review sites. Respond to as many comments as possible as promptly as you can, whether they are negative or positive.  Always be courteous, polite, and friendly. Apologize when you've made a mistake and say thank you when you receive a compliment. Show consumers that you care about their experience. It's really that simple!
Remember that even negative reviews have a silver lining. If customers are commenting on areas where your business is weak, consider this information as a gift.  Use it to amend the issue and make your business better than ever.
Don't Forget to Ask: One excellent way to get more online reviews is to send an email to customers after they've visited you or purchased an offering from your business.  Ask them to review your products, services, or customer service (or anything else you'd like) on specific review sites.  One important tip: remember to make it as easy as possible for them to do so. The more seamless and simple the review process is, the more likely they will complete the task.
If your business is brick and mortar, feel free to ask for reviews in person (within reason, of course). In addition, many businesses will offer coupons or discount codes as a reward for leaving reviews.  You may find that this is a great option for you. 
Nearly everyone is reading online reviews these days.  Make sure you are taking advantage of opportunities to increase your visibility and credibility through this budget-friendly business-building tool. 
Another great way to strengthen many businesses is by adopting a Managed Payment Facilitator. In fact, it's a great option for those who are unable to invest the time and money required by a standard payment facilitation system.  Interested? Learn more with Agile Payments.