Ways to Make Most of Your Christmas Email Campaign
Christmas & holiday period is one of the most profitable times of the year for almost all businesses and adding enticing emails to the holiday marketing campaign is a must to grab the attention of more customers towards your products or services. In simple words, if a business doesn't get holiday marketing right for the holiday and Christmas season, then the business should be ready for losing lots of valuable customers for its competitors. Right after Black Friday and Cyber Monday, holidays are a great option for brands and businesses to offer enticing deals to lure customers to stick around the business for flowing revenues throughout the year.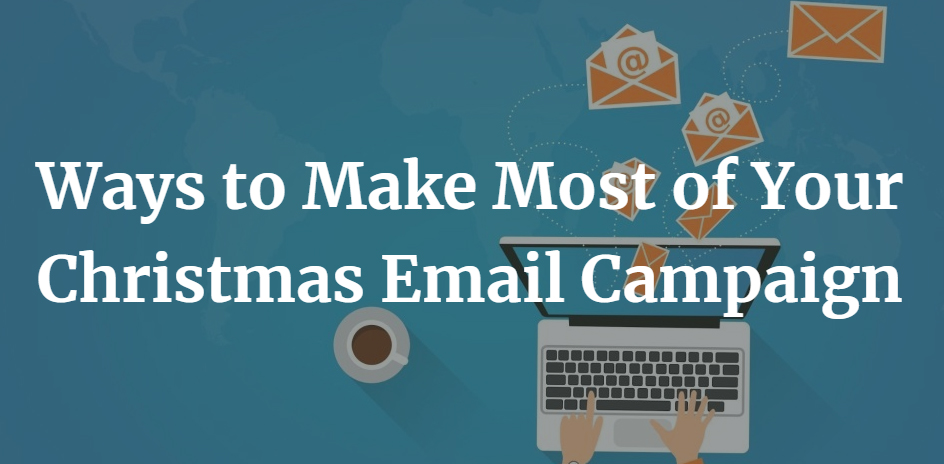 If you are planning on sending cheerful emails to your customers, take a glance at the following ways to make most of your Christmas email campaign to boost your holiday sales incredibly.
Review your Last year's email campaigns
Go back to the emails you sent last year in order to give your marketing team a good idea of where they should start sending Christmas emails this year. Consider the things like what techniques produced the best email open and clickthrough rates, what products and services were popular among customers and what CTAs made the buying process easier for customers etc. Go through the details briefly and use these learnings to make better decisions for this Christmas season.
Spy your Competitors
Having a look at what your competitors are doing this year for enticing their customers is a superb idea to get inspiration. Visit their websites, sign up to their lists and see what other offers are running in your industry. Dive into the details deeply and compare their Christmas email approach to your own to check for the things you have missed in your campaign.
Check for the Subject Lines
No doubt holidays are a festive season for customers but it could be competitive enough for the marketers. That is the reason, be sure to pick subject lines for your emails that stand out from the crown of offers and deals in the subscribers' inbox. The subject line is one of the vital aspects to make or break an email marketing campaign. So, make your subject lines unique, alluring and intriguing enough to get your messages open.
Design your Christmas Emails Creatively
Once you got the attention of subscribers via an enticing subject line, now its time to make your email message tempting and informative. Use of Free Christmas Templates could be a great idea to make your emails look fantastic and attention-grabbing. You can find lots of ready to use and easily editable templates and samples over the web to make your Christmas emails stand out.
Hone Your Message
In order to ensure your emails will successfully grab the attention of customers, keep your message simple, to the point and most importantly convincing. Focus on one major product or service in each of your emails to help users go through the process conveniently. Include clear and eye-popping offers to catch more customers and don't make your audience think too much.
Start Early
Experts always recommend business owners and marketers to start Christmas email campaigns early. November 1st to 15th is considered the best time to get started as it is the time when people are working on their holiday budget and they can consider your offer if it sounds awesome to them. If there is a long internal process involved, then you should be starting a Christmas email marketing campaign a couple of months ago to get desired outcomes. If you need to start email marketing for Christmas season from zero (by building an email list) you will need to start building your email list early too. A business or brand should start building an email list right after the launch of the business as it helps build a list of the qualified audience that converts easily.
Be Sure to Optimize Your Emails for Mobile
In this era of advanced mobile technology, you should tailor your emails to target your audience whenever and wherever they are. The festive time of holidays is always busy and people possibly are on move. That is the reason, optimize each and every email message for mobile devices so your subscribers can easily view and understand your offer even while on the go. According to a survey, more than 75% of emails are opened on mobile devices. So, make sure your emails can properly be viewed on different mobile devices if you really want to boost your holiday sales.