MilesWeb: An Ultimate Choice for Hosting Your WordPress Websites
WordPress has not only limited itself to blogging but also it has spread its wings across the development of websites. Nearly all websites these days are built in WordPress.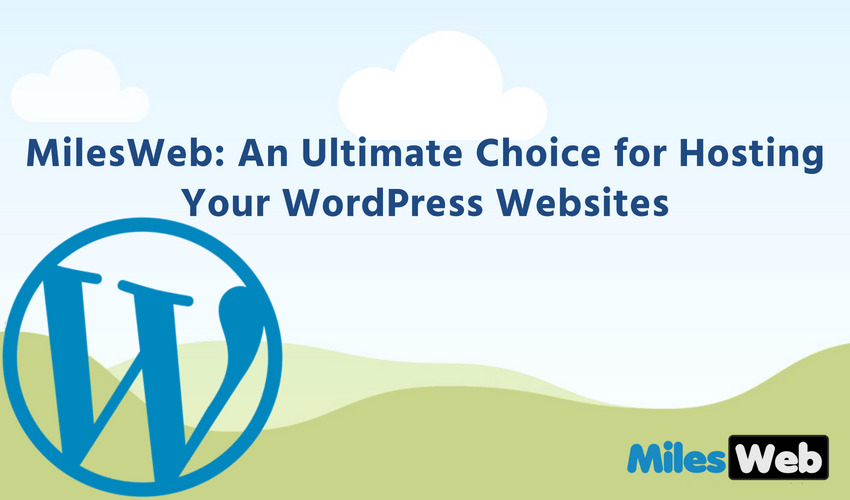 If you are planning to build your first website in WordPress or you are a skilled developer you have to go through the process of choosing the best web hosting provider for your WordPress site.  Choosing a reliable WordPress hosting provider is an important asset for your website.  Because there are many factors that will affect your website such as performance, speed, search engine rankings and more.
You will need a cheap web hosting provider that is reliable and serves better performance for your website. A web hosting provider which is completely managed provides guaranteed uptime, and all-time technical assistance that is required.
MilesWeb being the leading web hosting provider for WordPress meets the complete demand of your hosting needs. Their WordPress hosting plans are inexpensive and are fully managed. In short, their technical experts will take a complete care of server management tasks.
Sponsorship and Partnership:
MilesWeb is the first one to become partners of Jetpack in India. The WordPress hosting plans of MilesWeb includes Jetpack Free, Premium and Professional features. All these features are in-built with their hosting package and you don't need to pay any additional charges.
Not only this, MilesWeb is also one of the promoters of WordCamp India. They are the silver sponsors and attend every event held by WordCamp.
MilesWeb WordPress Plans and Pricing
MilesWeb WordPress hosting plans are appropriate for almost everyone who has a WordPress site. Right from bloggers to developers, they have individual plans for all.
The plans of MilesWeb that have Jetpack Premium and Professional features are Jack, Queen and King. However, if you don't require much of the Jetpack features and want only the basic free features of Jetpack then you can opt-in for any of the plans from-Ace, Heart, Spade or Diamond.
Their Ace plan of WordPress is just at Rs. 69/mo. In which you get 1 GB of disk space, free SSL and free Jetpack features. While Heart plan gives you 5GB storage and 10 email accounts with free SSL.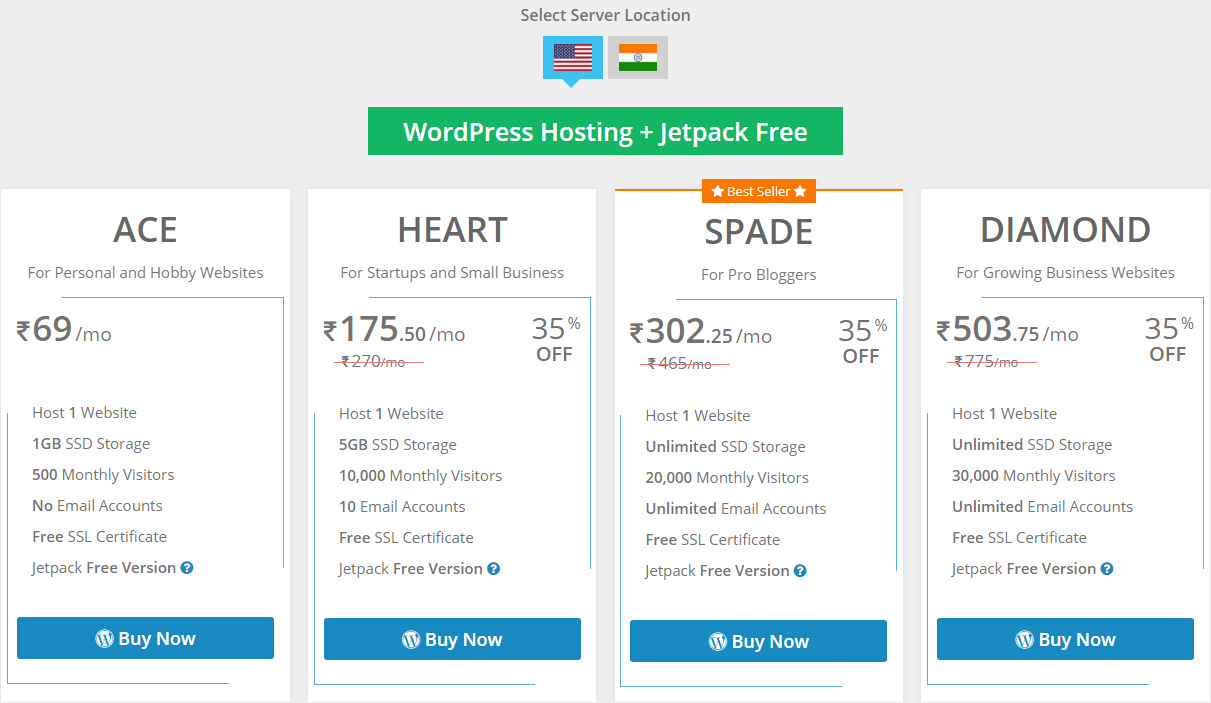 The Spade and Diamond plans have unlimited disk space and unlimited email accounts with free SSL and Jetpack free version. The major difference between both of these plans is that Spade supports 20,000 monthly visitors and Diamond supports 30,000 monthly visitors on your website.
At the moment MilesWeb is awarding a discount of 35% on all of these plans. The plans including actual price and after discount price is mentioned below:
| | | |
| --- | --- | --- |
| Plan name | Price | Price after discount |
| Heart | Rs.270/mo | Rs.175/mo |
| Spade | Rs.465/mo | Rs.302/mo |
| Diamond | Rs.775/mo | Rs.503/mo |
As mentioned earlier, Jack Queen and King Plans of MilesWeb has Premium and Professional features of Jetpack.
With the Jack Plan, you get 5 GB of disk space, 10 email accounts, free SSL and Jetpack premium features, at the price Rs.585/mo. The Queen plan gives unlimited disk space and unlimited email accounts, including Jetpack Premium features – all this just at Rs.780/mo. The King plan has all the Jetpack Professional features with all other features that the Queen plan includes.
With the ongoing discount of 35% on these plans, the total prices of these plans are Jack-Rs.380/mo. Queen-Rs.507/mo, King-Rs.971/mo.
Please note- MilesWeb has different prices for different server locations (India and US, for their WordPress hosting plans.)
Top 10 Reasons to Choose MilesWeb for Your WordPress Hosting
Jetpack Features
Fully Managed WordPress
Automatic Updates
Preconfigured WordPress
Daily Backups
Guaranteed Uptime
Performance
Free Migration
Money Back Guarantee
Support:24/7
1. Jetpack Features
All the plans of MilesWeb WordPress hosting are integrated with Jetpack Premium, Professional and Free features. Jetpack is a powerful toolkit created by 'Automattic' (parent company behind WordPress.com).
You get countless useful features with Jetpack like auto social-sharing plugin, spam filtering, auto updates, malware scanning and so on. This plugin is mainly created to help you fully customize your website from beginning to end.
2. Fully Managed WordPress
The complete server management tasks are taken care by the MilesWeb team. This includes monitoring, updating, backups, upgrading PHP versions, server optimization, etc.
3. Automatic Updates
MilesWeb backend software will automatically update your WordPress platform. This saves you a lot of time, as you don't have to manually search, download and install updates. Now, you can be least worried about your WordPress software lacking behind.
4. Preconfigured WordPress
You will be provided with the access to your platform that has pre-installed WordPress software for your website. You can simply get started to launch your site right after you purchase a plan from MilesWeb.
5. Daily Backups
The backup of your website is taken every 24 hours and you can restore it anytime you want. Just with a few clicks, you can easily restore the backup from MilesWeb cloud.
6. Guaranteed Uptime
The Tier-3 and Tier-4 datacenters of MilesWeb allow them to provide you with the maximum uptime for your websites. The guaranteed uptime assured by MilesWeb is 99.95%.
7. Performance
MilesWeb servers are incorporated with server level caching, SSD servers, Brotli Compression, Cloudflare Railgun etc.
Besides this, their server is set up on Intel Xeon Processors with Dual Octa & Dual Deca with Raid10 hardware and 64 GB RAM
8. Free Migration
MilesWeb expert team for website migration will take care of moving your website from the old hosting server to MilesWeb. They completely deploy your website with ease and utmost care.
9. Money Back Guarantee
If due to any reason, you feel that MilesWeb did not meet up your level of expectations, and you need your refund, then this is possible. MilesWeb gives you the ability to claim for your refund within first 30 days of service purchase.
10. Support: 24/7
The support team of MilesWeb is available for resolving your queries round the clock; they work 24/7/365 so that you can work with peace of mind. They are easy to reach via phone, email or live chat support.
Final Verdict
MilesWeb has a wide range of WordPress hosting plans for all your needs. They offer fully managed, reliable and affordable WordPress hosting in India. Besides all this, MilesWeb is the official partner of Jetpack and provides complete features of the Jetpack plugin.