5 Website Builders to Create a Business Site
What does your business need to become successful and profitable? The answers to this question may be quite versatile, but there is still a must-have element a contemporary business cannot go without. This is a website, which can help you reach several goals at a time. A business website provides the most important company info users are interested in. It also boosts customer trust and attracts more clients. To reach these objectives, however, a website should be professional and visually appealing.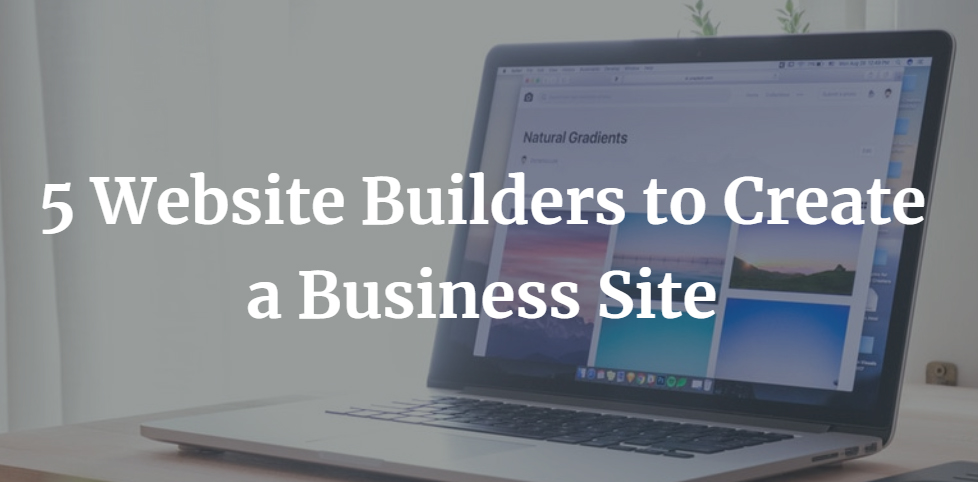 This is where website builders will come in handy to users, who are not proficient in web design or just lack time to launch projects on their own. Website builders are easy-to-use and intuitive in their nature. They are full-featured and come with ready-made industry-specific templates. Let's have a look at some of the most popular website builders, which can help you design a professional business website.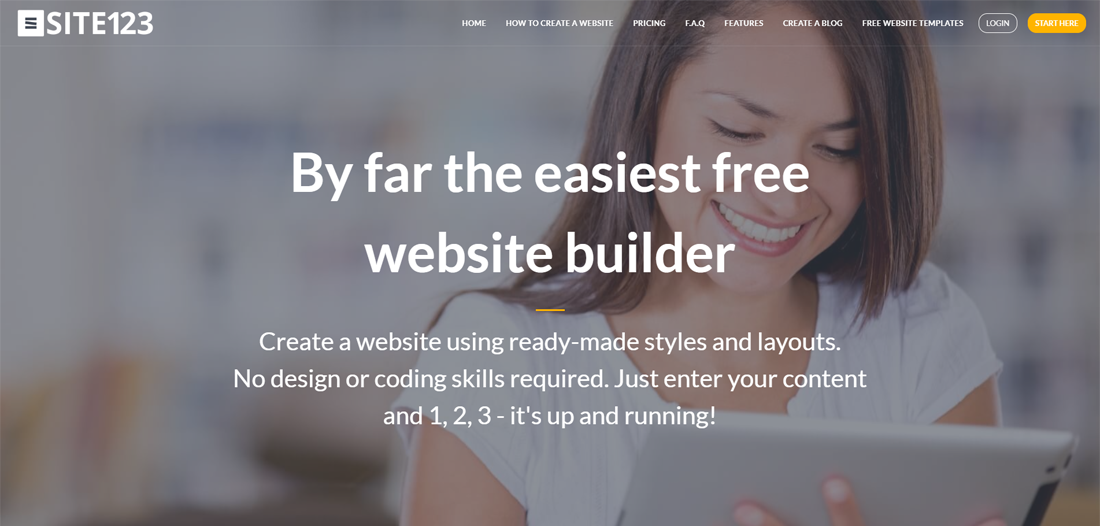 SITE123 is a WYSIWYG website builder we can rightfully call a universal web building solution. The service is simple and convenient for newbies and web design pros. It has much to offer both categories of users. The feature set of the platform allows building different types of projects with it. Business and promo websites are not an exclusion. With SITE123, creation of these websites will take you a couple of hours only,  while the result will certainly impress you.
Among the features that make the website builder stand out from the crowd, the following ones should be the first to mention:
Quick and Simple Web Building Process

– just sign up for an account to be redirected to the dashboard and start building your project.

Responsive Industry-Specific Templates

– the system offers hundreds of free templates, which are responsive in nature and can be accessed from any mobile and desktop device.

Multilingual Tool

– SITE123 comes with an advanced multilingual tool (more than 80 languages to translate your website), which makes it possible to launch several language versions of your website based on the business needs and the target audience.

Versatile Design Editing Options

– to customize your website design, you will be able to add and manage website pages, use social media integration options, widgets, edit website elements, set up domains, adjust SEO parameters, select add ons, fonts, layout, background etc.
SITE123 is a decent web building solution, which works great for the completion of multiple web design tasks. The website builder encompasses ease-of-use, excellent performance and convenience. It allows building business websites that differ in their complexity and functionality. What's important, both newbies and web design experts will encounter the required features based on their skills, amount of time they are ready to invest into project and budget. Availability of the multilingual tool is one of the highlights of the system. It enhances its performance and contributes to traffic generation. SITE123 is undoubtedly worth the attention, if you intend to develop a full-featured business website.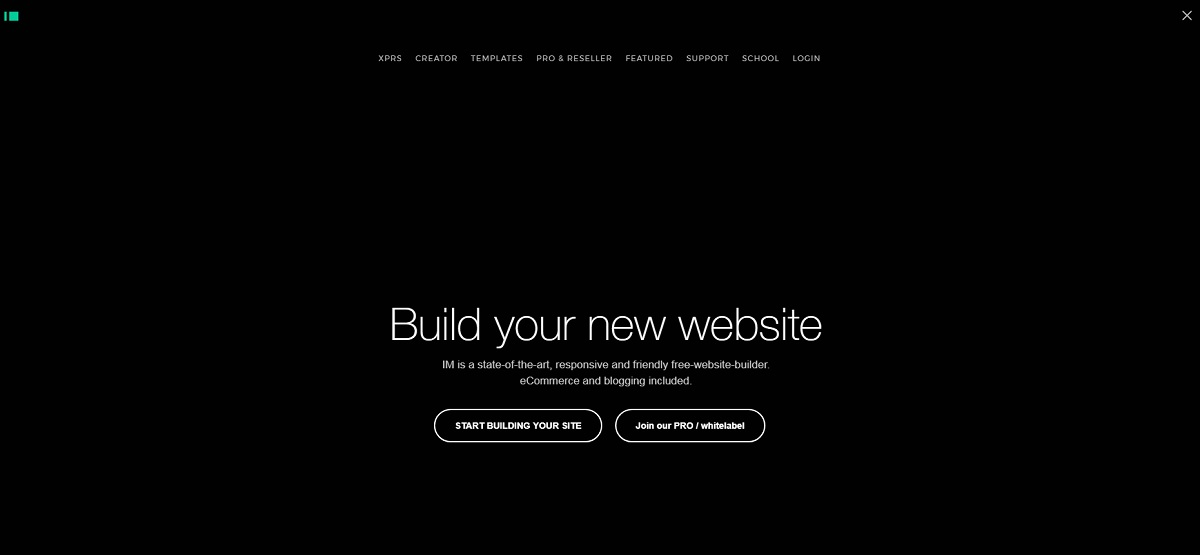 IM Creator is a professional cloud website builder, which works well for the development of business websites and creative projects. The service initially focuses on the needs of entrepreneurs, allowing them to build small-to-large business websites as well as powerful eCommerce projects. Non-techies and webmasters can equally use it to design simple and complex websites.
The website builder is known for its reasonable pricing policy, powerful feature set and design customization tools that contribute to the efficacy of the web building process. Listed below are the major features of the website builder:
Polydoms Technology

– the service uses an outstanding Polydoms Technology, which allows creating website structure out of ready-made content blocks called Stripes

Blogging and eCommerce Opportunities

– with IM Creator, you can design interesting and full-featured online stores and blogs, choosing between niche templates to grow your web-based business

Mobile-Ready Websites

– the service grants access to a rich gallery of responsive templates, which automatically make a website available on all mobile devices

Top of the Line Web Design Tools

– to build a website with the system, you can make use of professional design customization tools like the choice of icons and fonts, layout development, animation options, video integration, social media options, image settings and more

White Label

 – the website builder can boast an advanced White Label tool business owners can make use of, if they have an intention to use the service advantages without looking for other alternatives
All in all, IM Creator is a nice solution for everyone, who values time and effort above all. You won't need coding skills to design a quality website with the system. The website builder is free for non-profit organizations and creatives willing to showcase their projects on the web. It also has a stunning White Label solution for entrepreneurs, web studios and hosting companies, which allows bringing your business reputation to the top notch level.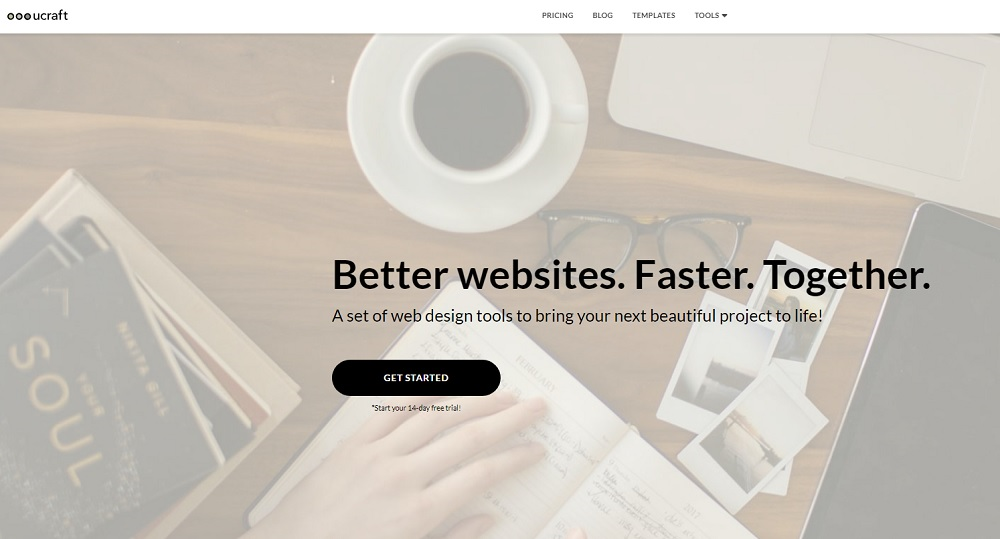 Ucraft is a contemporary drag-and-drop website builder, which appeals to lots of users due to its advanced web design tools, affordable pricing policy and universal nature. If you need a quality business website or a landing page to drive customer attention, Ucraft will cope with this task on the top notch level. The platform is understandable to non-tech savvy users and it is also functional enough to come up to the needs of professionals.
Ucraft can boost a broad spectrum of features that will make your business website stand out from the crowd. These include:
Rich Selection of Themes

– the website builder comes with a rich choice of responsive niche themes you can change on the go any time

Code Injection

– professional web developers can enhance the design of their projects by integrating codes for better performance

Multilingual App

– the application allows building different language versions of your business website

Landing Page Creator

– you can easily set up and manage landing pages to present your business to the advantage

Logo Maker

– the tool makes it possible to design and edit your business logo that will present your company at the website

Designer Tools

– Ucraft has a set of Designer Tools, which comprises UIKit, Layout and Typography and can be effectively used to design unique website style

White Label Solution

– the tool will be of great help to business owners willing to start and manage their own website builder business

Integration with Third-Party Services

– the system lets you integrate with certain third-party services to enhance website performance
Ucraft is a popular website builder, which has built strong reputation with users, whose aim is to establish reliable business web presence. The service is full packed with features that can enhance both the design and functionality of your business website. It is affordable, convenient and simple for users with various web design skills.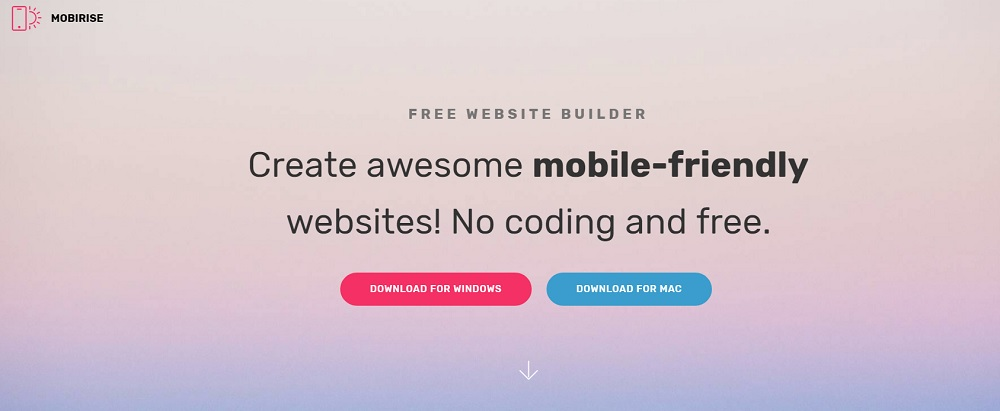 Mobirise is the offline software that requires download and installation. Convenience, intuitive dashboard and strong focus on simplicity make the website builder a worthy choice for everyone. You can effectively use Mobirise to build business websites and landing pages, but it is also possible to choose the system, if you intend to launch a promo site or a portfolio.
Are you interested to find out what exactly Mobirise has to offer you? Then take your time to review the feature list it provides:
AMP Website Builder

– the system makes it possible to launch websites, which are ideally optimized for mobile viewing and ensure quick loading of website pages

Block-Based Structure

– websites built with the website builder are block-based and each block comes with specific content you can replace with your own business info, when needed (it is currently possible to choose between over 800 content blocks)

Mobile-Friendliness

– the system allows building mobile-friendly websites, which perfectly adapt to the screens of desktop computers and mobile devices

"Out-Of-the-Box" Customization Tools

– the website builder offers extensive "out-of-the-box" functionality, which comprises  design editing tools, media integration options, font and style settings adjustment etc.

GitHub Pages Hosting

– you can host your ready-made website with GitHub Pages at no cost at all
Mobirise is the website building software created for Mac and Windows. You have to download and install the program, if you plan to use it for web building purposes. The website builder is free for non-commercial and commercial application, yet it implies the necessity to buy hosting, domain name and extra extensions. Mobirise is a top notch tool for users, who aim at saving their time and money, but expect to get a professional business website that will comply with their needs.
When it comes to selecting a decent business website builder, uKit is one of the first services that come to mind. The system is centered around the needs of users, whose web design expertise leaves much to be desired. It is so easy-to-use that everyone will be able to design an impressive website with it in less than no time.
The website builder comes with a feature set, which is tailored to the needs of entrepreneurs. Some of them are as follows:
Responsive Designs

– the website builder can boast a collection of responsive templates, among which a user can select the most appealing and convenient variant to meet specific niche requirements

Flexible Design Editing Options

– to give your business website personalized look, you can add and edit typography elements, color palettes, layout and background, media integration options (images and videos) etc.

SEO Advantages

– the integrated Promotion widget will show how well your website is ready for further promotion, while the profound settings will help you set up Google Analytics

SSL Certification

– connection of SSL certificates helps protect your website safety and confidentiality of the information submitted

Business Widgets

– by integrating the system business widgets (LiveChat, Online Calculator, Timeline, Stages, Comments, Social Networks, MailChimp etc.), you can successfully launch any website type, adding the required feature set to it
uKit deserves holding leading positions in the list of professional business website builders. The range of features and tools it offers is more than enough to launch a decent project. The platform is also known for its affordable pricing policy, which won't hit anyone on the pocket. uKit is one of the simplest website builders available nowadays. This is what makes it a worthy solution for newbies and proficient webmasters.
Bottom Line
Having a website is undoubtedly a huge advantage for any business. This is a surefire way to let your potential clients know about your company and generate new leads. Website builders reviewed in the post will be of great help to business owners, who wish to establish decent web presence or who think about moving from CMS WordPress to the SaaS service. Each of them comes with specific features and parameters, but you can use any of them to launch a business website. It makes sense to analyze all the platforms prior to making your choice to be aware of the tools, features and pricing plans offered.
*****
Howard Steele is a professional web designer and the owner of https://superbwebsitebuilders.com/. His experience in online marketing and website development constitutes around 10 years. Howard personally tests and reviews website builders to provide users with unbiased and up-to-date information.