5 Ways Templates Have Changed Since the 1990s
In the 1990s, website templates were the best way to present your individual character to the world inexpensively, whether this involved your business or your personal site. Some of the designs from the '90s were pretty outrageous; few would be regarded as good by today's standards.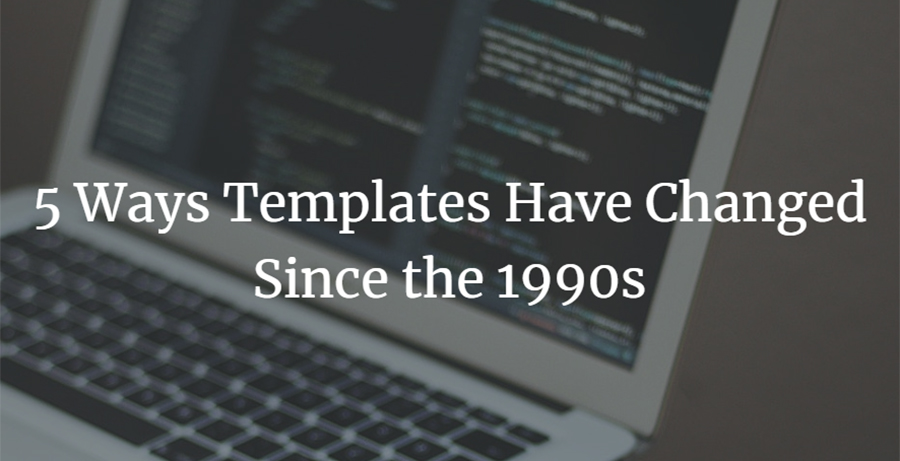 Perhaps the pertinent difference is that websites in the '90s were designed largely for expression, but today, more websites are created for the purpose of doing business.
Geocities — the most popular free website builder on the Internet — made it possible for anyone to have a website. The company's free service provided a simple array of templates that allowed people to play around with basic HTML.
The result wasn't usually a pixel-perfect corporate site, but more often a mash-up of design elements that didn't go together particularly well. Still, Geocities was popular and attracted massive clientele.
Here's a look at five ways templates have transformed since the days of AOL and CompuServe, when the only question we asked our friends was: "Do you have a homepage?"
From heavy graphics to light-weight design elements
Website designers in the 1990s used PhotoShop to create unique designs that often featured heavy graphics and unique shapes to surround the content. For instance, a website for a dog kennel would have a top menu shaped like a large bone and the main content contained within the outline of a doghouse.
You could visit websites where you'd find templates based on a selection of desired general themes, whether you were looking for a vacation motif or a baseball idiom. These templates were simple and built in HTML and CSS with the heavy use of tables.
Today, website templates are rarely given set up with unique shapes because the complex graphics required to create such designs tend to slow down the loading time of the page. Instead, colors and stock photos are deployed to create the main theme.
That doesn't make them necessarily boring. Many templates are built with considerable style.
You don't have to know code to edit a template
In the 1990s, editing templates was one of the best ways to teach yourself HTML. You had to master the basics if you wanted to align your content with the top of your table cells, or move a stock photo to a different area of the page without reconfiguring the entire page.
As website builders such as WordPress, Big Commerce, Wix, Weebly, and Shopify were rolled out, templates morphed into dynamic themes that anyone could customize without having to know any code.
The templates created for these content management systems are simple yet elegant. For example, these stunning website templates can be used in any industry.
Wix is one of the easiest to use website tools, thanks to the drag-and-drop editor that comes with the Wix CMS.
Templates today are constructed by professional designers
In years past, templates were often created by amateur designers and HTML hobbyists so they could make money quickly. Even people with limited skills could create a basic template that would validate through the W3C.
Today, most of the world uses content management systems like Wix and WordPress, which means template designers need a higher skill levels to build templates worthy of client demand. Designers that build for Wix have to possess a thorough understanding of HTML5, and WordPress developers need to understand the programming language PHP as well as SQL databases.
Menu items have changed alongside templates
Back in the 1990s, whatever the template designer created for the main menu labels was typically permanent. For almost a decade, we saw websites with menus that were almost identical across the entire Internet.
The labels went something like: "Home, About, Products, Services, Contact, FAQ, Sitemap, Guestbook."
Today, templates offer a greater array of menu item labels to get users started, and most people understand the importance of customizing the labels. Site map links have been moved to the footer, and guestbooks (like Bravenet) hardly exist anymore.
Templates are updatable
High-quality templates designed for dynamic content management systems can be updated by the author to eliminate security vulnerabilities. This wasn't an issue with HTML in the 1990s, but it certainly is today.
Websites built with PHP connected to an SQL database can be easily hacked through SQL injection, among other methods.
This was an imposing concern in the past, but now template designers are aware of the importance of maintaining secure updates for all their designs. It's become easy for them to plan for this when they distribute their templates through official outlets such as Template Monster or Theme Forest.
Templates make life easy
Before the Internet was regarded as a place to pursue serious business, templates were more fun. Since that time, they've evolved into a useful tool for creating a website without having to spend a fortune on a custom site that a professional designer fabricates from scratch.