25 Retro WordPress Themes You Won't Find Anywhere Else
WordPress is an amazing CMS (content management system) that allows you to experience absolutely all advantages of conducting a business via a professionally developed website with absolutely zero coding skills or programming knowledge whatsoever.
It's no coincidence WordPress is the most used CMS, there's approximately 60 million!!! websites powered by WordPress you can see on the web currently and that number grows every second.

One of the reasons WordPress is that popular is it's templates system. You can have your website redesigned in mere seconds. Yep, just download a free or premium WordPress theme, install it and there you have it – absolutely new design for your online business.
Where do you get those pre-made themes? Well, there's a huge number of providers, but why look elsewhere if you have them here, all ready for you to download?
Below are 25 of professionally designed and developed premium WordPress templates for different purposes.
Some of these will fit a restaurant, others are meant to accommodate a hotel or an online store, there's probably a template for your online business waiting for you just a short scroll down.
The templates I'm showing you today have a retro touch, a vintage feel to them. Every one of these stylish WordPress themes is very easy to customize to fit your purposes. You can see a live demo of each theme, see the layouts more closely, click all the buttons, check all the elements.
One last detail about the WordPress templates below, but this one is the most important one – all of them are responsive, which means your WordPress website will look good on any device and any screen size.
So, without further ado I present to you – 25 retro WordPress themes you most definitely won't find anywhere else.
Memorable Events Planner WordPress Theme
Any event planner will tell you how important a good online representation is for this type of business. A website of this nature has to be visually pleasing and easy to navigate. This WordPress theme is a perfect example of such a layout.
Favorable Ranch Location WordPress Theme
If you own a ranch and want more people to visit, more people to take a vacation at your place and see the beauty of the nature – the best way to achieve the exposure you seek is to get yourself a website. You need a website that will feature pictures of the ranch, so a good gallery is a must. Our designers kept that in mind when creating this awesome WordPress template for you.
Photographer Portfolio WordPress Theme
We strongly believe that any photographer needs an online portfolio, that's why you will find a vast variety of them in our store. This particular one below is stylishly done in grey and black, it has an about page, a blog, a contacts page and the most important thing for a photographer – a gallery. Add your pictures and conquer the artistic world!
Cafe and Restaurant WordPress Theme
More sweets into the world! This is what this retro WordPress template is aimed to bring. A perfect choice for a local confectionary, if you ask me.
Kids Center WordPress Theme
How do you think present-day parents find a nursery, a school, a kids center for their very much modern kids? Well, via the internet of course! This WordPress theme is aimed to fit such an institution, help the modern parents in search of the perfect school.
Horse Racing Responsive WordPress Theme
Horses are very noble creatures, I think they deserve a noble looking online representation, don't you? I have a perfect WordPress template for that purpose. This stylish theme will fit a horse racing school perfectly.
Personal Page Responsive WordPress Theme
Are you an artistic type? Maybe you write poems or short stories, create sculptures or take awesome portraits of your friends? In any case I'm sure you'd like to share the beauty of your art with the world. An easy and fast way for you is to grab this stylish personal page WordPress theme, fill it with your creations and amaze the world.
Hunting WordPress Theme
Hunting is an outdated sport you say? Well, I disagree, and even though this WordPress theme has a retro look, it makes hunting a very much modern-day activity.
Hotels WordPress Theme
I think you'll agree with me – old hotels have a special charm. How do you convey that charm in the hotel's online representation? With this retro hotel WordPress theme of course!
Stylish Billiard Club WordPress Theme
Billiards is an old game, but it's popularity never ceases. To help this great game gain even more popularity our designers went an extra mile to create an especially stylish WordPress theme for a billiards club. The game does deserve a beautiful website after all.
Cafe WordPress Theme
Any local cafe would benefit greatly if it had this awesome website powered by WordPress. But we won't tell them, it's yours after all!
Yachting Responsive WordPress Theme
Yachting is a sport for stylish and wealthy. Give them a yachting website that will suit their tastes with this beautiful WordPress template. This WordPress sports theme can easily be customised to fit your yachting business, even if you want to sell sailing gear online.
Furniture WordPress Theme
Creating furniture is a type of art and it will definitely be a plus for a furniture manufacturer to have a website based on this beautiful furniture WordPress template. It will be complementary to your art, of that I'm sure.
Tender Wedding Planner WordPress Theme
Wedding is a very special event. A wedding planner's website has to be especially stylish and visually pleasing. The WordPress theme you see below is just that! We would also recommend you to view the wedding WordPress themes in case you need a wider choice of website building solutions.
Hotels WordPress Theme
Black is the most stylish and sophisticated color of them all, our designers made a good use of it in this hotel WordPress theme. A truly grand choice for a grand hotel!
French Restaurant WordPress Theme
French cuisine is considered to be the most sophisticated, stylish and high-class. Thus, a French restaurant needs a high-class online presence, don't you think? A stylish WordPress theme with a bit of that retro touch is what any restaurant needs.
Cherry Cafe and Restaurant WordPress Theme
The cafe and restaurant WordPress theme you see below is a result of a very thorough work of our designer team. I do believe this vintage look will suit even the most established of restaurants.
Beige Cooking WordPress Theme
Teach the world how to cook your favorite dishes! It's gonna be fun, especially with this stylishly simple cooking WordPress theme.
Religious Christian WordPress Theme
Christian website? Why not! Bring more love and hope into the world with this professionally designed religious WordPress theme.
Luxury Hotel WordPress Theme
This luxury hotel WordPress template is a perfect choice for hotel owners who want to give their clients a truly luxurious experience. Let them reserve online, show them the marvelous rooms they can occupy, and don't forget to mention that high-end restaurant of yours!
Cafe and Restaurant WordPress Theme
This stylish cafe and restaurant WordPress template will satisfy even the most sophisticated taste of any up-market restaurant owner.
Cafe and Restaurant WordPress Theme
This is yet another example of how good our web designers understand the importance of a perfect online presence for a cafe or a restaurant. You can not go wrong with this amazing WordPress theme, created specifically for a cafe/restaurant.
Photographer Portfolio WordPress Theme
Looking for a beautiful WordPress theme to complement your photo masterpieces? You've found just the thing, the beige color scheme won't clash with your work, and a touch of retro will make your work truly stand out.
Home Remodeling WordPress Theme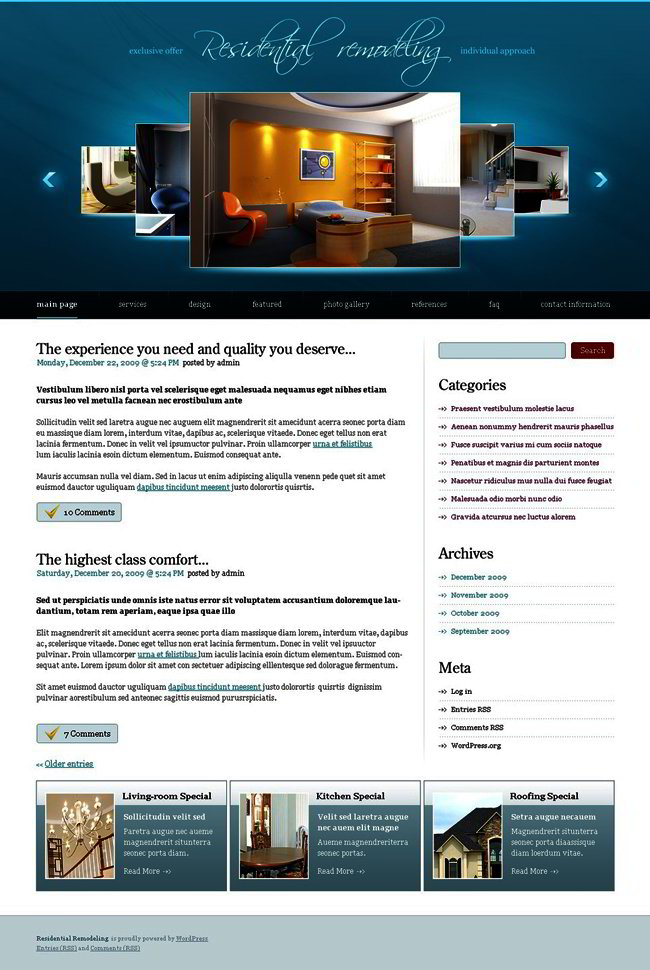 No business can be successful in the modern world without an online presence, especially in such a highly competitive field as home remodelling. This WordPress theme was designed with a remodelling business in mind, so go ahead and grab it before your competitors do!
Cafe and Restaurant WordPress Theme
I love the cozy atmosphere this cafe and restaurant WordPress template provides. The wooden texture in the background and light color scheme look very stylish, add mouthwatering photos of your food and there you have it – the perfect cafe website.
We would also recommend you to buy WordPress themes in case you need a wider choice of website building solutions.