A Guide to Optimizing Ecommerce Product Filtering for Greater UX
When you visit a site like Amazon, it's easy to take for granted the powerful product filtering features that are built into the platform. But when it comes to your own ecommerce site, are you giving your visitors similar functionality?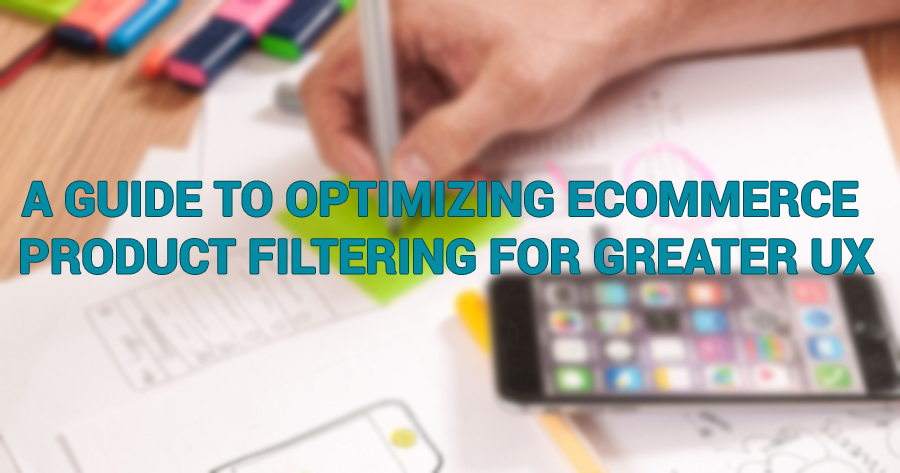 Optimization Tips for Greater UX
From an ecommerce perspective, the purchase process is something you have to think about. The goal is to simplify this process as much as possible so that buyers move from awareness to action with minimal friction. And while there are plenty of ways to eliminate friction, one of the aspects you have to pay close attention to is product filtering.
How your ecommerce site filters products for customers has a direct influence on how well they're able to search for and find the products they need. Keeping this in mind, here are some tangible things you can do to optimize your ecommerce website's product filtering capabilities.
Choose the Right Fields
Selecting the right filtering options is perhaps the most important aspect of product filtering. In order to choose the right ones, think about how your visitors shop. What questions are they asking and which products are best-sellers?
It's also wise to offer thematic filtering. "Thematic filtering is similar to stepping inside a retail store with a sales representative assisting customers for common requests, such as apparel that best fits a casual occasion or sneakers perfect for extreme outdoor activities," ecommerce expert John Komarek writes. "A similar experience on all ecommerce sites would be fantastic, but 20% of top ecommerce sites still lack thematic filtering."
Consider Physical Placement
The actual placement of your product filtering on the page is very important. Normally, the industry standard is to place it on the left side, but it's also a good idea to think about the ordering of the individual filters.
This page from Estate Diamond Jewelry is a nice example to learn from. Notice how it includes the most important filters at the top and then gradually trickles down from there. Not all filters have to be used and shoppers are free to fill in as much or little as they want.
Always Return Something
Sometimes customers will try to get too specific with filters. Even if you don't have any products that match their criteria, you need to return something. The best option is to deliver results that are close to their match – meeting, say, four out of five criteria – or to generate a list of your most popular items.
Let's say, for example, that your store sells shoes and someone filters results based on color (red), style (pumps), and size (6). If the closest thing you have is a red flat in size 6.5, it's better to show this result than nothing at all.
Ensure Speed and Efficiency
Finally, think about efficiency. The entire point of filtering products automatically is so that the shopper doesn't have to go through the time-consuming process of manually sorting through each and every listing. Make sure your product filtering function is fast and responsive, otherwise, UX will be quite poor.
Make UX the Ultimate Priority
Running a good ecommerce business takes a lot of effort, but don't lose sight of what ultimately matters most: good UX. Without good UX, customers are left dissatisfied and fail to convert at the level that you need in order to build and grow a profitable business.
Ecommerce product filtering is just one aspect of good UX. Continuously search for new ways to improve on a daily basis.