How Much Does it Cost to Make a Site?
When people want to know the average cost to build a website, they are usually shocked by the price of custom website creation, namely from a  web development company have been given an estimate from some freelance designer. You may hear prices ranging from $5,000 to $10,000 or even $15,000 – it depends on the project's scale and required functionality. This cost of a website is relatively similar to buying a decent car or going on some exciting vacation with the family.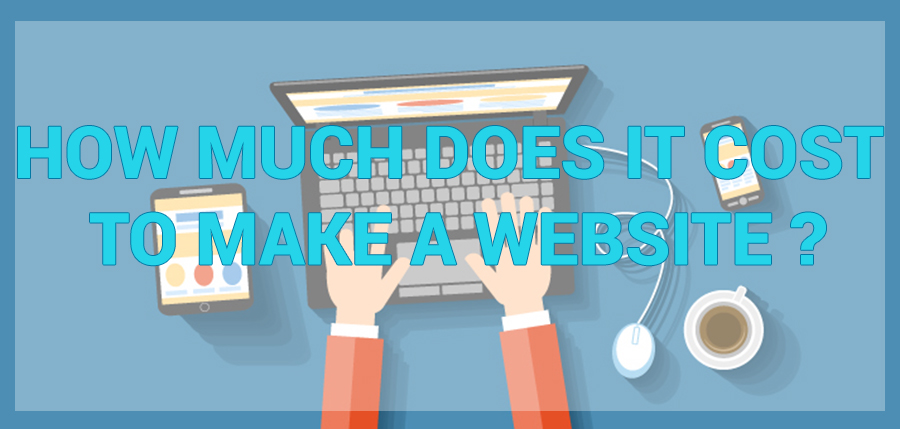 However, a website is not a tangible product, and it is hard to appraise its true value and compare it to the required investments. And that is why it is natural to have doubts.
It will be useful to have a clear picture of what you pay for when ordering a website to be created by a professional web design and web development company. In our web design studio in Philadelphia we provide our clients with clear project estimates before the development starts. Additionally, the entire budget is agreed upon upfront and approved by a customer. Understanding all of the components of a website's design and programming process will allow you to be able to make the correct decision for choosing the right contractor for your own site's development. So, how much does it cost to build a website, in fact? Let's get this sorted out.
THE SITE WE ARE GOING TO ESTIMATE
It doesn't take a genius to figure out that a multi-functional ecommerce site consisting of thousands of pages will cost more than a one-page company website, based on a standard template. The first type of website involves a much larger effort from the developers and designers, and most likely it will be a project involving a team of professionals.
For example we will consider a mid-size solution – a corporate website with a just above average technical complexity of implementation. The goal is to create a site that will look attractive, work fast, and, of course, will be a responsive website, as currently the majority of users surf on the internet using mobile devices. In general, there will be 15-20 pages with the custom layout. It is worth mentioning, that the site structure and content will be adapted for further SEO optimization to get it to the top of search results in Google for certain keywords. This is a must for any commercial product on the internet.
THE SALES EXECUTIVE
You met with sales specialist from a web development company and agreed to engage in a project where web design services are provided. He conducted a few meetings, visited your office and brought commercial proposals. He spent dozens of hours discussing what you want and expect from the future site, translated your ideas for a technical team of designers and developers and finally got a solution that covers all of your requirements. It the nutshell, he worked hard for his money.
As usual, a sales manager gets a commission from sales, and of course he is paid a salary as well. Let's see how much his work costs. According to indeed.com, the average salary of a sales executive in a web development company is about $64,000 annually, and he earns commission from the deals he has made. Let's assume that every month a sales manager brings 2-3 contracts for his agency.
Total sales team cost: about $1,500 – $2,000.
THE PROJECT MANAGER
Just imagine how difficult it could be to explain your needs to a programmer and designer, who are used to thinking in their professional terms. And vice versa, it would be a problem to understand them for you too. More to the point, the project implementation is not only drawing and programming, it involves lots of organizational and managerial tasks. That is why there is a project manager on the team. This person is a mediator between a client, developer and sales manager.
A project manager must be well versed in both your business and the capabilities of the web development company he works in. They have a responsibility to the company management and the client for the final result, i.e. the site quality.
Let's say the salary of a project manager is slightly smaller compared to the salary of a sales executive. A project manager controls 10-15 projects at a time, and each such project may last for a few months. That is why the cost of the project management may be divided by months. Summarizing all aforementioned facts, we get the following figures:
Total cost of project management: $1,000 – $1,500
CONTENT: TEXTS, PHOTOS, VIDEOS, etc.
Everything revolves around the content. The website is just a tool for presenting it. The main focus of any web development is a comfortable, eye-catching and interesting display of your content. Moreover, the content character defines the design concept, the set of required features on the website, and so on. That is why so much attention is paid to this part of a custom site's creation.
There is no doubt that you can do it yourself: compose texts, collect required information and build the base of links from multiple sources, and take photos of your products for ecommerce. But it may play a low-down trick with the commercial success of your website. Only professional content-writers, photographers and other content specialists are able to prepare the content that will actually sell effectively. That's why you need to get ready to splurge on the content. A worthy journalist earns at least $50 for one written article, and for the site we are analyzing in this post you will need at least ten articles. The services of a professional photographer to make a stock of photos for further use on the website is also not free.
Total cost of content creation: about $1,500 – $2,000
THE DESIGNER
Website design cost is one more aspect that we should consider. Web designers are professionals that create your website's design, they think over the design concept and implement it in graphical form. Good designers are expensive, period. Don't you want your website to be designed by an experienced, creative professional? An affordable specialist of such level earns about $80-100k per year.
It takes 2-3 days to create the index page's design, and most likely you will need 2 different design concepts to choose from. After you approve a design, the designer will need to draw the templates of other interior pages, and go through the countless rounds of iterations to satisfy all your adjustments and wishes. On average it takes a designer at least 3 weeks to complete the graphic design for a small corporate website.
TOTAL designer cost: $4,500 – $5,000
THE PROGRAMMER
Two programmers, to be clear. Programming is the most expensive stage of the web development process. After the design of each page is ready, the assets are passed to a front-end developer. He turns images to a programmed template that will be properly displayed on mobile devices, as well as computers.
Each page of your future website is coded separately. Of course, there will be some repeated components, and their code snippets are easily duplicated.
After the front-end coding is finished, the backend developer now does his part. The backend programmer binds the front-end template to the CMS (content management system), sets up all required modules, and uploads the site to a hosting service. In other words, he makes your site go live.
Average project timeline with a responsive layout of mid-level complexity may take about a month. If you google for the average programmer salary, you will find figures like $100,000 per year. That is why the programming phase is the most expensive one in the whole chain of web development.
Don't forget about host charges and website domain cost, which are usually fixed. Besides, website maintenance cost is not temporary and depends on various factors.
TOTAL programming service cost: $6,000 – $8,000
THE TESTER
Testing websites before delivering the website to a client and launching it for public use is the practice of the best web design studios. Direct Line Development is a web development company in Philadelphia never overlooks this step of the process. We include testing as a mandatory phase of any website creation project.
When the website is ready, the tester checks every and each website page, separate features on all platforms, devices and browsers it is to be used on after launch. His goal is to reveal all existing bugs and fix them before the site is released to public.
It is a very painstaking job, as it is literally impossible to find all bugs. But professional testers, extremely attentive to details, do their best using the high-end QA-practices.
TOTAL cost of the tester service: $500 – $1,000.
TAXES and UP-FRONT EXPENSES
Naturally each web development company needs an office, internet connection, phones, furniture, computer equipment and other hardware to be able to perform their job. Moreover, sometimes professionals need to drink coffee and water while working : ) Web design studios also spend money on advertising, promotion, fighting competition, etc. And of course, every dollar in business is subject to tax.
All these items form up-front expenses that may increase the professional website development cost of the entire project by up to 50%.
TOP MANAGEMENT AND PROFIT
A web development company is headed by top managers who also get their salaries. And the purpose of any business is earning profits from its activity. This profit is invested into company development. And at a minimum the amount of reinvested dollars is 20% of the website cost. It must be included into the project budget.
Taking into account all of the above line items and you end up with website cost calculator like the below chart:
| | | |
| --- | --- | --- |
| Services | Minimum cost | Maximum cost |
| Sales Executive | $1,500 | $2,000 |
| Project Management | $1,000 | $1,500 |
| Content creation | $1,500 | $2,000 |
| Design | $4,500 | $5,000 |
| Programming | $6,000 | $8,000 |
| Quality Assurance | $500 | $1,000 |
| Up-front expenses | +30% | +50% |
| Top management and profit | +20% | +20% |
| TOTAL amount: | $22,500 | $33,150 |
SUMMARY
The calculation we've made shows only the approximate website cost of a standard mid-size project for creating a corporate site. You are free to opt for a more affordable solution or higher priced options.
Many website development companies are trying to reduce the professional website development cost by delegating the duties of a few specialists to one employee. For instance, the duties of the company owner, the sales executive and the project manager are often carried out by a single person in such agencies. Moreover, the best programmers in the world are available only as outsourcing specialists working for offshore development firms. That's why serious web development companies often opt to work with third-party specialists to cut up-front expenses without sacrificing the quality of their work.
You can also reduce the project cost by changing custom web development to a standard WordPress template. However, do you really dream of owning a website that looks just like hundreds of other sites on the internet?
The choice is up to you. Now you are completely aware of what you are paying for. We at Direct Line Development, a web development company in Philadelphia, do our best to meet your expectations and provide multiple options to fit into your specific budget. Feel free to give us your idea of what your website should cost!