5 Recommended Data Points to Choosing the Best Web Host
Going live with your first website or blog can be a very exciting time. That is until you start to research the web hosting process and find out there are nearly an endless amount of solutions out there to choose from. Not only do you need to find a reliable solution, you also need to know how much you should be spending and what exactly you should be looking for.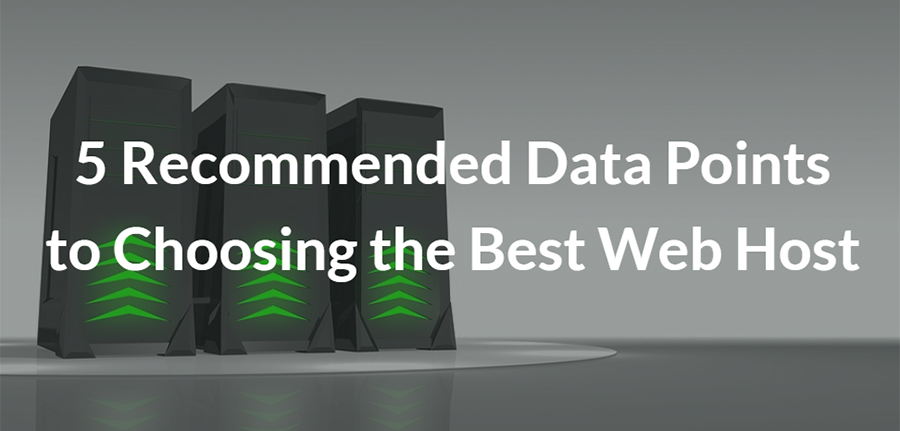 While all of this is stressful enough in itself, the good news is that you only need to set this up once and will likely not have to touch or change providers again any time soon. At the same time, it's also important to realize that most web hosting solutions are pretty similar in the services they offer and also there pricing. Unless you already have an established online business or ecommerce site, you really don't need to deal with bandwidth, storage, or data plans, as shared hosting plans are usually enough for anyone just starting out.
Unfortunately, a great majority of people will stop with the process of trying to start a website or blog once they see how time consuming and frustrating the decision process can be. To help with everything mentioned above, and the process of finding the right web hosting solution for your blog or online business, we asked some top bloggers and site owners what they looked for when selecting their current web host.
Real Stories from Site Owners and Bloggers on How to Pick a Quality Web Host
Everyone has their own story or process for when they first went live with a website or blog. Below you will get to read through some of these stories and what the thought process was when deciding on a quality web hosting solution. If you are currently in the same decision process right now, you will likely find yourself in the same shoes as many of these site owners as they previously were.
"With WordPress now being the most used and recommended content management platform on the internet today, most site owners and bloggers are going to use this solution with their site. With that in mind, it should be important for you to find a web hosting solution that caters specifically to sites running WordPress and also provides the necessary support should you have any questions. A WordPress hosted site will likely run fine on generic web hosting, but if you have any questions, security issues, or like to run your business through advanced WordPress plugins or themes, you would prefer to have the necessary support available in each of these scenarios. When it comes to cost, WordPress dedicated hosting is often just a few dollars more in comparison to regular shared hosting plans. These are just a few of the things I would be looking for when starting a new site." — Srish Agrawal, Blogger at Srish.com
"While I've been an owner of an offline business for many years now, when it came to picking a web hosting provider and designer for my site, it quickly became a headache. After some quick analysis I realized most of the web hosting providers were quite similar in pricing and what they offered, but the main difference was brand names that I was familiar with and others I wasn't. The biggest deciding factor for me was to find a host that had a collection of great online reviews and also a history of being successful online. The last thing I wanted was to associate my website and brand with a host that was potentially being run out of a basement, or had little to no support if I needed to get in touch with someone. When trusting a web hosting provider with my site, it was important to find one that I knew was going to stand the test of time and be around for quite a while, as that is how I always run our own business with our own customers." — Dennis Grella, Owner at DennisServiceCenter.org
"I often get several emails per week asking what type of web hosting solution someone should use when setting up their first website. Many times these emails will be from individuals outside of the US, who aren't looking to spend any money. A site like blogger.com or wordpress.com might be the best option for them, but not for anyone that has a few dollars to invest, or actually wants to create a real business or brand online. In these cases, I will often give them a few choices that I recommend, but it's also important for the end user to put in some research of their own. Some of the key data points that should be considered aren't just the price of hosting, but also the services and reputation that comes along with it. One of the best ways to check the reliability of a host, is to simply head over to Google and type in the hostname and then add in the word 'reviews'. You can also run an 'uptime report' or comparison of multiple web hosts by searching for the same as well. You will also need to check a wide range of sites, as many are paid to push hosting plans, and their testimonials might not be authentic in nature. The price of web hosting is always going to be important to the end user, however in the long run it's going to be the customer service and hosting uptime that matters the most." — Zac Johnson, Founder of Blogging.org
"The most important thing to know when searching for a reliable web hosting service is what you need the hosting service for? What kind of website are you building (i.e., eCommerce, multi-site, single site, etc.) Next, what are you going to be doing with the site (i.e., blogging, video, etc.). Once you have a good understanding of your needs, how important is it for you to have someone you can talk with for support? If you are super technical, then you have many choices; however, if you are not technically savvy, then you will need to find a web hosting company with stellar customer support. I've had the privilege of building over 400 websites and I've dealt with many of the most popular web hosting services out there. Of all the things you should be looking at when choosing a web host, I believe these key points should be at the top of your list."  — Jaime Jay, Managing Director of  SlapshotStudio.com
"Web hosting is always going to be one of those things that is super scary when you first get started, but becomes second nature after you first set it up. My best advice for anyone who wants to start a website or blog and isn't sure what to do with all of the hosting options out there, is to simply ask a friend or another reliable blogger who they are using. Since many of the hosting companies all offer similar services and pricing, it really comes down to customer feedback and testimonials. Just make sure you ask someone you already know and trust, and they should send you off in the right direction."  — Nancy Camp, Etsy Store Owner and Blogger at NancyBadillo.com
"When I first set up hosting for my blog, I had no idea what I was doing. I actually first went with a free hosted site through WordPress.com, but then read about all of the benefits associated with having your own domain, hosting and installed version of the WordPress software. Once I realized this, I was then searching through a bunch of different hosts, not really sure what to look for. At the end of the day, I just went with a reliable name that I kept seeing mentioned on other sites, and also one that fit within my budget. I guess I ended up making a good decision, as I haven't had any problems since!"  — James Flagstaff of CelebrityReligion.com
Pick the Right Web Hosting for Your Online Business
Years ago, if you wanted to start a website or blog, you would need to understand how to design a website and upload files, or even hire a professional to do this for you. Thanks to the power of WordPress and simple drag and drop site builders, there is no longer a technical skill required for going live with a site.
One of the most complicated and time-consuming parts of getting your site live, will simply be which web host you decide to go with. After reading through each of the recommendations above, you should have a better idea on what type of hosting solutions would be best for you. Some of the recommended key points to look at are costs, customer service, hosting uptime, and online reviews.