Expert Recommendations for Creating a Site that Rocks!
Creating a website might be easier than ever before, but at the same time, there is also more competition as well. Anyone can go live with a site in just a few minutes time, whether you are using a CMS like WordPress or a drag and drop site builder like Wix or GoDaddy. In short, not only is it easy — it's also often free.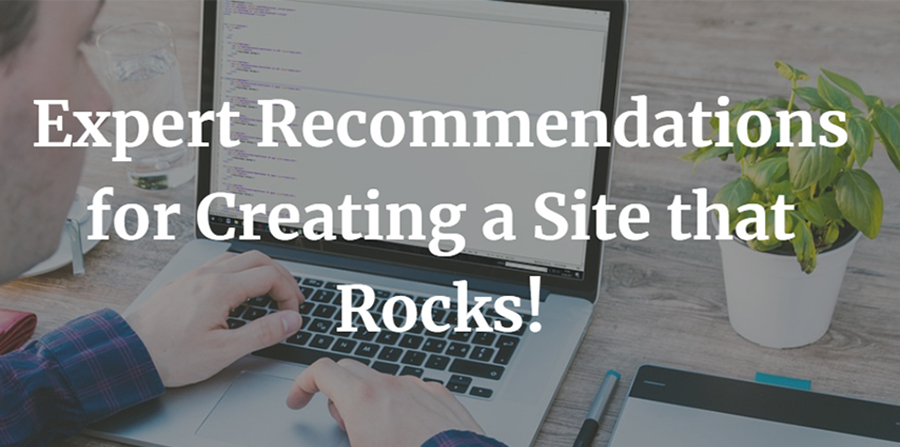 With so many websites, brands, and blogs on the internet today, it's important to not get lost in the crowd. To make sure this doesn't happen, site owners need to not only leaving a great first impression with their audience, they also need them to take action as well.
That is exactly what we are going to highlight today — how to create a great website!
Everyone has their own recommendations for how to improve a website or ecommerce site, so instead of leaving our own feedback, we left it up to some industry experts to provide their best tips and what they are currently doing to improve site engagement and conversions on their own sites — here's what they had to say.
—-
"Start with a template. Modern ecommerce platforms offer great free and paid website templates that are pre-built for conversion and will allow you to launch faster than building from scratch. Modern templates are also mobile-optimized out of the box, which is critical given half of all ecommerce purchases are now made on mobile devices. For new businesses, it's also important to lay a foundation for ongoing testing and optimization which will allow to continuously improve your site over time as you grow."
— Tracey Wallace, Editor in Chief, BigCommerce
—-
"Testimonials have always been one of the best ways to gain trust and increase conversions. We have found (and created) a solution that not only provides a method similar to user testimonials, but also grabs the attention of your audience in the process. This is all done through an engaging pop up window that appears at the bottom corner of your screen and shows previous customers or users who have already taken action on a site. Whether it's through text or video testimonials, social proof, or popup applications, gaining the trust of your audience is key to creating a site that truly rocks!"
— Dave Rogenmoser, Co-Founder, Proof
—-
"Creating a website that really rocks, is all about keeping your audience happy. This comes down to a number of issues. For us, it's all about site design and making sure users can easily navigate through our content no matter what type of device they are using. It's also important to make sure your sales funnels, emails, lead generation, and contact forms are all working correctly. This might seem like simply stuff, but often times, it's the over complication that can really mess things up. Being known as a company with great service, a high quality site and providing real value to your audience is what everyone should strive to be."
— Srish Agrawal, Founder & CEO, A1 Future Technologies
—-
"Using the right tools and applications with a website is going to help in the long run when trying to improve user engagement and increasing conversions. I personally made the move over to WordPress from HTML in 2007, and it's been a completely game changer. There is no longer a need to design, code or program anything. Instead, it's all about using your time wisely and tweaking WordPress themes, plugins, and third-party application to make the most of your site, it's content, and audience possible.."
— Zac Johnson, President, MoneyReign
Entrepreneur's Guide to Creating a Successful eCommerce Site from Day 1
When it comes to creating a website, you definitely have a lot of options to choose from. Whether it's a WordPress powered site, one that's built with an easy to use site builder, or even an advanced e-commerce site — you should always plan out your site and business before going live.
To go along with each of the expert tips listed above, we also wanted to throw in some expert advice that was recently featured in Entrepreneur magazine, in their article titled "9 Tips to Make Your Ecommerce Business Wildly Successful".
Their recommendations were the following:
Don't rush the launch.
Put the focus on the user.
Test absolutely everything.
Work closely with social.
Incorporate social elements.
Go mobile.
Stay on top of SEO.
Collect information.
Continue evolving.
As you can see, many of these components can be applied to any type of website, but should definitely be addressed when using any type of financial investment or offering customer service and sales through a site.
You already have a site. Make sure it rocks!
Hopefully this article has provided you with some useful tips and information to help improve your existing website, or even give you some ideas for starting a new one.
As we mentioned at the beginning of the article — it's not just about creating a site and going live with an online business, it's about standing out from the crowd and catering to your audience better than the competition.
Implement these expert tips, tools, and recommendations into your existing business today to see continued improved engagement and conversions for months to come.