Web Design Tips for an International Audience
Making the Most of the World Wide Web
It is, of course, possible to reach an international audience through your website, irrespective of where you are based. Just because your website can be viewed by a global audience, doesn't mean that people will always understand the message you are trying to convey. To ensure accessibility, you will need to consider a range of language, cultural and other practical issues. Amy Harris, Community Manager for Expert Market UK (click here to see) offers you web design tips for an international audience.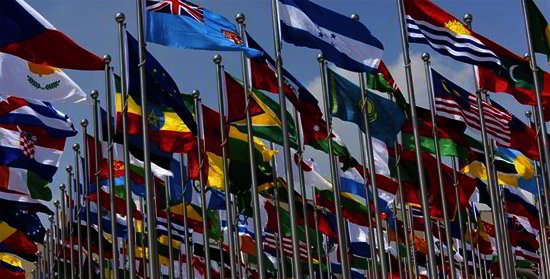 Keep your Language Simple
Although the majority of websites are written in English, there are many differences when it comes to the international use of this language.
Consider the international implications of everyday phrases, keep your language simple and avoid using colloquial English as this will make little sense to your global audience. Cultural differences are to be celebrated, but must also be acknowledged.
Customers who use English as a second language may often use translation tools. There are many common words that simply don't translate, so avoid these. The English language is extremely flexible, so it is easy to find suitable alternatives.
The issue of translation is also relevant to the names of your own products. Chevrolet had disappointing sales for their Nova car in Spanish speaking countries, where the word no-va translated as 'won't go'. Amusing as this may be, you must ensure that your business does not make a similar mistake.
The Cultural Meaning of Colors
Colors are an important consideration for your website, as some can have strong cultural connotations.
Green is a popular color in the UK and United States and can represent an eco-friendly ethos, but in some cultures it can be associated with greed. In China, it can also be symbolic of an unfaithful husband. So consider the color choices for your website carefully.
You will also find that one color combination will work for one demographic group, but will have the opposite effect on another.
It is important to know which target group you are attracting, so focus on them and find out which colors are most effective.
Check your Website Load Time
Ensuring that your website is quick to load is important when targeting any audience, but it's even more essential when trying to reach a global market. Some of your international customers may be in countries without broadband, so they will be paying for their internet usage per minute.
With this in mind, it is therefore advisable to minimize the amount of items, particularly graphics, included on the site which often affects the speed of loading up. If a website is slow to load or show content, then the majority of users will quickly leave and move on.
Consider Translation Services
You may want to consider using a professional translation service for parts of your website. Although online translation tools are available, they are not yet sophisticated enough to translate the literal meaning of your text, which may leave the reader confused.
A professional translator will be able to help to highlight any cultural mistakes that you may have made, and suggest more appropriate alternatives.
Also, look at the way the text flows once it has been translated. Does this complement the look of the website? You will need to consider all these issues when planning the overall design of your site.
Make Your Checkout Procedure Accessible
You may succeed in attracting a lot of interest from your international visitors, so it is vital that you make it easy for them to make a purchase. Ensure that your checkout order form is user friendly for all. Does it ask for information which some of your customers will be unable to complete?
For example, zip codes don't exist outside of the United States, and many countries aren't divided into states, provinces or counties, so don't include these fields, but ensure there is one for the actual country where zip codes are used.
Similarly, when it comes to providing contact details, remember to include the international code with your phone number. If you have a toll-free number, it may be inaccessible to your international callers, so have your regular number on your website as well.
Make sure your shipping options include international deliveries, and display these costs clearly to your customers. Include (or link to) a currency converter so that your customers know exactly how much they are paying before they complete their transaction.
Final Thoughts
With an increasing international web audience, your website should be ready to take advantage of emerging markets.
It is never safe to assume your visitors are from one place or native speakers of your language. By taking international visitors into account, you will be able to maximise the potential of your website. You will not only drive more traffic but increase your revenue.
A few changes will help create a global website that does not offend or confuse your audience.
About the Author:
Amy Harris is the Community Manager for Expert Market, a B2B website. She enjoys thinking about the international aspect of design and how to implement this in everyday web strategy.