7 Website Design Tips For Beginners
Are you preparing to create your first website? If so, you might feel a bit lost in the woods. After all, there are virtually unlimited options when it comes to website design, style, and overall direction. However, there are several ground rules that should always be kept in mind, no matter what type of website you are creating.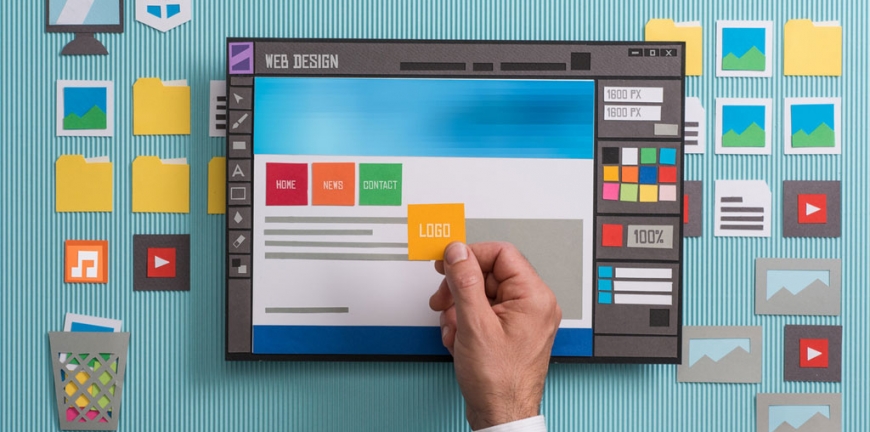 First of all, make sure your website reflects who you are as a person or a business. Take the time to create a visual concept for your brand and apply it to each element of your design. Besides that, we have prepared a list of seven design tips that will ensure your website is professional and effective.
Before we continue, however, keep in mind that this guide is for beginners who are not into coding and are using an existing template from a website builder tool. Certain types of websites are all but required to use such pre-made themes in order to be effective. For example, movie streaming websites should implement the best industry practices by using one of the WordPress movie themes.
1. Pay Attention To Your Website's Home Page
Your website's home page is in most cases the first thing a visitor sees, so it must be as presentable and optimized as possible. It needs to show your website's core message immediately and effectively, while leaving visitors with a good first impression of what your website has to offer. Today's people have rather short attention spans and are easily distracted, so your home page must do everything to capture and hold their attention.
Keep in mind that when it comes to effective web design, less is more. The simpler your home page is in presenting its content, the easier it will be for visitors to process, evaluate, and remember what you need them to. Here are important points to consider when designing your home page.
Keep all important content, including your core message, above the fold

Space out your content — avoid cluttered words and images and leave plenty of breathing room

Images speak a thousand words, so your home page should have plenty of them

Call-to-action phrases are especially effective for converting visitors to customers
2. Put A Visual Hierarchy In Place
One of the core principles in website design is visual hierarchy — organizing your content in a way that follows the natural eye movement patterns. This way, your website will be able to present information in a clear and effective manner, so your visitors can easily consume it and be guided through it as intended. A well-structured page plays an important part in a website's conversion rates.
Let's cover the main components of the visual hierarchy principle.
Size

— The bigger a certain element is, the more attention it will attract. The key elements of your branding, such as your business name and logo, should be significantly larger than other elements of the page.

Color — Bright colors tend to attract more attention than drab, dull ones. Use such colors to highlight key points of your content. After bright colors, richer and darker tones also attract the eye. At the bottom of the list are grayscale and other subdued colors.

Contrast — Contrasting colors also help visualize the important elements of your design. Dramatic contrast is effective at making a message pop out and be remembered by your visitors.

Alignment — The different elements of your web design need to be in a specific order. Alignment can be used to separate essential information and bring it forward. There is also the matter of user experience and convenience. For example, users expect important elements (such as login buttons, for example) to be at the top-right part of the page.

Whitespace — Empty space around content (it doesn't have to be white!) helps create a more balanced layout. Using it effectively allows you to draw visitors' attention to where you want it to be. Ensure there is enough space between the different key segments on your page.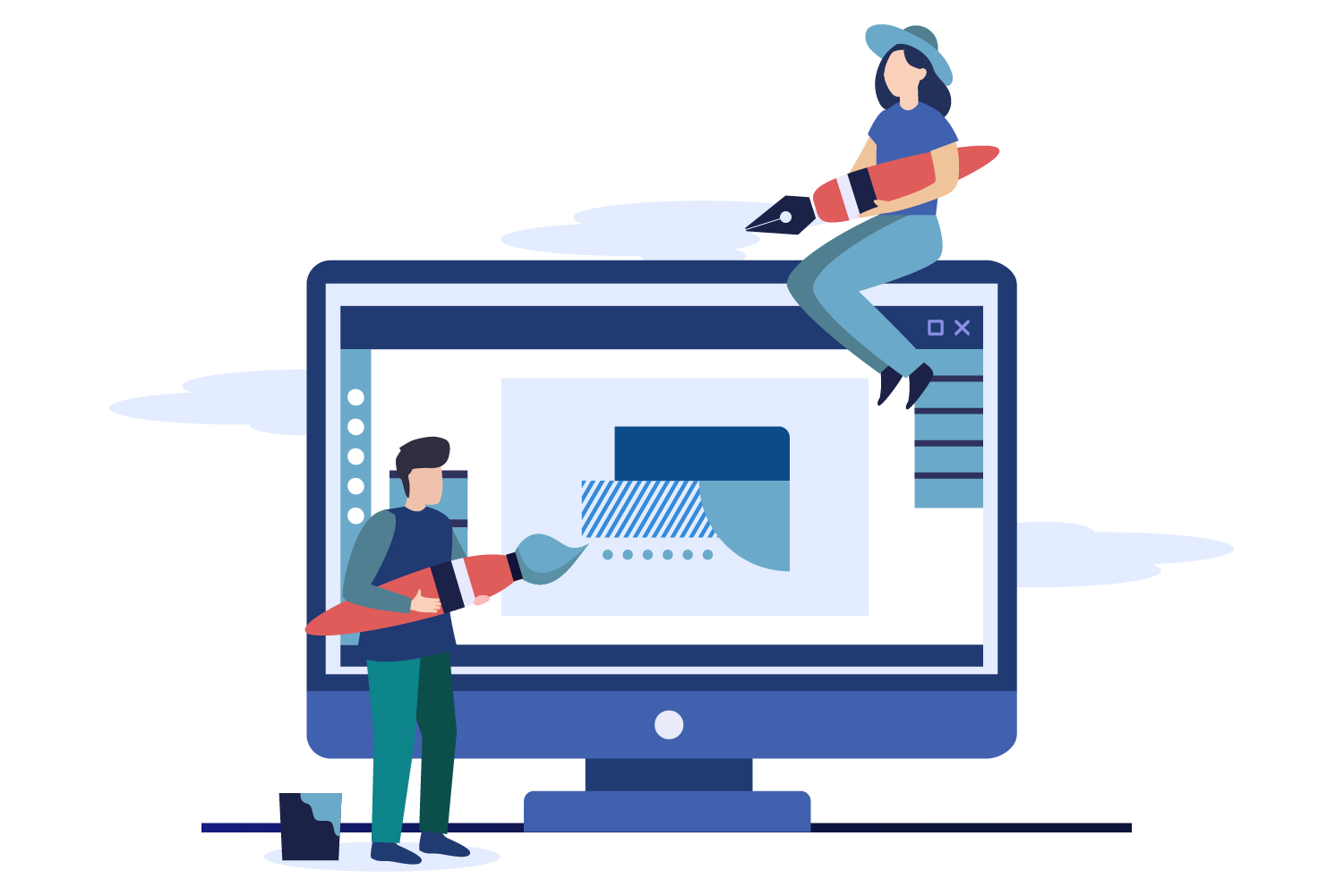 Source: Graphic designers by Creazilla.com
3. Create Easy To Read Website Content
Readability is used to measure how easy it is for website visitors to see and understand the different words, sentences, and phrases on a page. Content that has good readability can be effortlessly skimmed through and scanned by visitors, and that is key to effective website design. Here are a couple tips on how to improve the readability of your website content.
Contrast — Good contrast between text color and background color is essential for the readability and overall accessibility of your website.

Letter Size

— Smaller fonts are generally harder to read by most users, especially on mobile devices. To ensure good readability, make sure the size of your body text is at least 16pt.

Choice of Font — An easy-to-read font is an important factor when it comes to readability. There is a vast amount of font packs that are web-safe and accessible, such as Google Fonts, Font Library, and Adobe Typekit. Mixing different fonts together can lead to some interesting and effective combinations.
4. Ensure Easy Navigation
Well-structured website navigation will help your visitors find what they are looking for quickly and easily. On top of that, it helps search engines index your website properly, which results in improved SEO. There are many types of effective website navigation — header menus, side bars, hamburger menus, etc. Here are a few tips to improve any website's navigation.
Make sure your logo links back to the home page

Clearly name all items on your main menu

Integrate a search bar at a convenient spot

Ensure that visitors can reach any page, no matter where they are on the site
5. Prioritize Mobile Responsiveness
The majority of today's web traffic comes from mobile devices. Therefore, it is essential that your site is designed with mobile responsiveness in mind. Websites that do not automatically adjust to the size of a visitor's screen will surely be abandoned instantly. A new study shows that almost 60% of shoppers consider being able to shop on mobile a key factor when choosing a brand to buy from.
Most modern website templates are responsive and will automatically adjust to the screen size of any device. However, never take this for granted — perform tests on different devices and see how well your website performs.
6. Keep an Eye on Performance
An effective website has good loading times. A website that loads up fast will improve your bounce and conversion rates. It will also significantly improve your SEO. Most users will leave if a website takes too long to load. You do not want any traffic to go to waste because of such a thing.
When it comes to site speed, perhaps the most crucial factor is the type of hosting you are using. It is well-known that offshore hosting companies are the best in terms of loading times, so make sure you look into them.
7. Find Inspiration From Other Designers
Here is a useful tip — if you come across a website with a design that impresses you, bookmark it for future reference. Some people even keep entire documents of websites that they can draw inspiration from! It might be the content, the overall structure, or the design of the menus — if something catches your eye, use it to improve your own website.
Web designers often create collections of illustrations, book covers, posters, wallpapers, and other types of design work to use as a reference while creating their own designs. Those collections are referred to as "mood boards" and can be very helpful in creating successful websites. If you are looking for inspiration, try visiting websites such as Pinterest, Behance, Awwwards, and Dribbble.
Design Your Own Website Today
Even though web design can seem a complex and difficult field, it is not always so. Business owners with little-to-no experience can easily create a professional website of their own using pre-made templates and useful tips from articles such as this one. You don't need to work as a web designer or developer to set up an effective, engaging website. Follow the steps in our short guide to dramatically increase the credibility and user experience of your website.