9 Tips for Designing an Engaging Association Website
Associations are facing what feels like an uphill climb. Today's association executive's top concerns include keeping up with changing technology and adapting to serve members of different generations. If it's time to invest in a new association website, it's critical that resources invested in a redesign are well-spent. An engaging site will address the needs of members of a variety of ages and career stages.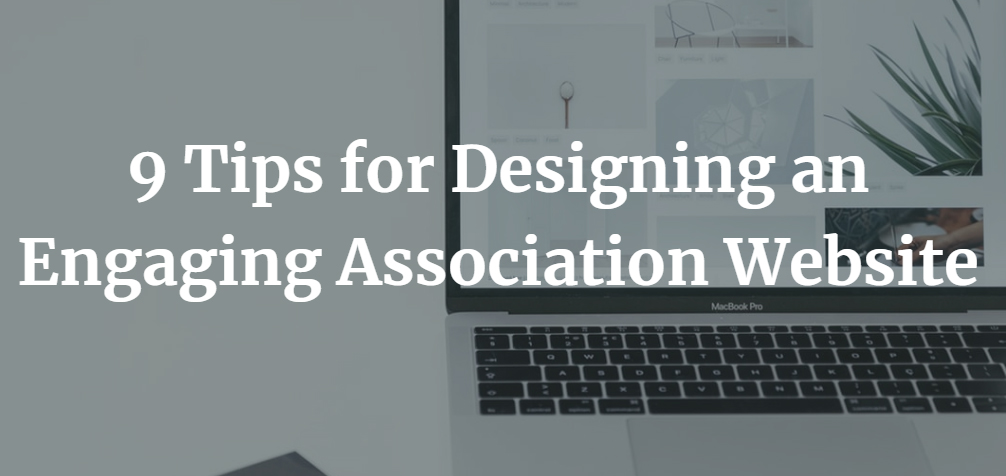 Design for short attention spans.
Websites must prove value to new visitors within seven seconds. It's important to communicate your mission in simple terms, ideally "above the fold" to help visitors connect to the organization. Prospective members need to agree with your mission and see themselves in the pictures you choose. If you are looking to attract younger and more diverse members in terms of race and gender, be sure your photos reflect that intent. Opt for real photos as opposed to stock photos for authenticity.
Primary navigation should have no more than seven items
Usability studies show that when users have too many choices, they become overwhelmed. Aim to keep the main navigation to seven items or less. Note that some associations have given up having a "Home" tab and instead make their logo serve as the link to the home page. Many users are familiar with this convention, but older members may expect to see a link to "Home."
Push calls to action (CTAs)
Consider what action you want a first time visitor to take. If membership payment is the main goal, the home page should spell out benefits followed by a join button CTA. Look for a membership website theme or layout that will allow you to easily change out messaging or graphics to foster engagement with current members such as:
Asking members to fill out a survey (perhaps with a prize drawing among entrants?)
Encouraging registration for an annual conference.
Promoting job bank listings or the ability to register to receive job bank notices.
Reduce friction at member registration
Consider a prospective member's journey.
Open your join page on a phone. Are the buttons and field names readable and large enough to click with fingers or thumbs without zooming in?
A link to your join form should be a link in your navigation menu — not just a button in a CTA.
Every field a new member must complete reduces conversion rates. Ask for the "nice to have" information later in the process.
Feature members only content and benefits
Members feel special when they access members only pages and benefits. Your association management software can help you create members only tickets, deliver an online member directory and restrict content such as survey results, board of directors packets and more. Don't hide these offerings — let prospective members know what they are missing out on.
Be reachable
Members may be diverse in terms of age and tech savviness, so offer them different ways to engage with you. The website footer is a good place to include this information. Don't forget to include links — or even better, icons — to promote your social media channels.
Is every aspect of your association website mobile responsive?
If you send members an email with a call to action such as a membership renewal letter, be sure they can complete the entire task on their phone without having to zoom in. While most associations have responsive websites at this point, sometimes the association software emails or the checkout page are not mobile responsive.
Can members easily volunteer?
Volunteers are often the biggest advocates of an association among its membership. Make volunteer information easy to find:
Include a volunteer page link in website navigation,
Mention ways to get involved in the welcome email or membership renewal letter. Ask members to respond to the email with opportunities that interest them.
Given that millennials are driven by different reasons to volunteer than baby boomers, consider your messaging carefully.
Is every page on your site secure?
Security is critical for payment processing pages; if a page has insecure images or content, users will not see the secure "Lock" icon on the browser. Without a secure environment, members will feel less sure about filling out a form or otherwise engaging with you online.
Measure your engagement
Measurement is the only true way to gauge success. At its most basic level, engagement is interaction. Tools such as Google Analytics, Facebook page statistics, email marketing software and your association management software quantify interactions like:
Number of page views
Visitor time on site
Identifying your top landing pages
Email newsletter subscriptions
Clicks on links in promotional emails
Clicks on social media links
Social media followers, views, shares
Number of annual conference or other event registrations
Number of new job bank postings
Membership renewals and sign ups
Number of shopping cart purchases in a given period of time
Forum participants and topics
Form submissions
It's a good idea to build a spreadsheet to track your key metrics over time. What is important to track varies between associations. Just be sure to document your association website statistics both before and after you redesign your site; your board of directors will thank you later.
If you don't already have Google Analytics installed on your website, ask your developer to add it to your old site before starting the redesign process. Then you'll be able to capture at least a few weeks or months of data before transitioning to your new association site.
Have other ideas? Speak up in the comments.
Amy Hufford is a Technologist at MembershipWorks, which offers membership management software and membership websites for associations in the United States, Canada, United Kingdom, Australia, New Zealand, Ireland and more. Amy has worked in non-profit and association technology for more than 20 years and has experience with a variety of nonprofit and membership software platforms.