SpringBuilder Gaming Website Builder Reviewed
SpringBuilder is a drag-and-drop cloud website builder, which provides myriads of web building solutions. Whether you are a newbie, who is striving to get positive web design experience or a proficient website developer, the platform will offer you diversified options. SpringBuilder was introduced by BetConstruct – a company, which develops advanced land- and web-based gaming solutions. Regardless of the main focus on BetConstruct, SpringBuilder is a platform you can use to construct various types of projects. The system is full-featured and multi-functional. If you have an idea to discover the options the service offers in details, take your time to read the review to find out what the service has to offer you.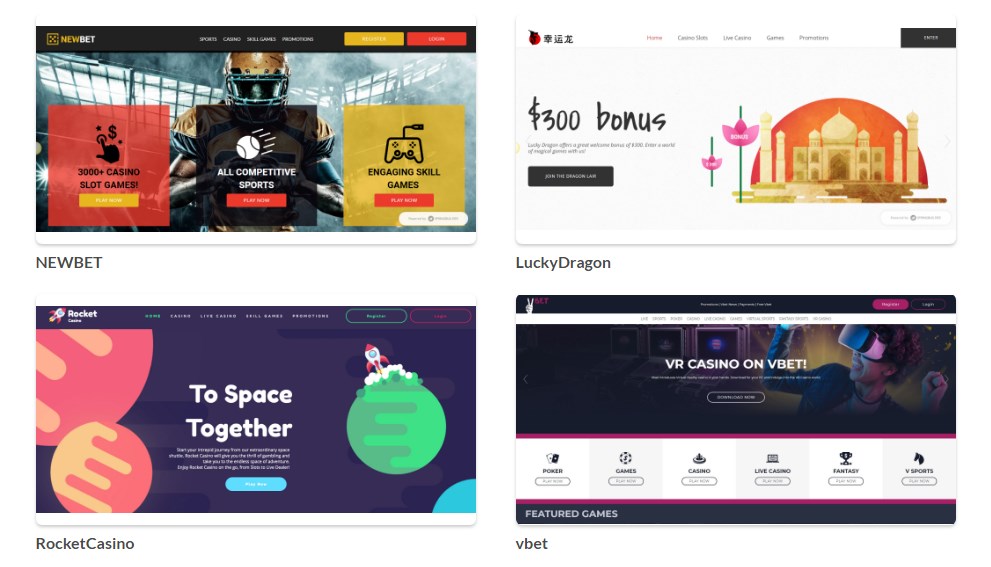 Designs and Templates
SpringBuilder designs feature high quality. At the same time, the available designs are more than enough to cover the prevailing amount of users' needs. SpringBuilder design collection is currently represented by various categories. As far as the service is mainly oriented on building gambling and casino websites, the major categories include Sports, Skill Games, Casino, Sportsbook, Game, Fantasy, FinBet, Sportsbet, Poker and Promotions.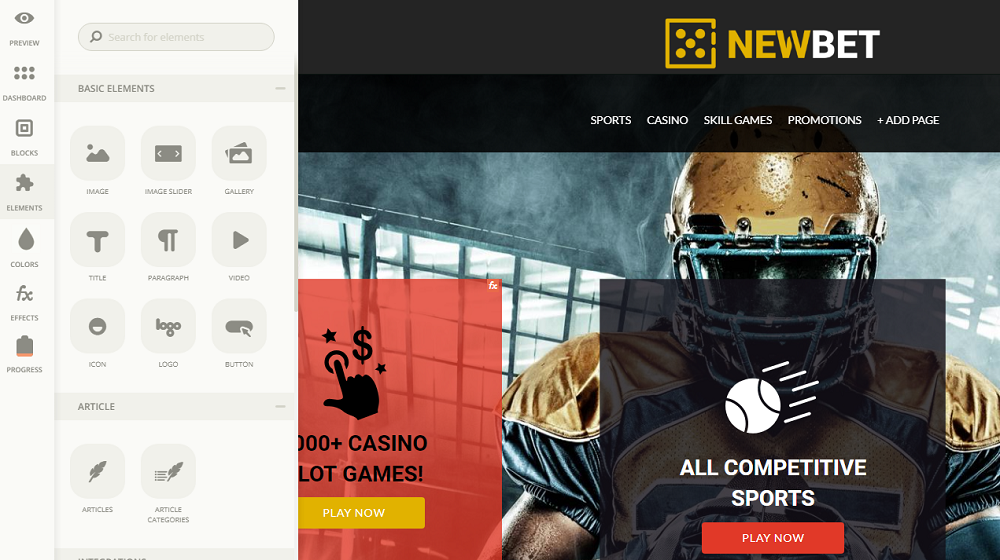 At the same time, it is possible to launch other types of projects with the system, such as business websites, portfolios, landing pages, promo websites and even online stores. All SpringBuilder templates are responsive in their nature and they perfectly adjust to mobile and desktop website versions. Template collection of the service is not rich as it does not encompass hundreds of themes.
Steps to Launch a Website with SpringBuilder
The process of website creation is not challenging with SpringBuilder, even if you are not a web design professional and this is your first attempt to create and run a web-based project. To do this effectively, stick to the following plan:
Choose a template that best meets your web design endeavours.
Get a subdomain for your website, which may reveal any ideas you have.
Proceed to your website design customization by making use of the multiple features the service offers. Some of the edits you can make on your own include selecting and dragging the required elements, finding web page positions for them, changing their parameters, sizes, styles, fonts, backgrounds etc. What's important, all the templates already come with pre-designed content and you just have to decide what info exactly you'd like to replace there.
As soon as you are ready to publish your website, take your time to preview it by accessing the corresponding mode. This is where you will see the full-screen format of your website to decide whether it needs extra edits or not.
Finally, get your website online and promote it.
Feature Set and Flexibility
SpringBuilder provides a broad variety of features, which make the web building experience simple, understandable and flexible for users with diverse web design experience. Launching websites with the system is not challenging as the process ensures cutting edge and comprehensive solutions for all types of projects you are going to start with it, be it a gaming website or a web store.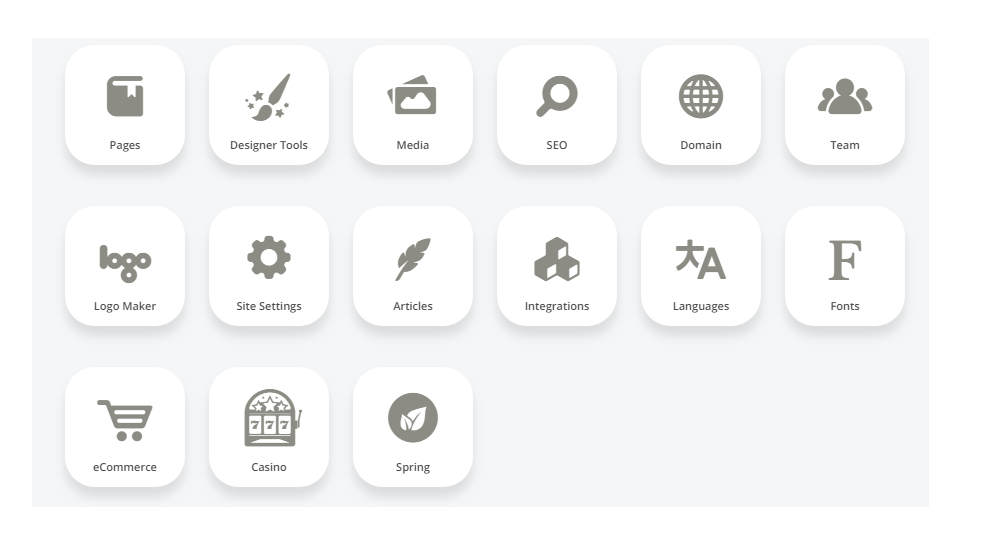 SpringBuilder control panel comes with understandable sections that contribute to the efficacy of the web design process. The entire control panel is subdivided into several parts. These include Dashboard, Elements, Colors, Effects, Progress. The Dashboard is the largest part of the control panel as it encompasses multiple design tools. The Elements section comprises a set of widgets to add to your website performance and excellent design. The most popular widgets include image gallery, video integration option, map, icons, countdown timer, Soundcloud, article categories and more. The Colors section allows adjusting the color palette of your website by using the available options. The Effects category makes it possible to assign specific effects to your website elements to boost its visual appeal and performance. Finally, the Progress section lets you control the way you develop a website and the steps you make to succeed at this.
As to the major Dashboard design customization features, the following ones should be the first to mention:
Drag and Drop Option. SpringBuilder comes with a convenient drag-and-drop editor. It simplifies the web building process by letting you select, edit and arrange the required blocks on a web page. No technical or coding skills are needed to develop a website here. The process is intuitive, simple and hassle-free.
Designer Tools. SpringBuilder is known for its advanced Designer Tools. They allow editing your website colors and styling directly in the dashboard. This is easy and convenient for everyone. The Designer Tools encompass 3 major elements, including Typography, UIKit and Layout. By using these tools, you can edit website typography (titles, styles of headings, opacity levels, letters etc.), customize the design, create online forms and perform other actions without any programming knowledge at all.

External Services Integration. With SpringBuilder, it is possible to enhance your website design and functionality by integrating external services and powerful system applications. These include Domains app, SEO app, Google Analytics, Intercom and more.

Multiple Language Website Versions. Multilanguage support the system provides allows creating as many language versions of your website as you need to reach your business or personal goals. This contributes to better integration with the foreign market, attraction of new partners, growing customer base and boosting your website success.
Logo Maker. If your aim is to build a profitable business website and present your company on the web, then SpringBuilder will help you gain success with that. By using the Logo Maker the system offers, you can design your own logo to further integrate it into your website. This is a surefire way to make your project appealing and remarkable, driving attention to its major focus.

eCommerce. With SpringBuilder, launching an eCommerce website won't be a serious problem neither for beginners nor for web design pros. The integrated wizard and the intuitive system dashboard will contribute to the ease of the web building process, giving you step-by-step recommendations on boosting the result. What you can do to launch your eCommerce website is to add and edit the web store pages, create and manage product lists with detailed descriptions and photos, update the inventory set, integrate videos and images, create discount coupons and complete other steps. What's more, SpringBuilder offers over 300 payment methods to make deposits and enhance the efficacy of the trading process.

Blogging. The website builder does not limit itself to the development of gambling or business websites only. It also allows creating and connecting a blog to your website. A special Articles App allows writing, managing and publishing posts, updating a blog when needed, scheduling the articles, enabling commenting option, creating and managing various article categories etc. To boost your blog popularity and drive more readers to it, you can set up the required SEO fields, add meta tags and more. All in all, the entire blog creation process takes a few hours only – from the moment you start realizing this idea and up to the moment you make your blog active.

Team Website Management. The process of creating a website may sometimes imply the involvement of a team of web designers. SpringBuilder makes it possible to give all the members of your team access rights to the dashboard to boost the efficacy of the web design process.
Casino App. The application available in the Dashboard makes it possible to create and manage your own web casino. The app is one of SpringBuilder highlights, which comes with a broad spectrum of features and tools that simplify the process of launching a casino website. To make this happen, you simply have to access the Dashboard and switch between four tabs (Games, Categories, Types and Providers) to modify the settings. That's it.
Major Page Types
SpringBuilder allows diversifying your website design and performance by allowing you to create several types of pages. Each of them has specific gaming features, which results in the creation of industry-specific web pages. The major of them are as follows:
Sportsbook: Live and PreMatch. If you are right about to start your own professional Sportsbook website layout, SpringBuilder will work great for this purpose. With its enhanced set of design customization tools, you and your team will cope with the task on the top notch level. The website builder offers two options, namely Live and PreMatch. To add and adjust them, just reach the Pages app available in the dashboard and select the required mode (or both of them at a time). Right after that, you'll be offered the default Sportsbook page layout with various sections, including Sports List, Search, Betslip and Live Match. Take your time to customize their design by using the elements from the control panel.

Casino Page. Apart from classic web pages, SpringBuilder also specializes in the creation of gambling websites. Its Casino App allows launching and managing your casino categories and games all in one place. You can create comfortable gaming environment here by changing the backgrounds of games, setting the major SEO tags for better casino promotion etc.

Sportsbook Calendar. With SpringBuilder, you can add a Sportsbook Calendar page type to your website. It allows users to find out, check and follow the schedules of the games prior to betting on them. The page can also be added and set up in the Pages App of the Dashboard section. You can customize it by adjusting the web page parameters, visibility and location settings etc.

Other Page Types. Whatever page types you would like to add to your website, you can find many of them in the system Dashboard. Apart from those mentioned above, you can add the following ready-made page types in less than no time: Virtual Sports, Live Games, Pools Betting, Games, FinBet and more. Each of these pages has it own functionality set and you can use them to reach your current web design objectives.
Specialized Website Gaming Elements
As far as SpringBuilder mainly focuses on providing high-end gaming web building solutions, the system cannot but boasts a long list of specialized gaming elements. The most outstanding and popular of them are as follows:
Winners Chart. It allows granting the winners a special place at your website to praise them there. Just choose this element from the list on the Left Panel and drag it to the Crafting Area to make the required settings.
Selected Sports Games. The element makes it possible to assign special places at your betting website to the sports games of your choice. This allows users find out the details and odds of their favorite games any time they need that.
Betslip. The element lets website users effectively place the bets any time of the day. Betslip is available by default on any ready-made Sportsbook page, which is very convenient for gamers.
Events. If you have an intention to add or edit any event published at your website, you can do that by using this element. The list of games is pretty extensive and includes tennis, football, ice hockey, basketball and many other games up to counter-strike (who says, it's not a game?)
User Account. The element makes it possible to enable quick and convenient player registration and login. It also comes with such extra benefits as user profiles, bet history, deposit/withdraw list, bonuses, transaction history and what not.
Casino Games. As soon as you create your Casino Page, you will immediately get access to the Casino layout that offers over 3000 games. Your users will certainly appreciate that!
Casino Games Category. Your ready-made Casino page definitely needs a list of games available there as users will come across dozens of them. The element allows categorizing the games into sections to make your Casino more convenient and easy-to-use.
Casino Favorites. This is where you can check out the entire list of casino games the system offers and pick your favorite ones to have quick access to them at your casino website.
Casino Search. The element will help you manage and search the required games and categories, thus saving users' effort and time.
Fantasy Sports. With SpringBuilder, users can easily create and add any contests by using the Fantasy Sports Element. It is possible to provide the entry fee, types of available contests, their duration and rules, adjust the settings here as well.
Mini Games. If you have an idea to add mini games to your Casino or Sportsbook page (or both of them), you can do that by using this element. It comprises a number of popular small Casino games offered in a single set.
Pricing Policy
SpringBuilder stands out from the crowd due to its affordable and flexible pricing policy. Being the BetConstruct product, the system is free for all its users. This concerns all the website types the service allows users to create, except for online stores.
To enable the eCommerce feature, you need to choose between several pricing plans. Currently, there are three of them here. These include Basic ($156/year), Pro ($372/year) or Unlimited ($720/year) plans. The cost of the plans is quite reasonable for the set of features they provide.
Pros and Cons
The website builder abounds in positive features and a broad range of options and tools, which make the system functional, appealing and affordable. Among the undeniable advantages of the service, it makes sense to mention the following:
Intuitive and easy-to-use interface
Quality niche templates
Powerful customization tools (Designer Tools included)
Logo Maker
Articles App
Widget Collection
Adjustable SEO parameters
Multi Language support
Team website management
eCommerce and blogging options
Affordable pricing policy
An opportunity to create a free landing page on your domain
As to the drawbacks, there are no many of them in the system. The website builder has a bit limited choice of website templates, but this is compensated by the high quality and versatility of design customization tools. What's more, the work of the website editor is a bit slow for a website builder of this type. The dashboard, however, works great here, while the control panel of the service loads slow. The rest of the features are quite ok.
Bottom Line
SpringBuilder is a decent drag-and-drop website builder. It is easy-to-use and convenient for users with different web design skills. The service comes with a set of brand tools that allow creating classic and gambling projects. This is an ideal solution for users, who need a multilingual turn key website.
The website builder is the BetConstruct product, the feature set of which is rich and powerful. Its design customization tools will exceed your expectations. There is a blogging and eCommerce engines here, an opportunity to design a free landing page, a Logo Maker, an Articles App and a rich widget collection. The multilingual support contributes to the creation of different language versions of your website, while affordable pricing policy and adjustment of SEO parameters adds to better website promotion and performance. All in all, SpringBuilder is a worthy web building investment for everyone, who needs quality websites with decent performance.