Website Templates: Why Simple is Best
Many website owners are choosing to opt to use templates for their website design. With so many template options out there to choose from, it can be very tempting to go for the most dazzling and intricate one available. However, for the purposes of both branding and SEO, it's often best to choose a simpler design aesthetic. Let's look at some of the best reasons to opt for a simpler website design, shall we?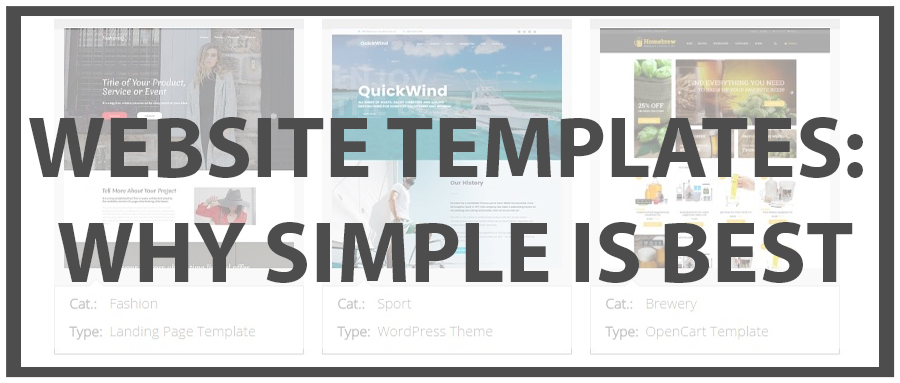 Your message comes across more clearly
When you choose a busy design template that is full of design elements, there's not much room left for the substance of your website to shine through. Conversely, if you choose a sleeker template, the meat-and-potatoes of your website, the content, can speak more clearly. This will help you to establish your brand and to assist your target audience more effectively.
Easy customization
When you start with a simple template, you'll be better able to customize it to meet your needs. Think of it like wearing a basic pair of jeans and a white t-shirt. You can dress it up or down in a million different ways as you need to, right? It's the same way when using a basic website template. You can change it up to met your needs in a huge array of different formations. With a more elaborate template, it's not as easy to make the changes you want to get a truly customized look. The ability to make changes easily is important because it allows you to keep up with your customers' changing needs and preferences.
SEO benefits
Another great reason to use a simple template is the SEO benefits it offers. Premium template platforms will offer some SEO support for their templates, which means that as you are designing your site using the template you are simultaneously working on your site's optimization. Even if you have no SEO knowledge, these templates are designed to construct your site in a way that will get you ranked higher right out of the gate. When it comes time to launch your site, it will be very beneficial if you can roll out your site already optimized and ready to get noticed.
Money talks
Finally, a simple website template will give you the biggest return on your investment. One of the best ways to make money with your website is to find ways to drive more targeted traffic to your site. When you use a simple website template, your traffic flow will likely increase, which can lead to more sales and, by extension, more money.
As you can see, there are several reasons for choosing a simple design template for your website. Fortunately, there are lots of options out there for websites of every niche and type, so you should have no problem finding one that serves as the jumping-off point for your beautiful website creation.