5 Web Designers Worth Following on Instagram
Instagram used to be a place where people could take selfies and share them with friends in a casual way; now, it's become so much more. This platform is used by designers of all kinds, including web designers, to provide inspiration to their followers as well as give their fans a glimpse into their process. It also doesn't hurt to have a portfolio online that is easily accessible on a smartphone, tablet, or desktop.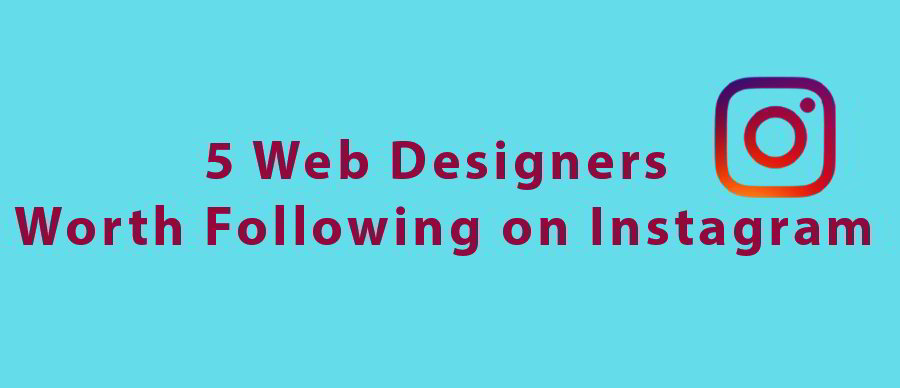 There are thousands of great web designers on Instagram, each with their own individual approach to their feeds and how much web design is forefront on their accounts. The following list is just a taste of the great designers you can find on the platform, giving you a chance to meet and get to know the best web designers to follow.
Chris Coyier
Chris Coyier is generally one of the first names that people think of when web design comes up in conversation; however this CSS and HTML expert has an Instagram that is generally considered to be a hidden gem on Instagram.
Coyier, all web designers will know, is the founder of ShopTalk and is a designer at CodePen. He's well versed in web hosting, full-stack web development, and CSS tips and tricks. His website, css-tricks.com, is well known to be the savior for many designers in a pinch.
His Instagram is a mix of personal photos, concert photography, and travel photos taken on the road. There are also photos of trips to printing processes, typography examples, and more.
While Coyier's account isn't devoted to web design tutorials and tricks, this can be a good thing; web designers are people with personal lives, and it's great to see how a man with as much talent as Coyier unwinds during his downtime. It also shows budding designers how their surroundings can influence their work, as there's always a connection between a designer's private life and their influences.
Jeffery Zeldman
Jeffrey Zeldman is well known on the web as a larger-than-life personality. He's also the author of a book called 'Designing with Web Standard,' which is now a standard reference book for all web designers. On top of being a web personality and an author, Zeldman was also the founder and owner of Happy Cog Studios, which continues to grow its list of clients to include MTV and Stanford, before moving on to establishing Zeldman Studios early last year.
But Zeldman's accomplishments don't end there. He was the co-founder of A Book Apart, A List Apart, and An Event Apart, events and publishing venues that support web designers from beginners to experts. He also has worked with everyone from Amnesty International USA to Warner Brothers Films.
Zeldman's Instagram is a boon for industrial and web designers; his work focuses on photographs in urban areas. If web designers take a look through his archives, they will find nods to New York City, TV and film franchises, marketing giants, and more. This is also a great Instagram for web designers who are looking for a fresh new take on design taken from real life.
Andreas Hansen
Andreas Hansen is a sought-after designer, typographer, calligraphy expert, and brand maker. He hails from Copenhagen, Denmark, and really takes minimal design to the next level, showcasing his many talents to web design lovers from all over the world.
Hansen owns A-Space, a design and branding agency that is based in Denmark; this company has clients that include ELLE, Adidas, and Airtame and focuses on building a "strong visual presence" for all of its clients.


As the founder of A-Space, Hansen brings his own brand to the forefront on his Instagram, which has led to many of his own contracts with long-term clients. His account is proof-positive that personal and professional visuals can meld together to build a cohesive portfolio that any client can visit.
Vitaly Freidman
Vitaly Freidman is a name most web designers already know; he is the editor-in-chief of the blog 'Smashing Magazine.' This is a well-regarded web design blog that is hosted both online and in print and gives some of the world's best designers a platform to discuss their successes and failures, best tips and tricks, and general advice about being a web designer in the present day.
Freidman is the voice behind the magazine, and so it will come as no surprise that his Instagram account finds special mention on this list. Common photos include Freidman visiting artists and designers in their workspaces, pictures of the places he has traveled to for work, and personal photographs from his own life.
This account, which has been carefully and subtly curated to bring together an international design focus, is a web designer's treasure trove of inspiration and motivation. It is also an incredible way to interact directly with Freidman, who is known to engage with his followers on web design questions.
Sarah Parmenter
Last but not least is Sarah Parmenter, or as she is known on the Internet, Sazzy. This UK-based web hosting designer is known in the fashion and beauty world as a web personality, but it is her design skills that have landed her on this list. Her client list includes Blackberry, the National Breast Cancer Foundation of America, and News International.
Parmenter's Instagram feed is a web designer's dream: the feed shows how choosing a palette and a theme ensures can pull together a portfolio or a brand. It's a shining example of what a little research and curation can do: Parmenter currently has over 14,000 followers on this platform alone.
As stated above, this is only a smattering of the web designers that can be found on the Internet. The choices they make on their accounts showcase who they are, both as designers and as people, and gives web designers not only inspiration but motivation, to curate their own personal branded feed.