Best Free WordPress Themes for Multi Builders
Why use a page builder? First, it makes creating content so much easier. Second, you have all the power of advanced stylization in your hands, without any CSS knowledge.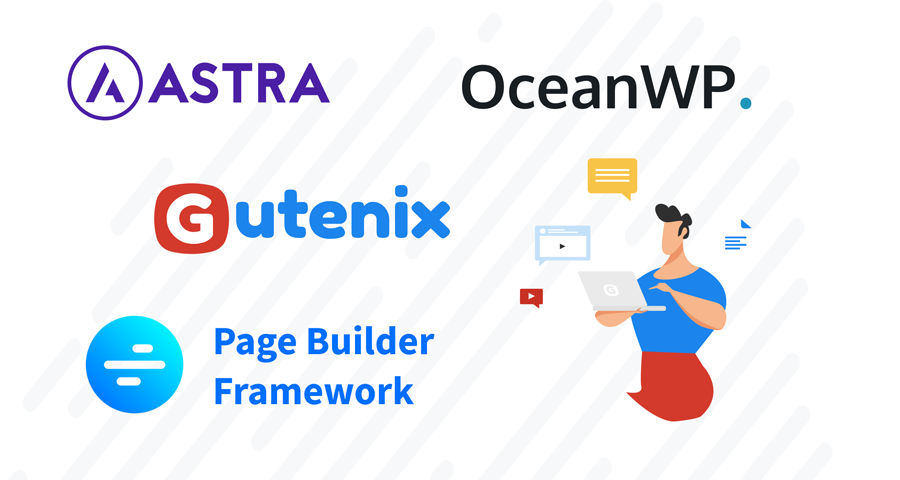 No wonder you're looking for a theme perfect for a page builder you love. And, in case you're using several builders for different projects, you might want to look for a theme that supports different page builders at once, or at least is compatible. 
The themes we will talk about are all made to work with multiple page builders. These themes are flexible and are all made for WordPress. This means, you can use them to create almost any kind of website, from a healthy lifestyle blog to a business portfolio.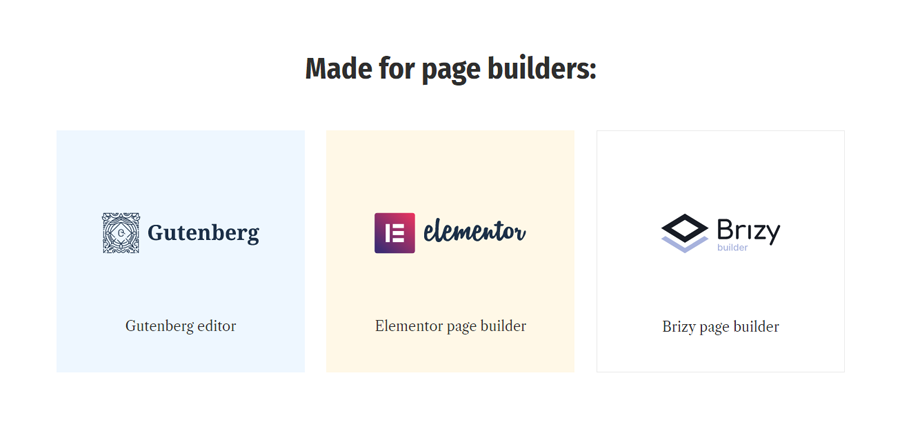 Nowadays a great variety of websites are built with the help of page builders. However, a page builder itself isn't enough to build a fully-fledged compatible website. That is why you need a specific WordPress theme to organize your content and provide the basic page structure. 
Moreover, themes are used to power everything that happens under the hood of your website. The more page builders the theme supports, the more multipurpose it is. In this article, we will represent you the best free themes that support multiple page builders and will try to highlight their main equals and differences. Among these themes are:
Gutenix free minimal WordPress theme;

Astra free WordPress theme;

OceanWP free multipurpose WordPress theme;

Page Builder Framework free WordPress theme.
An experience-based overview 
Some people might be afraid to use the free themes because they can turn out harmful and can break the server, are not frequently updated, or have limited content. But we've gathered the most trustworthy themes in this category, all from the verified developer's websites.
Gutenix is a powerful and multipurpose tool for building a sophisticated website with a bunch of neat sections and astonishing layouts. First and foremost, it is made for multiple page builders, which makes it a king among others. The theme is Retina and WPML ready, which allows its owner to spread the ideas and promote business services all over the world. It is simply perfect for a quick start and saving time on creating a website design.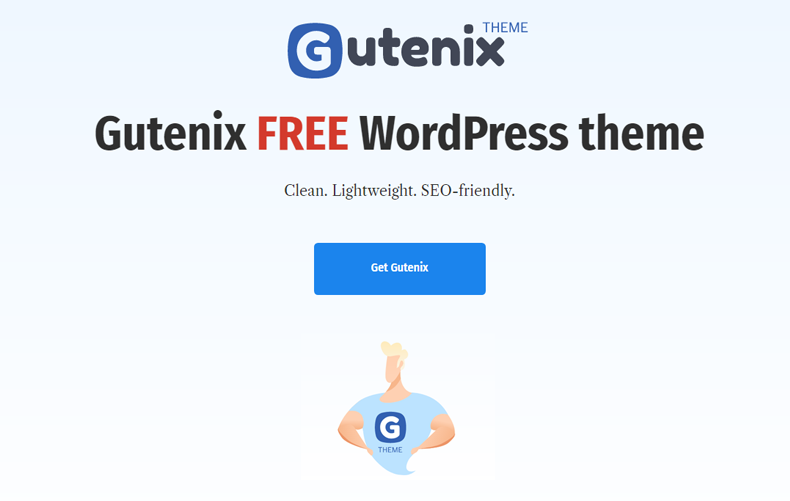 Our next guest is the Astra free theme, which will also work with a bunch of page builders. With Astra you will be able to make your website look exactly what you want. The theme is performance-oriented because of a variety of pre-built design templates on-board. Moreover, the Astra theme is also Translation & RTL Ready.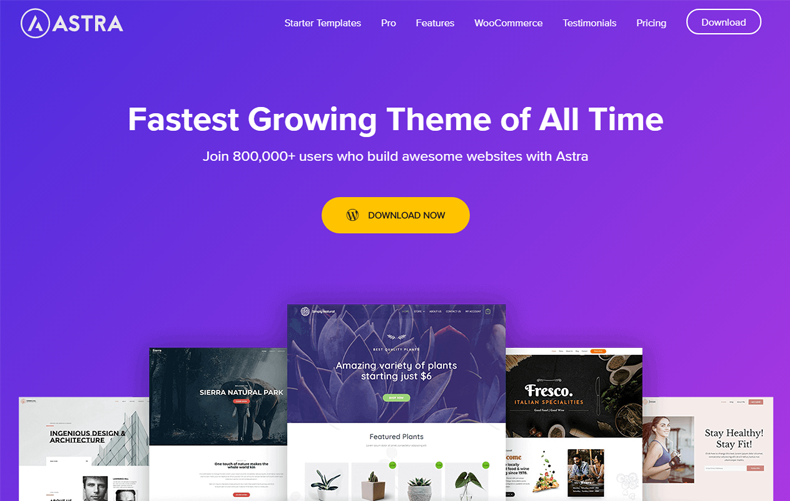 Let's move on to the OceanWP theme – one of the best free themes, compatible with almost all famous page builders. OceanWP supports RTL languages and can be translated into any language you want. The ready-to-use design of this theme will easily help you to catch the eye of the visitors and increase the rating of your website.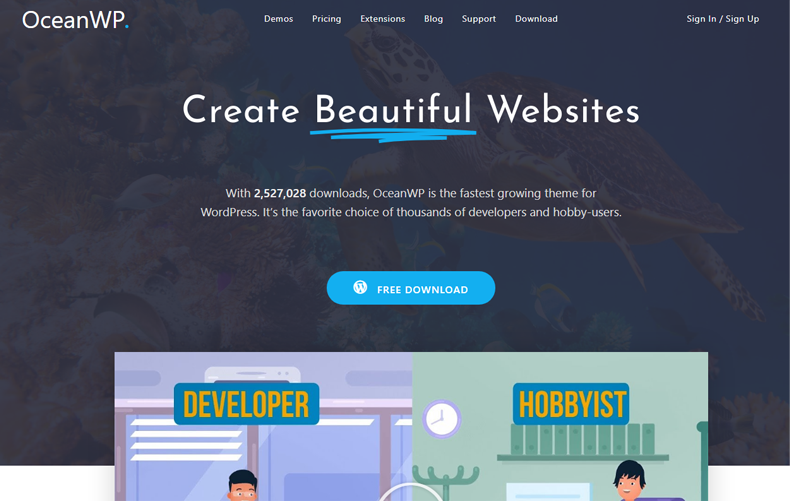 Page Builder Framework is another WordPress free theme, which will perfectly do for those, who are making their first steps in using page builders. The theme is modern, minimalistic and translation ready. It is 100% compatible with multilanguage plugins like WPML & Polylang. Moreover, Page Builder Framework follows the latest standards and best practices to make your website work smoothly.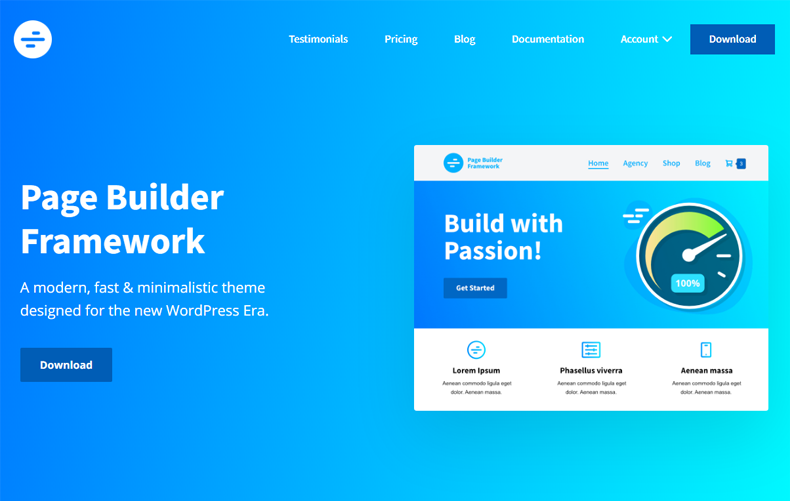 What about the performance and SEO
Each free theme of our list is completely lightweight and hassle-free. They were made with page speed in mind. The statistics say that users usually leave the website if its loading time exceeds 3 seconds. But it will never happen to these themes. We have tested them and each one got the highest grade in most of the top speed testing tools. The loading speed for mobile devices also impresses.
Talking about numbers, Gutenix loading time takes only 0.9s and 96% according to the speed test at Google Speed Insights. The Page Builder Framework theme has less demo content, that is why it takes 100ms to load it and 99% according to the speed test. The OceanWp's loading time as well takes 0.9s, and the page speed scores 98%. The Astra theme load time is 400ms, while its speed scores 95% on Google DEV.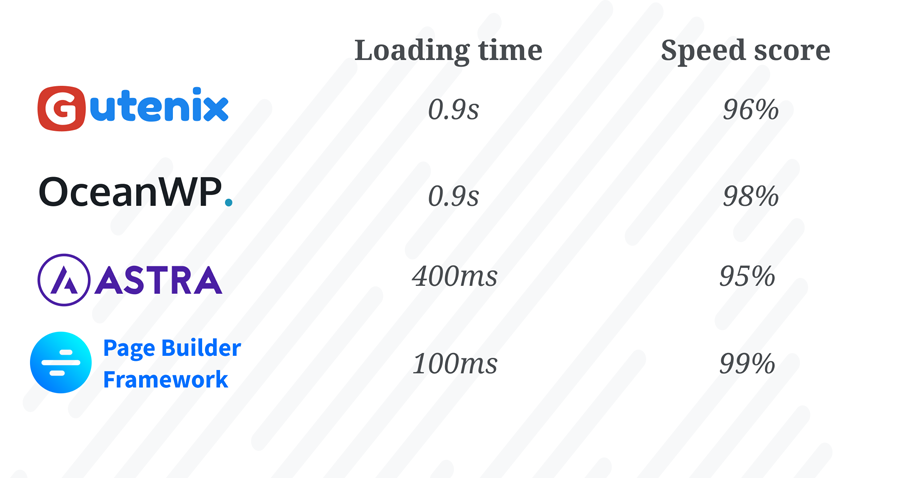 Gutenix, Astra, WPOcean and Page Builder Framework themes are truly ones of the best themes to work with, for their clean and extendable code. That will give you a clear and effortless workflow.
Furthermore, the themes are completely SEO-friendly. They were made to follow the latest web standards and don't' overload the websites. 
The responsiveness matters
Talking about the responsiveness of your website, here our free themes can leave all the competitors behind.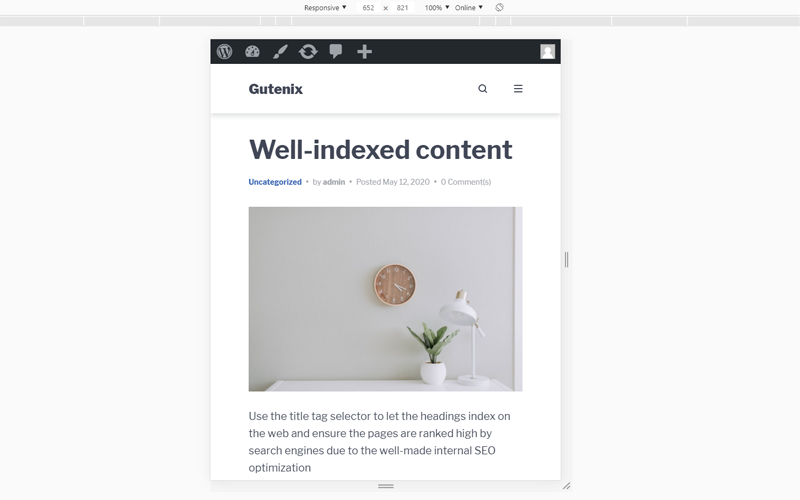 Today people prefer to use small screen devices to search the web, and the ability to showcase content on multiple gadgets is very important. Each theme ensures your content looks perfect on any type of screen or device: desktop, tablet or mobile. 
Gutenix and Astra themes are additionally compatible with any preferred browser. They will perform fast without any unnecessary lag.
Limitless styling options 
We can say a lot about various customization possibilities of each theme, but to cut a long story short, we will highlight the main aspects of each theme.
Although the Gutenix theme is a newbie on the market, it has a great variety of design properties and is developing with each day. The theme has a live customizer, which allows to apply changes in real-time and preview them without reloading the page. Moreover, it has 4 layouts for blog pages and posts. Gutenix also gives you the ability to apply a fullwidth container while working with a builder, and add a left or right sidebar.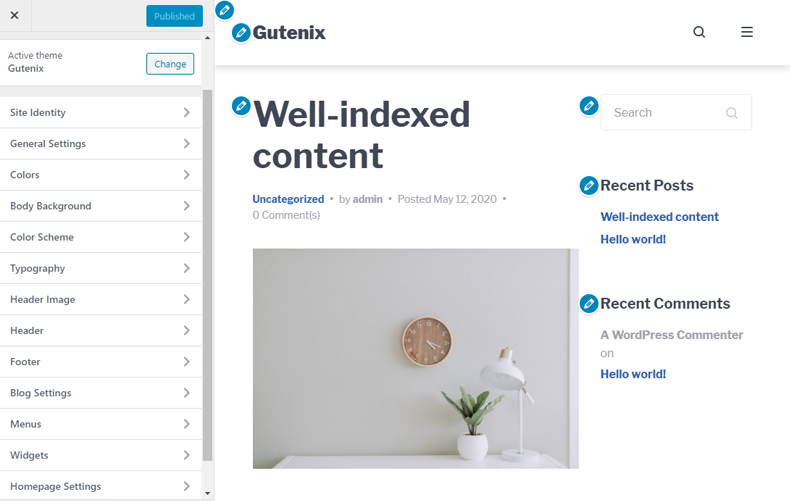 As for the typography properties, the theme has 650+ fonts on-board to apply for text content or buttons. Gutenix also provides you with 8 unique header styles to choose from. 
The Astra theme allows you to change the design through a range of options in the WordPress Customizer. No coding skills are required. You are completely free to set the layout for the header, blog, archives, single pages, posts, sidebar and footer of your website. It also has a few header layouts. Astra theme allows to manage the content, width and meta of your blog page. Similar to Gutenix, it has a real-time live preview.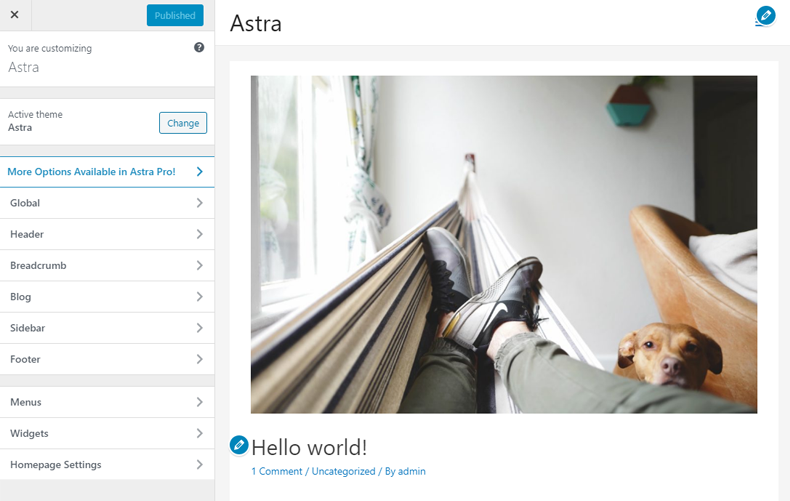 As for the WPOcean theme, it equips its owner with a simple configuration and customization without touching a line of code. It has an intuitive interface with a few key blocks. You can also buy an extension bundle to expand the process of website building with a bunch of additional blocks.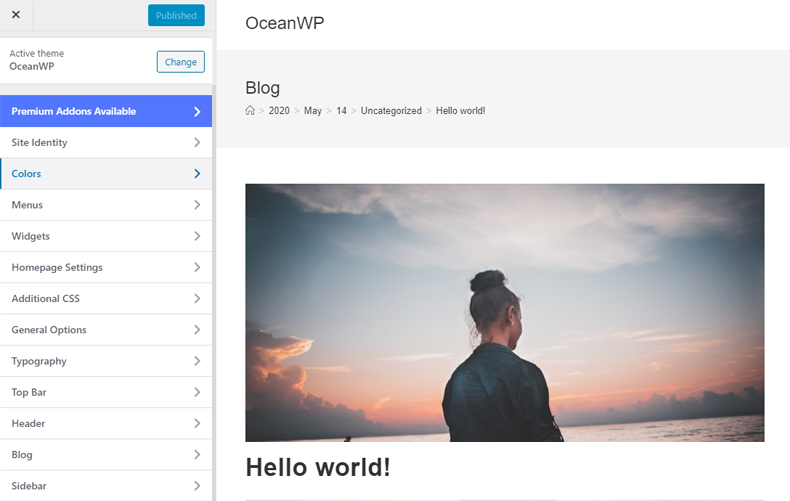 Take a look at the Page Builder Framework theme, which allows you to change colors, customize your menu and much more with the help of the live customizer.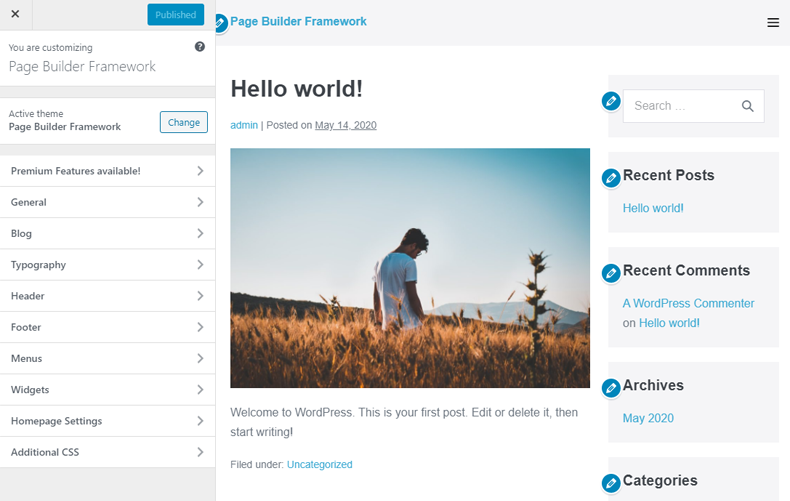 WooCommerce integration
Want to run an online store? Not a problem! Each theme is compatible with the official WordPress WooCommerce plugin. You can easily install the plugin, turn your website into an online store, and start selling your own products online.
Dedicated support team
Gutenix and Astra themes were made by experienced teams of developers and are well-documented, so you will be informed about all the aspects of the working process and theme features. Free after-sale help is also included, as well as communication via the Facebook group.
The OceanWP theme also comes with dedicated and fast support. As well as the Page Builder Framework theme.
Each theme supports different page builders at once or at least is compatible with several of them. They all are all made to work with multiple page builders, such as Elementor, Gutenberg, or Brizy. What else unites them, is that the themes are flexible and are all made for WordPress. You are completely free to use them to create almost any kind of website, whether it is a blog or an online store.