7 Important Steps to Consider Before Redesigning a Website
A website can serve so many purposes and it's unarguably a viable tool in digital marketing. Business owners hire web design agencies for different reasons. It may be to improve the UX or the current design no longer fit their branding. Here are some of the steps to note as you design a website that will be a true reflection of your brand.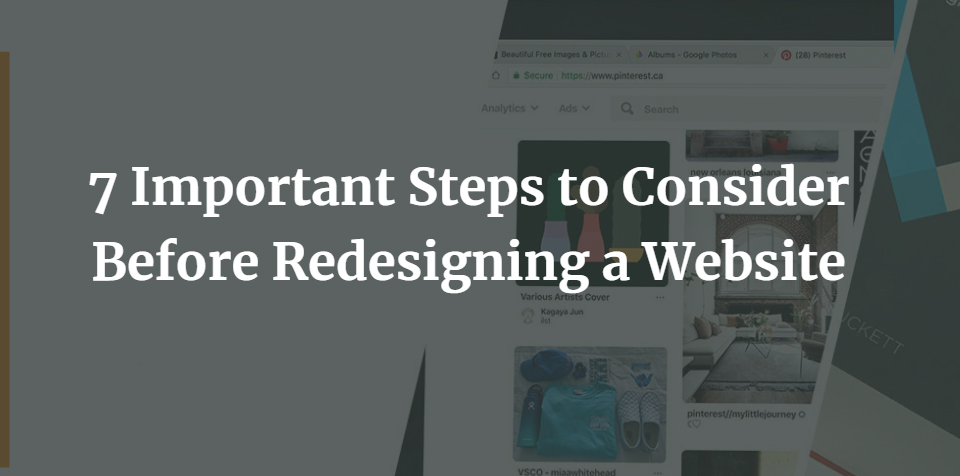 Define your business goals
The aim of redesigning isn't about changing only the look of a site but the feel as well. Stating your business goals will offer a clearer perspective on the best way to handle the redesign project. You will find it easier to communicate better with other team members and identify the elements to retain.
Review your current design
Taking an objective look at your current design will reveal the effective approaches and where to switch things up. Most business owners rely on Google Analytics at this stage. Try to analyze how visitors interact with each page and come up with lasting solutions.
It's ideal to create a wishlist that includes every feature you want. You can narrow it down to the important ones later on.
Know your customers' needs
Be interested in the needs of your existing and prospective customers. Prioritizing them is the key to offering products or services that can stand the test of time. Target customers may change as you explore other markets, rebrand or launch new products. It's ideal to set up buyer personas early on.
Check out your competitors
Get to know your competitors and learn their strategies by visiting their sites and social media platforms. This is the easiest way to discover the things they are doing right or wrong. There is nothing wrong with maximizing competitive analysis to know industry trends and beat the competition.
SEO optimization
Inasmuch as you want to design a site that users will find appealing, don't neglect SEO. Focus on adopting SEO best practices on all your web pages. This will make it possible for online visitors to find your site via organic search.
Local SEO is a must for business owners that are targeting local customers. Some of the ways to achieve this include maintaining consistent NAP listings and integrating common keywords used during searches. Optimizing your site for SEO won't cost a fortune but can boost your revenue over time.
Mobile-first
A significant percentage of online visitors use their devices to find information on search engines. It's the mobile-first approach or nothing in this era. Every site owner with excellent UX understands the importance of taking this step.
Businesses that invest in mobile-friendly and responsive design tend to have high ROI. Test if your site can adapt easily on all browsers and screen sizes before launching it.
Revamp your content marketing strategy
Your content marketing strategy has the power to make or mar your digital marketing strategy. Redesigning your website doesn't mean you will lose your existing content although you will need to update your strategy.
Incorporate quality and original visual elements into your website to boost your conversion rate. It's high time to create a blog if you're still contemplating on joining the bandwagon. Blogging remains one of the cost-effective ways to drive traffic to your site and ensure your marketing efforts yield results.