10 Steps to Setting Up Your New Wedding Website
Creating a wedding website is a great way to make your special day more memorable. You can also use a wedding website to keep guests and party members informed about schedule and itinerary changes and share your wish lists and registry information. By following this simple guide to setting up a wedding website, anyone can create a digital platform to inform and share special memories related to their wedding day. Don't let a lack of advanced tech skills or experience building websites preclude you from attempting this project on your own, it's quite simple if you take it one step at a time.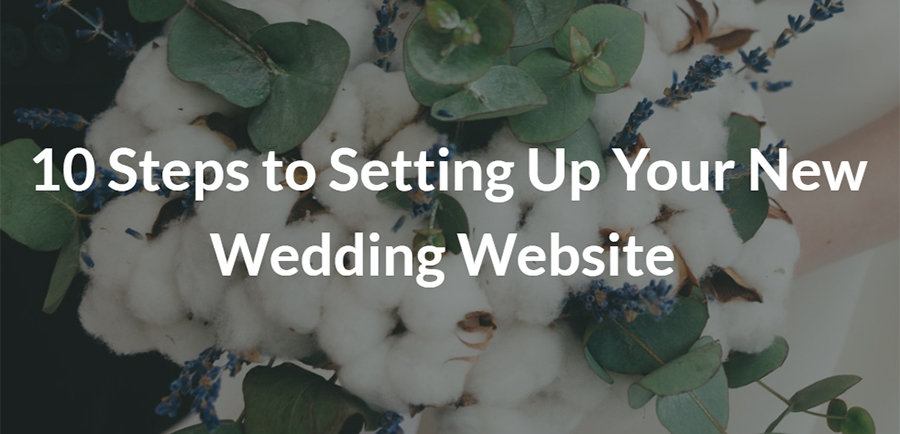 1. Choose a Domain Name
There are several types of domain names available for website owners. The most known domain extensions are the TLDs .com, .net, and .org, and these are generally good choices for your wedding website. Consider picking a name that includes your first names or the word "wedding" for a more straightforward approach. Domain names can be purchased from domain registrars or in combination with a web hosting package.
2. Acquire Website Hosting
After choosing your domain name you'll need to get a web hosting server to store your website on. Web hosting plans can be purchased for around $5 to $10 per month. If you don't plan on leaving the wedding website up long after the event then a monthly shared or cloud hosting plan will be a great choice. If you might want to leave the website up for years to come to commemorate the wedding then you can save money with an annual hosting plan. For larger weddings and those with more elaborate websites you may want to opt for a VPS hosting package for added power and stability.
3. Choose Your Website Platform
There are several CMS platforms available that are well suited for a wedding website. WordPress is arguably the most popular and best choice if you're new to building websites. Joomla and Drupal are good alternatives if you don't mind a slightly steeper learning curve and want more flexibility when building your website. You can also build your website with HTML5 without the use of a Content Management System.
4. Install Your CMS or Platform Software
After choosing the platform you're going to build your website with, you will need to download a copy of the application and upload it to your hosting server. You should download the CMS directly from the maker's website.
Upload the installation file to your server using the File Manager in your administrator panel and decompress the files. Alternatively, choose a web host that offers one-click installation of WordPress or other CMS software to save time completing this part of the process. With a one-click installer you'll simply need to choose which version and platform software to install and the work is done for you.
5. Find a Great Wedding Theme or Template
There are no shortage of wedding themes and templates pre-built for all of the major CMS platforms. Try browsing the Envato Market, Template Monster, or another popular template maker's inventory for wedding-themed templates. Look for themes with plenty of white space and wedding design styles that suit the theme of your wedding. Floral designs and elegant bridal patterns can be found on many wedding-focused templates.
6. Install the Theme or Template
You can install the template of your choosing manually by uploading it to the themes folder of your WordPress installation, or through the point and click theme options on the left-hand menu of your WordPress Administrator Panel. Joomla and Drupal users will find similar options within their settings and themes dashboard options.
7. Install Additional Helpful Plugins
There are many plugins that may interest you while building a wedding website. You can search for plugins corresponding to your CMS to see what you'd like to include on the website. One great example is the RSVP and Event Management plugin for WordPress that allows users of your site to digitally RSVP to your wedding. Other plugins you may want to include are calendars, countdowns, wedding-themed games and puzzles, and PayPal Gifting integration.
8. Create a Guest Book
One of the funniest things you can include on a wedding website is a guestbook. This will allow attendees to comment on your special day and those who can't attend to leave their best wishes. If you decided to use WordPress for your website's platform you can install a guestbook by using the Gwolle Guestbook extension. Similar free extensions exist for Joomla and Drupal.
9. Upload your Photos and Videos
Now that you've got a domain, hosting, a CMS and accompanying theme, your site is ready for photos and content. Most CMS software offers simple upload forms to add photos and videos to a media library. Upload photos from your relationship, family albums, and locations that are relevant to your wedding. Place your logo image and header image on the front page of your website using the drag and drop photo editor. Don't forget to crop these front page images to fit nicely in the allotted spaces.
10. Create your Wedding Website Content
With your videos and photos already in the media library, it's time to start adding the textual content to your website. Create a new page, post, or article from your chosen CMS dashboard for each page you'd like to display on your website. Mark the pages that you want displayed on the menu as "Featured."
Add text and photos from your media library to each page or article you create. A good place to start is by setting up Home, Events, Gallery, and Guestbook pages. Additionally, you may want to add a trivia page with fun facts about the couple to wed. This is also a great place to create pages for RSVP forms and guestbooks.
After creating pages for each area of your website you can choose which pages to display on the main menu. The featured pages will likely auto-populate the menu, but you may have to add them in manually depending on the menu options for your specific theme or template. Adjust the colors on the menu using the menu configuration options from your CMS administrator dashboard to finish the site.
These ten simple steps can guide you through creating a wedding website within just an hour or two. By using your own hosting and domain name, your site will have a professional appearance and more flexibility for your own creative touches. You can save hundreds of dollars by creating this website on your own, and make it all the more special while doing so. Consider adding social media sharing buttons to your website to more easily share your wedding day with Facebook and other social media users.