Avoid A Disaster: 4 Common Hosting Mistakes To Run Away From
Where you choose to host your website can make or break its success, and there are many hosting horror stories to demonstrate the impact a bad hosting decision can have. In 2014, hosting company Crazy Domains lost the data for thousands of its websites, resulting in huge losses for the website owners. Not only was the company unable to compensate those users for the loss, but were unable to explain their lack of customer support leading up to the server crash.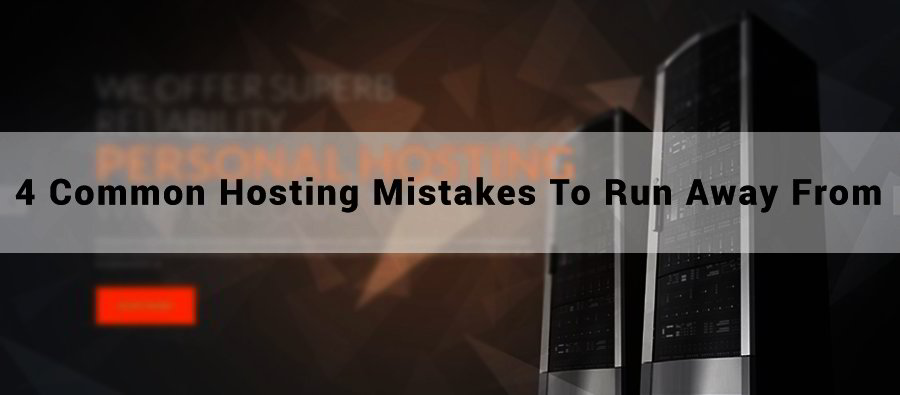 Deciding on the right hosting provider is like choosing a home: this is where your website will live. Whether you're looking for a host for your personal portfolio or ecommerce business, you'll need a great hosting provider with quality customer support. During your quest, keep the following common mistakes in mind to prevent you from following in the unfortunate steps of many others:
Shared vs. Cloud Hosting – Making The Wrong Choice
When choosing between shared hosting vs cloud hosting, it's important to jot your numbers down and make sure you have a thorough understanding of each. Shared hosting is the cheaper option, where multiple users have a limited amount of bandwidth and share a single server. On the plus side, users can have as many sites as they want. However, if any one of those sites takes up too many resources, it could have a negative impact on the others.
While hosting companies work to mitigate those risks, it's still something to be aware of. Shared hosting would work well for users who plan to operate smaller niche sites and anticipate a moderate following month to month. It's also best for newbies who seek an easy setup process and don't want to get too involved in the technical aspects of hosting.
Cloud hosting allows users access multiple servers. This is the better option for individuals who anticipate heavy traffic. If one server becomes overwhelmed, it will simply switch to another. Additionally, with cloud hosting, your hardware is virtual, scalable, and efficient. But while it offers more reliability, it does come with a higher cost (though you pay for exactly what you use — if traffic spikes or hits a downtime period, costs shift accordingly).
Making the wrong server choice could stifle growth. Consider your needs and the traffic you anticipate. While cost is certainly a factor, it shouldn't be the only factor. Cleaning a messy situation could cost even more money, and overshooting could lead to wasted money. While you could certainly switch to a new hosting provider, it's best to start off with the right choice.
Going The Free Hosting Route
When it comes to web hosting, if it's too good to be true, it usually is. If you're promised free hosting (even during promotional periods), rest assured you'll experience a few caveats. These caveats could include anything from unsolicited website advertisements, slow loading speed, and the inability to run certain scripts for videos and animations. Most importantly, it could even affect your search engine page results. Slow loading pages, spam sites, and database connection errors will all have a negative impact on SEO. Rather than bite the bait for the free stuff, do your due diligence: research and draft a shortlist of viable hosting companies based on online reviews, referrals, and chats with customer support.
Not Researching Your Restrictions
Before you make any major decisions, be sure to understand what restrictions you'll have. For example, some hosting companies might not allow you to install your own software or have multiple POP accounts. Some companies even make bold statements such as "unlimited bandwidth" and don't mention the limiting factors. Do some digging around and speak to a representative about potential limitations.
Choosing The Wrong Hosting Company
Unfortunately, many people make the mistake of choosing the wrong hosting company and have to deal with the repercussions later. You can end up with a bad hosting experience for a myriad of reasons: got hooked by cheap or "free" services, were unable to utilize customer support to solve an issue, server kept crashing, and much more. To avoid making a crippling mistake, there are a few precautions you can take.
Aside from reading online reviews, you should be able to easily reach customer support for questions. The hosting company should have a phone number listed for real-time support (not just a contact form) and a discussion board, help, or FAQ section. The best hosting services give customers the ability to contact them via multiple channels, including instant chat on the landing page. Additionally, check the refund policy and explore pricing. Be wary of companies that force you to lock into long contracts.