15 Fully Responsive HTML5 Templates
HTML template is a way to build a professional and reliable website in case you do not want or need a CMS with the design. This type of templates is basically the pioneer in the web templates market, so there are millions of them available.

Website templates developed with HTML5 though are the latest technological achievement and the latest web standard. There are hundreds upon hundreds of HTML5 templates in our store only, you can imagine the sheer number of them out there in the net. So if you are looking for the perfect HTML5 web template you can quite literally get lost.
I am here to help you, as always. Here are 15 of the best selling HTML5 website templates from one of our recent updates. So here's what you get with every HTML5 template we provide:
Fully responsive layout. All of your website templates are 100% responsive, they perfectly adapt to any screen size you can imagine. You can rest assured your website will look its best on any device. Not to mention – Google prefers mobile-friendly websites, so you have better chances to rank high if your website is built with one of our responsive HTML5 templates.
Modern design. Our experienced designers follow all the latest trends in the design world, these HTML5 templates have cutting-edge, minimalistic designs in trendy colors and they come with full functionality you would expect from a modern-day website.
Cross-browser compatibility. Every website template here is properly displayed on all the modern browsers, IE included.
Customizability. It's not going to be a pain to modificate these HTML5 templates, all the documentation is included.
24 hour support. And if you happen to have any concerns, issues or questions – our tech support team is always there to give you a hand and answer any questions.
These 15 HTML5 templates I have to show you today do not have a common topic, there are templates for different markets and fields, you will find a template for a hotel booking service, one for a heavy industry business, a couple for healthcare facilities, even one for a cat breeder. Read on to learn more about these brilliant HTML5 templates and find the one for your own business!
Hotel Booking Website Template
Trendy colors, beautiful typography, amazing parallax animation effects and very user-friendly fixed navigation menu. These are only a few of the things this modern Hotel Booking Website Template has to offer.
Cat Breeders Website Template
This awesome Cat Breeders Website Template won't leave even a dog person indifferent! The beautiful colors along with the comfortable navigation and high resolution photo gallery make it the perfect choice.
Elementary School Website Template
An elementary school website has to be fun, yet look reliable and it has to have lots of space for the necessary information the parents will be looking for. This clean and modern Elementary School Website Template comes with everything described and much more. Check out the live demo!
Steelworks Responsive Website Template
Every business needs an online presence in this day and age, heavy industry is no exclusion. This Steelworks Responsive Website Template is a perfect illustration showing that an industrial website does not have to be dull ugly.
Women's Consulting Website Template
This clean and modern web template is made to fit a healthcare facility of any kind. There is a lot of space for all the information you need to put up on a medical website for your patients, trendy colors will make your website look up-to-date and the responsive structure will make sure it looks perfect on any device.
Global Business Website Template
Any business, big or small, can profit from this masterfully built HTML5 template. The design is very clean, there is nothing out of place and nothing amiss here, every content block is in it's perfect place. Check it all out in the live demo!
Automobile Fan Site Website Template
High resolution pictures, awesome image gallery, amazing parallax animation effects, video integration, clever use of red color and all of it is absolutely responsive. Perfect website template for a cars-related business.
Counseling Responsive Website Template
Calm color scheme, clever use of space and content blocks along with intuitive navigation and big images make this Counseling Responsive Website Template a great choice for a medical or consultant service.
Moving Company Website Template
This fully responsive design is exactly what a small business needs, there is a nice and trendy color scheme, clever use of content blocks and much more. check out the live demo!
Car Wash Responsive Website Template
This one is an example of what a great design can do for a business. Imagine your car service had an easily accessible, user-friendly and fully responsive website to represent your business online. Very doable with this web template, if you ask me.
Oil Gas Company Website Template
The awesome color scheme, unique icons, beautiful typography … this Oil Gas Company Website Template makes it completely clear even such a serious business can have an exciting and fun website.
Garden Design Responsive Website Template
Fixed navigation bar, impressive images, trendy design elements such as ghost buttons and amazing parallax animation effects – aren't these the things any modern website should have?
Medical Responsive Website Template
This website template has integrated Google map to help the patients find your clinic, it has fully responsive layout to make sure the medical website built with it can be viewed without losses on any screen size, there are awesome images and parallax scrolling effects. What's there not to like?
Dentistry Responsive Website Template
I'm sure you will fall in love with the unique design elements our designers created for this Dentistry Responsive Website Template! Not to mention the awesomely trendy color scheme and scroll effects.
Cancer Center Website Template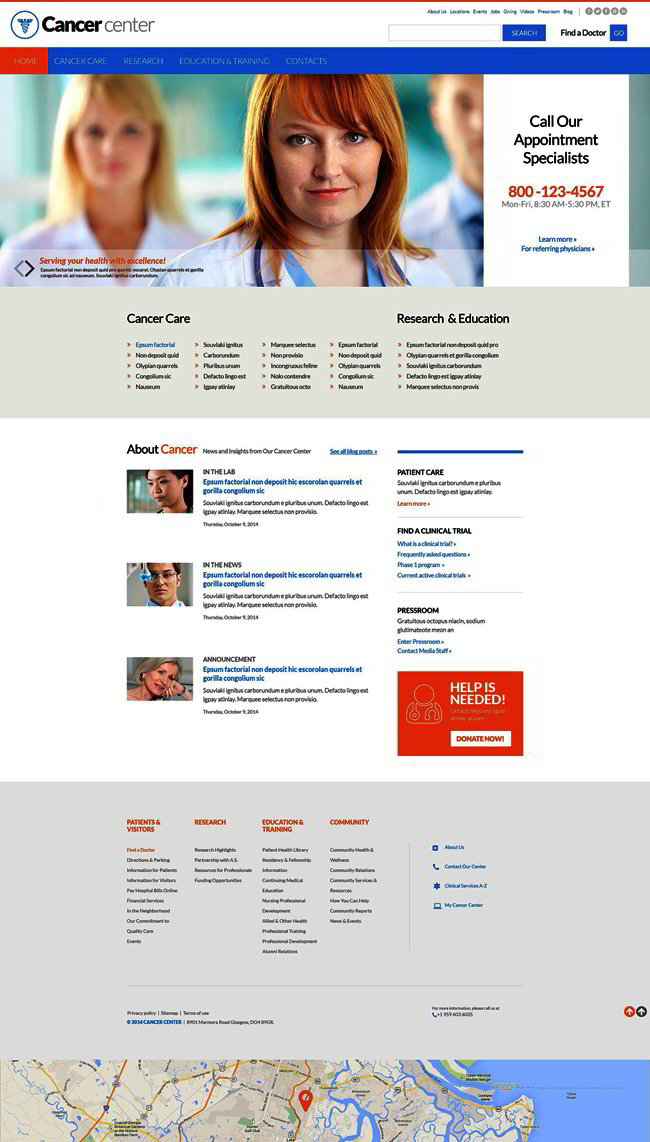 This clean and elegant HTML5 template is very easy to navigate, the information is scattered across the page in a straightforward way, your visitors will be able to find exactly what they've been looking for with no hassle.