15 Delicious Joomla Themes for Restaurant Business
Joomla is a widely popular CMS (Content Management System), the numbers speak for themselves – it has been downloaded over 50 million times, it means there are over 50 million websites built with Joomla platform out there!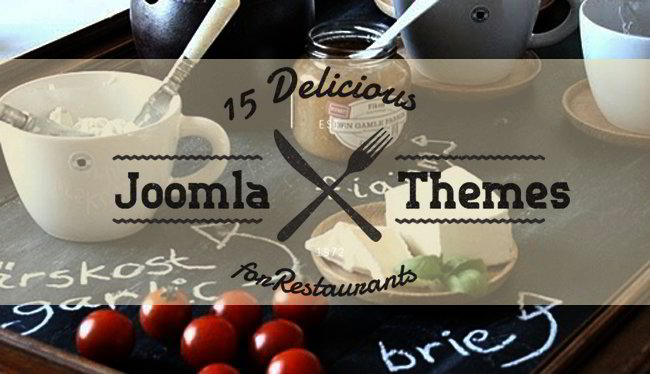 The secret of this immense popularity of Joomla is in the reach usability, functionality and comfort of use. What is amazing – you can extend that functionality with almost no limits, there's over 7000 various extensions available from official Joomla collection alone, both free and premium, there's even more at other sources.
The templates system Joomla supports is also one of the reasons of it's major popularity among website owners and web developers. Our store alone offers over 1600 Joomla themes, you can imagine the number of themes available online overall. It is very easy to get lost in this sea of free and premium designs.
To narrow down your search of premium Joomla themes I'm going to show you 15 of the best Joomla templates aimed for restaurant business today. The themes you'll get acquainted with below are all 100% responsive, as a matter of fact – most of them are built with Bootstrap framework, which in itself is the only guarantee you need that your Joomla website is looking great on any screen size, whether it is the smallest mobile phone, tablet, laptop or a huge desktop screen.
Pasta Joomla Template
Simple and so very stylish design of this Joomla template will help you attract more customers to your italian restaurant. You do not need any coding skills to customize the theme, everything is rather intuitive. We do have 24/7 support team in case you happen to have questions though.
Pizza Responsive Joomla Template
A traditional italian restaurant has to have a homey atmosphere, a sense of familiarity, and the responsive Joomla template you see here is a perfect choice for such a restaurant. The patterned background that reminds a wallpaper, deep colors, vibrant photos of food and trendy fonts make your restaurant website look amazing!
Italian Restaurant Joomla Template
This italian restaurant Joomla template has nice animated effects that make it dynamic, beautiful color scheme, high resolution images support to help you showcase your best dishes. All in all this is a great choice for any business related to food.
Delicious Cafe and Restaurant Joomla Template
Clients craving your food, wanting more and more… this is very much achievable if your restaurant's online presence has mouthwatering photos of your delicious masterpieces as the center of the design. Like in this Cafe and Restaurant Joomla Template.
Cafe Joomla Template
Your clients can easily find your physical address, look through your menu, make reservations online, read and write reviews on your cafe and your food, and all of this they can do with no hassle from their mobile devices. A dream…or is it? It is pretty much a reality if your website is built with this responsive Joomla template!
Small Cafe Joomla Template
A small local cafe needs a solid online presence as much as a huge restaurant chain, even more so. Use the built in Google map to help your clients find your offline location, showcase your dishes in the gallery, help the clients make a choice of food they are going to order by showing them your menu online, don't forget to allow the customers to reserve online as well!
Sea Food Restaurant Joomla Template
This stylish restaurant Joomla theme has everything a modern design needs to have – stylish and quirky background, amazing hero header, bold typography, modern color scheme and lots of useful features like integrated Google map, back to top button, drop down menu etc. Check it all out in the live demo!
Fast Food Restaurant Joomla Template
Stand out among the competition with the vibrant color scheme, high-res picture slider at the top of the home page, beautiful typography, fully responsive layout, intuitive navigation, perfect alignment of the elements that come with this Fast Food Restaurant Joomla Template.
Art Cafe Joomla Template
Unique and artistic design for a trendy local art cafe, the hipsters will love it! The background design, the round navigation menu, the bright and cheerful colors and the handwritten fonts make this theme a great choice even before I start on the responsive nature of the layout that allows your clients to browse the website from mobile devices with no loss to aesthetics and functionality.
Pizza Joomla Template
Deliver your pizza to the whole city with a perfect Joomla-based website. How? Just throw in some mouthwatering photos of your pizzas, add your satisfied customers' reviews and don't forget your contact information, the Pizza Joomla Template will do the rest for you!
Chinese Restaurant Joomla Template
Trendy color scheme, responsive layout, hero header with mouthwatering photos of food, clearly visible address of the restaurant and contact information, this Joomla theme has it all and more. Take a look yourself in the live demo!
European Restaurant Joomla Template
Clean and simple, fully responsive layout is what an established restaurant needs. This slick design with trendy color scheme and hi-res picture slider at the header is a great way to showcase the restaurant's best offers, menu, client's reviews, announce events and let the clients make online reservations.
Family Restaurant Responsive Joomla Template
A good restaurant website has to be modern yet with a touch of tradition, here's a perfect example of such a combination – a very trendy photo background plus traditional fonts and design elements that bring a homey feel to the website. Just what your clients need – up-to-date, reliable and informative online presence of their favourite family restaurant.
Cafe and Restaurant Responsive Joomla Template
Your cafe online presence is looking amazing, the color scheme is modern and cozy, the image gallery features your delicious masterpieces in perfect light, the menu is clearly visible and mouthwatering, and it all looks just as amazing on a mobile device as it does on a big desktop computer. Well, now there is nothing for you to worry about, you can focus on your dishes and the responsive Joomla template will do the rest for you.
Italian Restaurant Responsive Joomla Template
Imagine your italian restaurant website has every trace of modern design – minimalistic approach, emphasis on photos of your dishes (in high resolution of course), perfect menu page with pictures, intuitive navigation, drop-down menu and even a built-in Google map to help your clients find the restaurant. Well, with this responsive Joomla template your website has it all and even more, check all the features in the live demo.