30 Bestselling WooCommerce Themes to Boost Up Your Sales
We all have different tastes and preferences, especially when it comes to purchasing something, different strokes for different folks as the saying goes. But we all can agree on one thing here – we all are looking for customer-friendly, comfortable environment to make an educated choice of whatever we are looking to buy.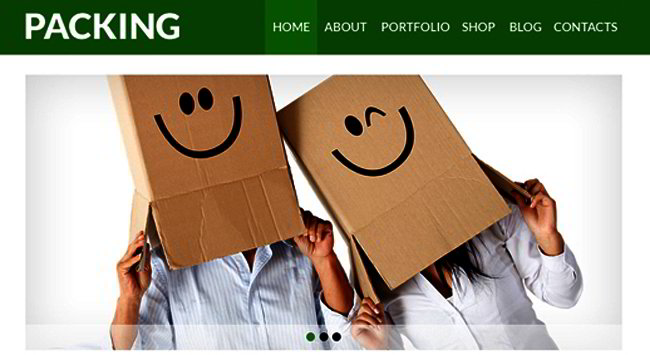 This is human nature you can not ignore if you are in the e-commerce business. To make your customer's life easier and their experience with your online store more enjoyable and fun you need a website with responsive up-to-date design and interactive functionality.
The modern technologies have changed the online sales business so much in just a couple of years, a time traveller wouldn't recognize it. Now you can make your online store both visual and informative, showcase your products in the most efficient, eye-catching ways (slideshows, video presentations, zooming images etc.), all of these features were not possible a short time ago. That's why we love technologies so much.
One of the technologies that we owe these changes to is the ecommerce platform called WooCommerce. WooCommerce is a plugin for WordPress, but what a plugin! It takes an average WordPress website and makes it a full shopping cart system with the most extensive list of features you can find on the market.
These features include multiple filtering options for navigation, user-friendly comments system and great contact form with fields you can customize. WooCommerce allows you to sell both physical and downloadable products, plus it supports affiliate programs. You can accept payments with COD, BACS and PayPal, extensions for specific payment gateways are available. You can also manage inventory and shipping with no hastle. And you can run your store and all it's features directly from WordPress admin panel, which is extremely popular due to it's intuitiveness and ease of use. And being a WordPress plugin, WooCommerce supports the template system, which means you can have a professionally designed, feature-rich online store in mere minutes.
I'd like to show you now the 30 bestselling WooCommerce themes from our store. All of the themes below have been designed with the recent trends in mind. All of them are responsive; this is very important in the modern world of online business, since this feature ensures your website will work properly and look good on any device and any screen size your visitors might use.
The themes below have Google Maps integrated in case you have an offline location to help your customers find you easily.
You can view a live demo of very WooCommerce template in this collection, check the features, see the pages, see how they would look on a tablet or a smartphone etc. Enjoy!
Most Pleasing Smoke: Cigars Store WooCommerce Template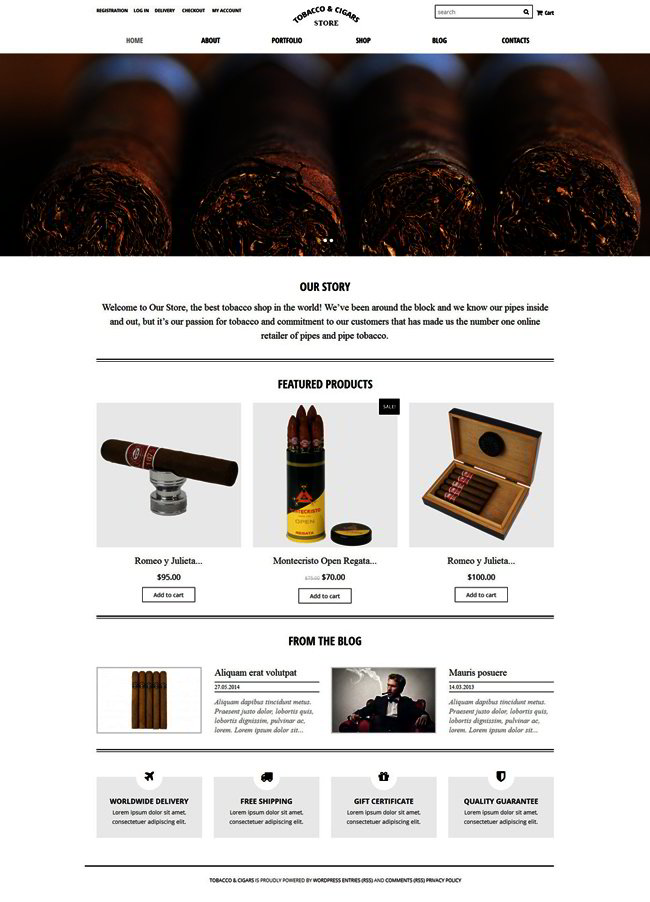 This cigars store WooCommerce theme has minimalistic and stylish design with just the right touch of retro. The template is not overstuffed with effects, there is parallax animation implemented, a range of gallery types for you to choose from, video integration, audio player, contact form, in a word – there's everything you might need to run a successful online cigars store.
Software Galaxy: Best Software WooCommerce Webstore Design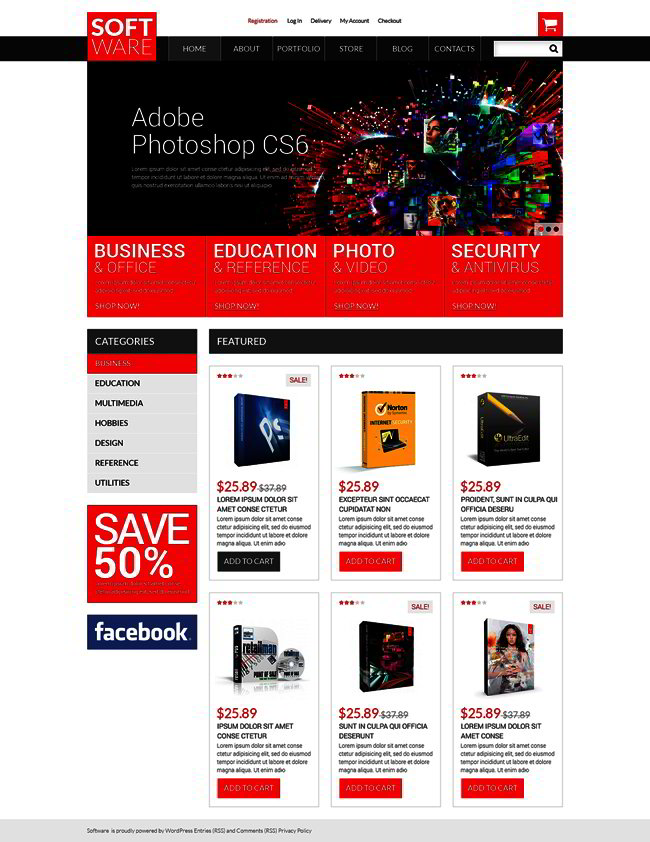 Looking for a website template to sell software online? You've found the best one! WooCommerce is the ecommerce platform you need to sell digital products flawlessly, it has a great number of useful features, customizable contact form, multiple filtering options for navigation, integrated Google Maps are just a few of them.
Charged with Energy: Sport Clothing WooCommerce Theme

Sport clothes store has to have a modern look, this sport clothing WooCommerce theme has a stylish modern design in grey color scheme but you can easily change the colors to complement your brand. The theme allows you to change the gallery to show your products in the most flattering way, you can choose from accordion, carousel, isotope or slider gallery type.
Best Chicken Care: Farm Supplies WooCommerce Theme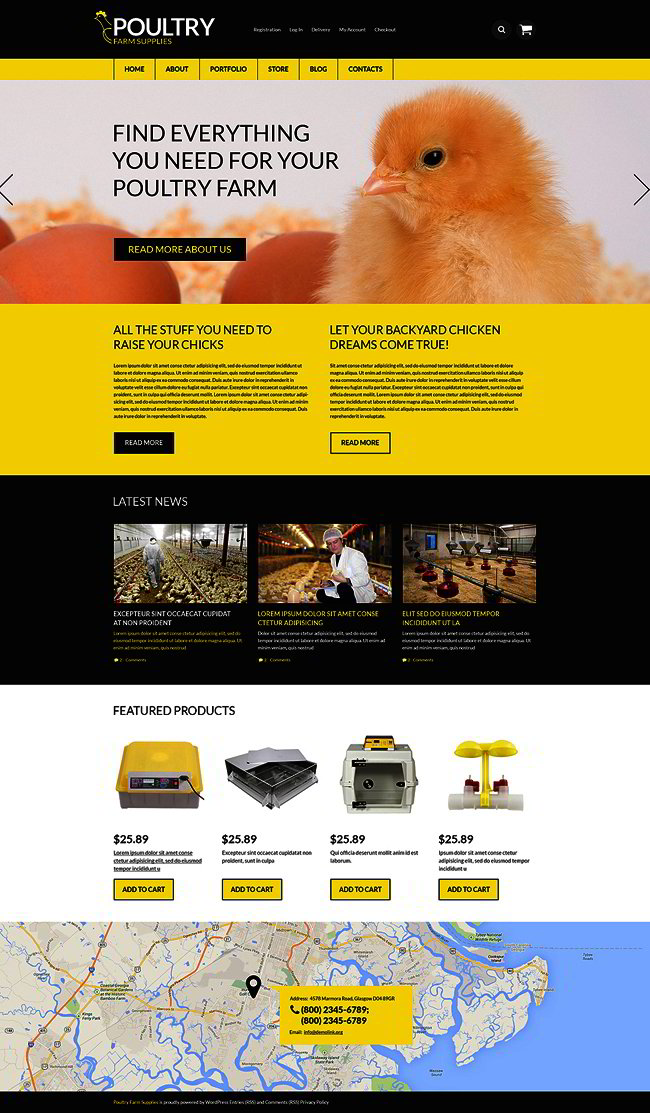 This WooCommerce was designed with a chicken farm in mind, so the main color is the cheerful yellow. You can change the colors and customize every element of this theme in a few easy steps.
Exiting Images Collection WooCommerce Website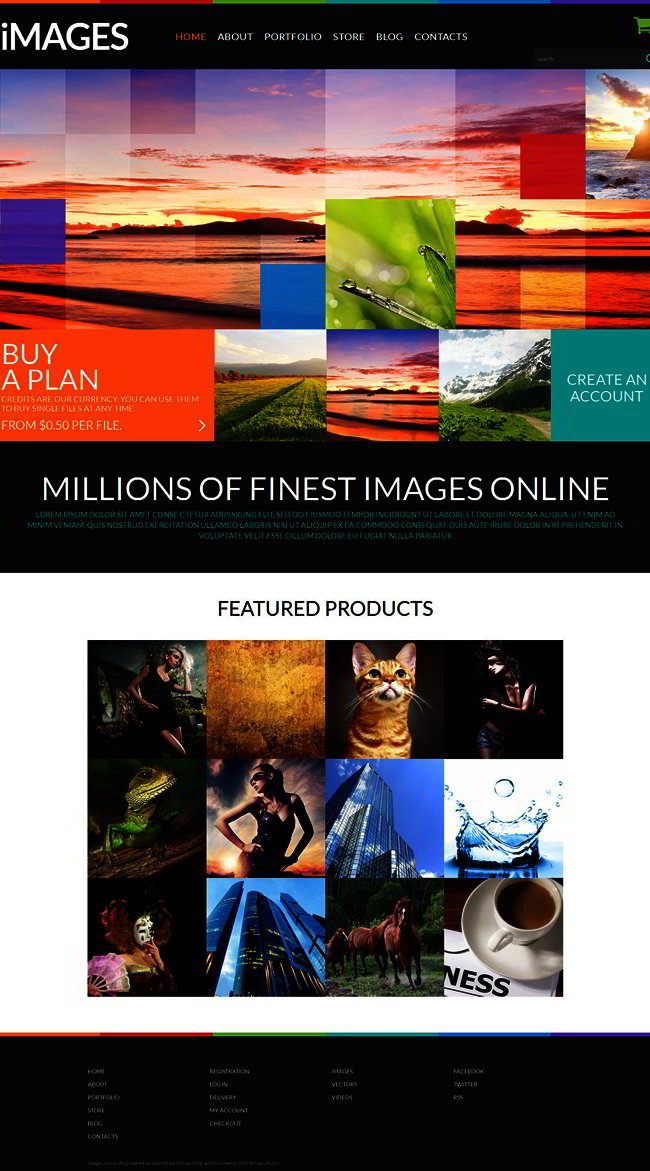 With WooCommerce you can sell not only physical products, but digital ones as well. This theme was designed for a stock photography store, it makes good use of typography and has an innovation hero header.
Daring Tuning Artworks: Tuning Workshop WooCommerceTemplate
A local workshop would triple their client base if they had this WooCommerce theme. Sell your tuning services and car parts with style. This slick design has everything a web store should have – a drop down menu, shopping cart system that won't disappoint you and many useful features.
All Your Pet May Wish WooCommerce Store Design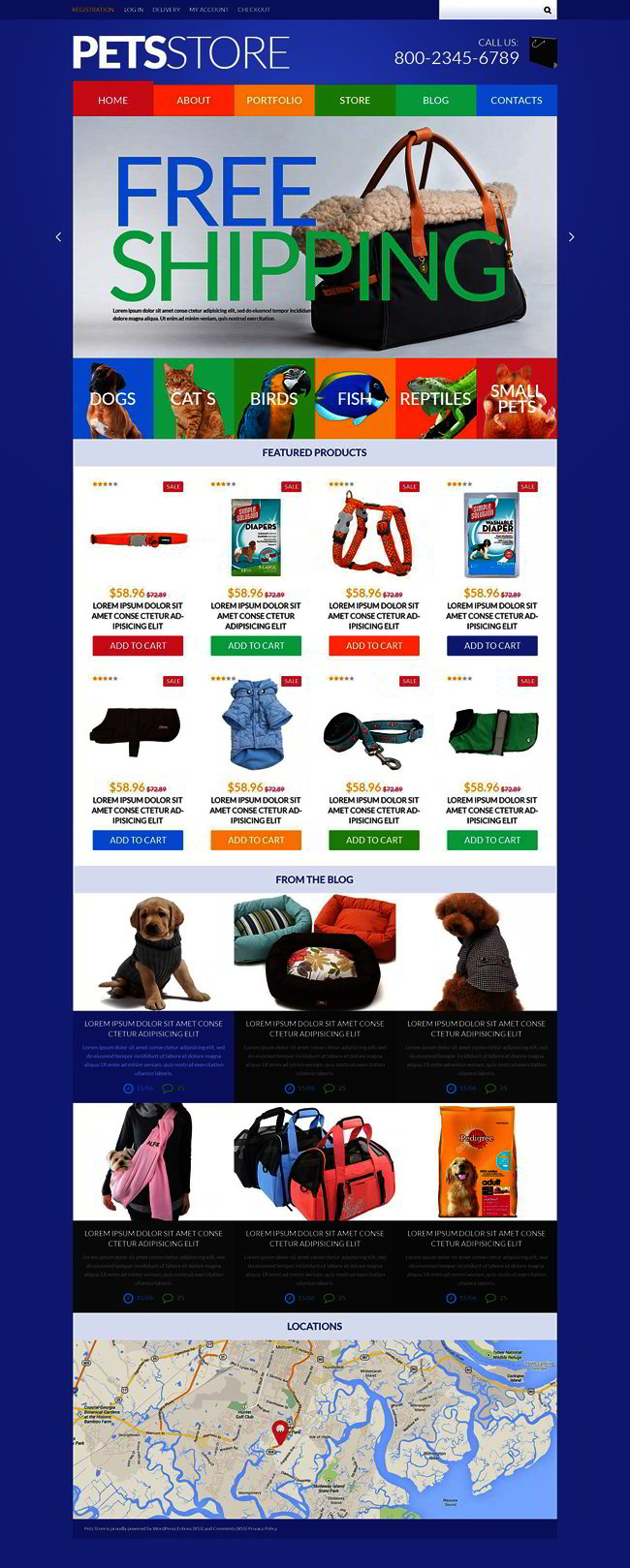 Every pet owner would be delighted to order necessities for the beloved pet from this online pets store built with WooCommerce. The theme has bright color scheme, intuitive navigation and great products gallery. Google Maps is integrated to help pet owners find your offline location easily.
Safe Delivery: Packaging Webstore WooCommerce Design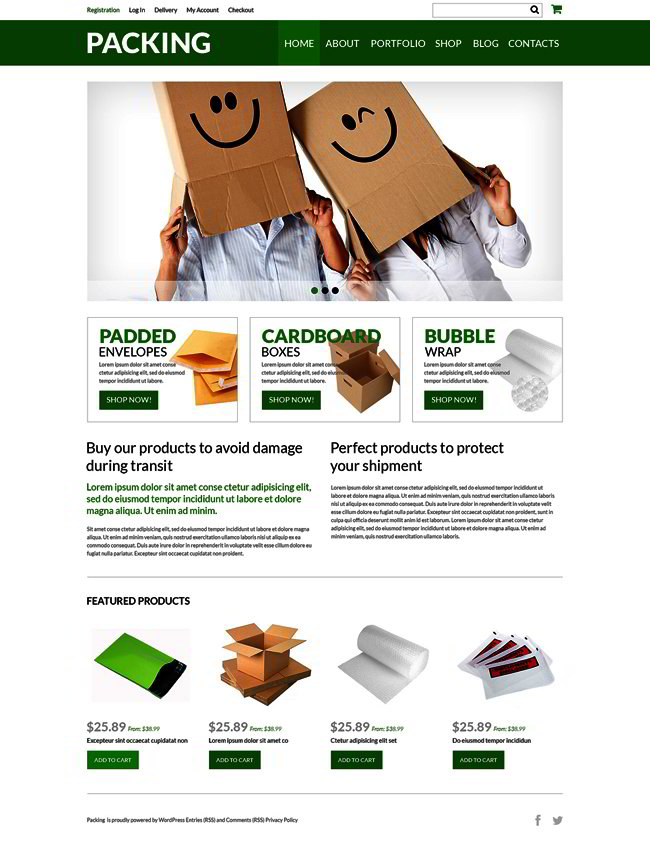 This minimalistic WooCommerce theme was designed for a packaging materials store. If your business is with packaging, shipments, environment or transportation this webstore template is a perfect choice. There is a big picture slider on the homepage that will allow you to show your best offers in the most flattering way, dropdown menu, back to top button and many other great features.
Catching Your Giant Fish Responsive WooCommerce Site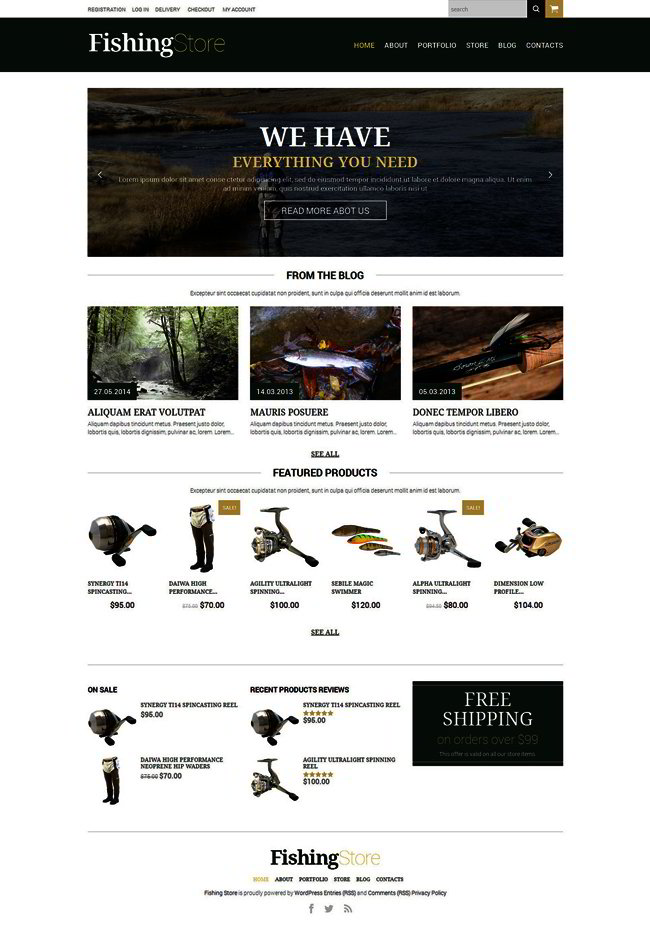 Fishing is a relaxing yet exciting pastime, and it requires a lot of gear. If you are planning to open an online fishing gear store this responsive WooCommerce theme is the best you can get. The design is minimalistic and modern, there is a big picture slider with a ghost button and a place for your slogan.
Quality Connections: Cables&Wires WooCommerce Shop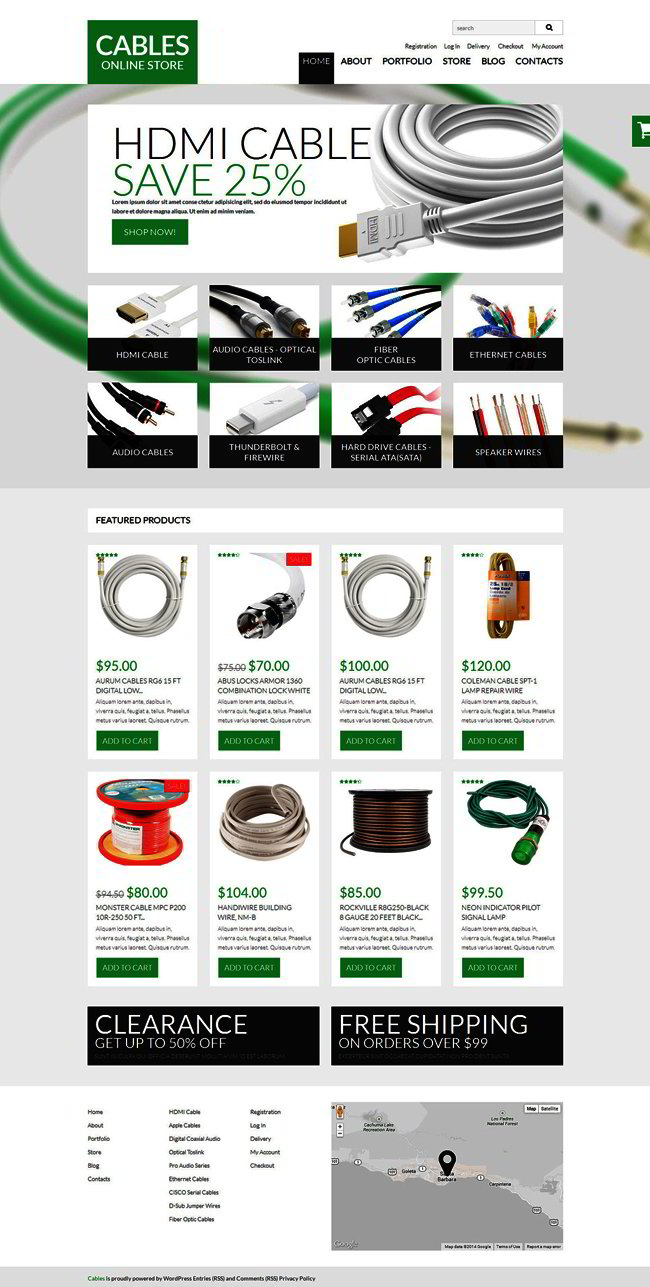 Cables and wires deserve a stylish representation online too, don't you think? Sell your product with style with this responsive WooCommerce theme. You'd appreciate that the theme is cross-browser compatible, it has dropdown cart and dropdown menu, integrated Google Maps and many more amazing features.
Movie Paradise: Multimedia Store WooCommerce Theme
With the world gone digital there is no surprise digital products are the next big thing in ecommerce. This theme is to fit a multimedia store, you can sell movies and music both digital and physical, this is the power of WooCommerce.
Wholesaling at Best Prices WooCommerce Webstore Design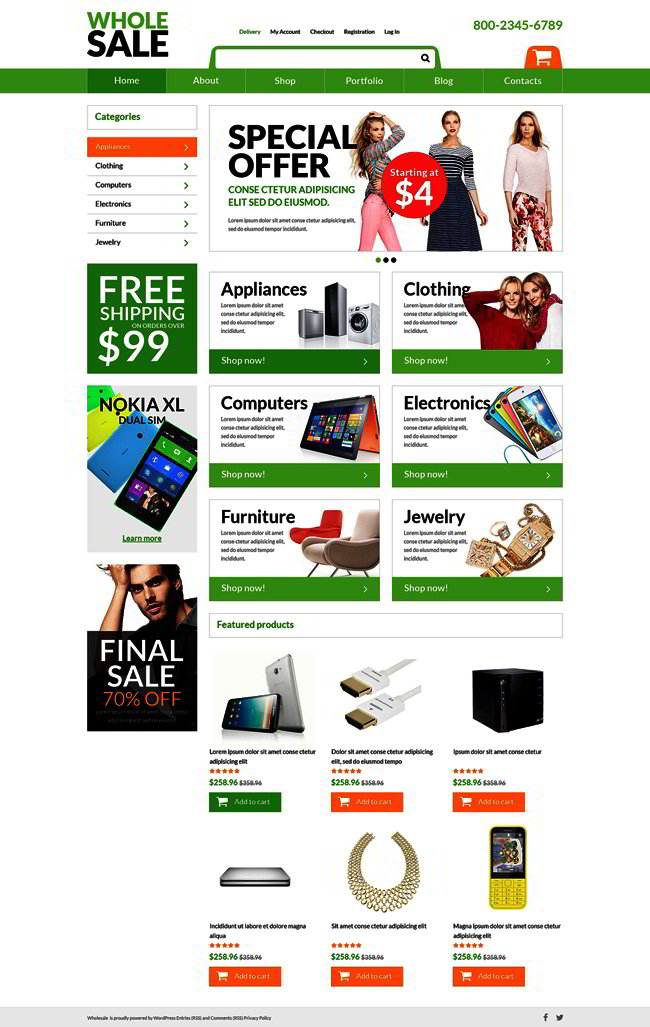 The main color of Wholesaling at Best Prices is green, but that can very easily be changed to any other color you fancy, as well as any other element of this WooCommerce theme. The horizontal navigation bar will make it comfortable for your customers to browse the store and the categories menu at the left sidebar will help with that too.
Design Your Stylish Home: Furniture WooCommerce Template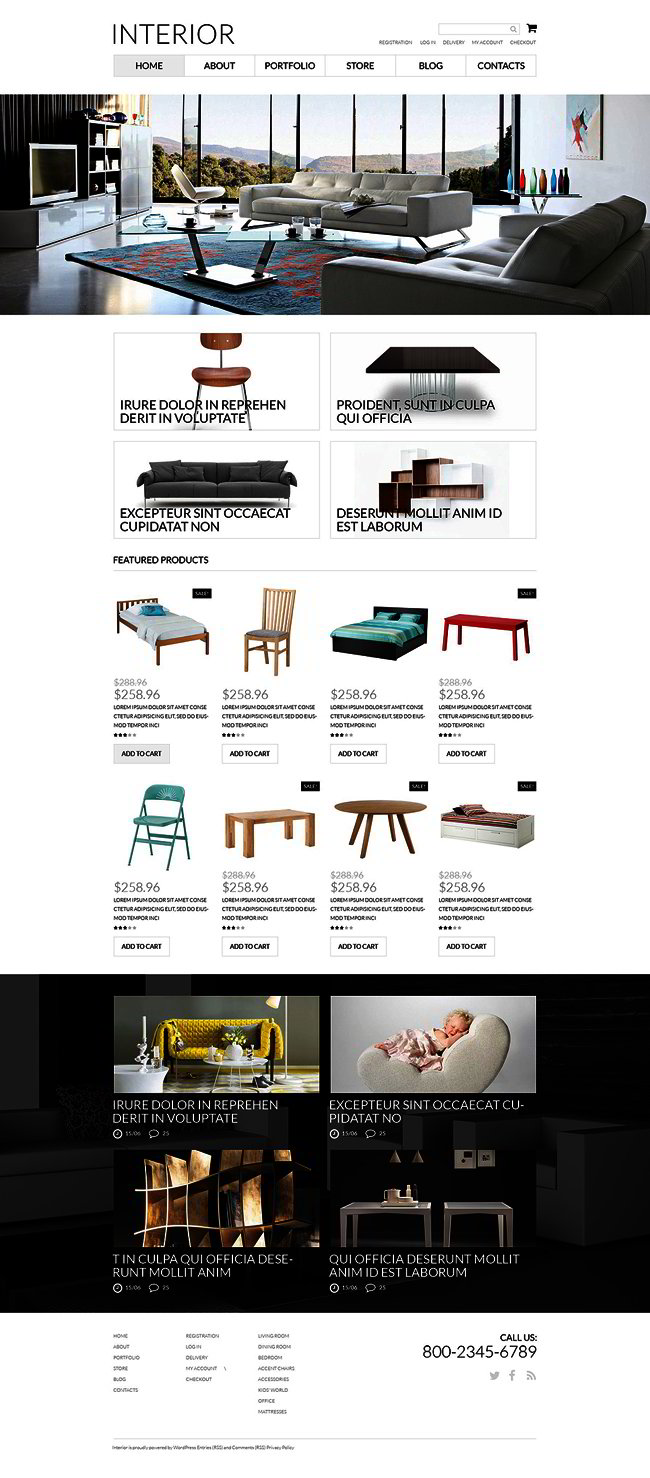 This theme is simple yet so very stylish. You can showcase your best products or show your interior design vision in the hero header, the horizontal navigation bar is classical, all the elements are where a user might expect them to be, thus the design of your online furniture store won't deflect attention away from your products.
Friendly Electronics at Home Responsive WooCommerce Theme
Simple and stylish WooCommerce template aimed for an online electronics store. The hero header has place for a logo and slogan, or your contact so the customers won't have to look for them.
Champion Sportswear WooCommerce Store Design
The grid-like design of this theme will allow you to showcase your products in the most efficient, eye-catching way. I especially like the big picture slider at the top, you can place your bestsellers there or announce sales and other promotions there. Just make sure to use the best quality high resolution photos of your products.
Oxygen for Long Life: Air-conditioning WooCommerce Template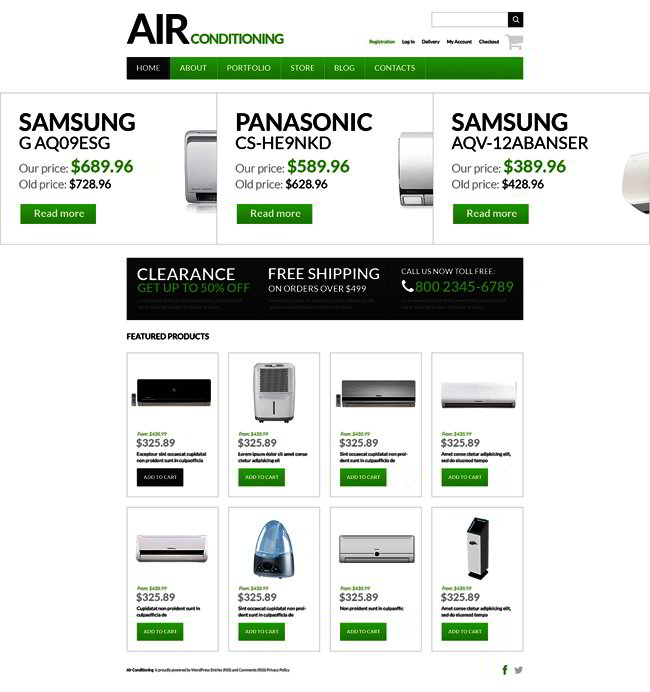 The main colors of this WooCommerce theme are white and green with black complementing them. These colors were chosen by the designer because they correlate with the theme's subject – air. But everything in this template can be customized in a few easy steps, colors included.
Power of Natural Remedies: Drugstore WooCommerce Site
More and more people nowadays tend to forego traditional chemical drugs and advert to natural remedies, if your business is to tend to these people this drugstore WooCommerce theme will help you grow your business even more.
Easy Home Repair Responsive WooCommerce Site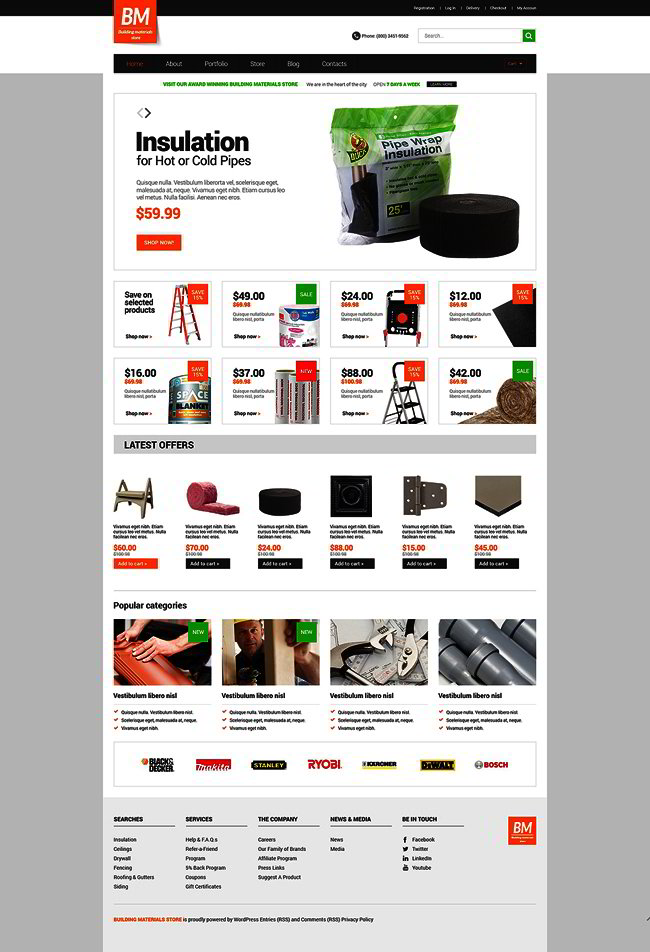 Home Repair Responsive WooCommerce template is very straight-to-the-point, there are no effects and design elements to distract your customers from your products. The gallery type and color scheme, as well as any other thing in the theme, can easily be customized to fit your business.
Best Furniture For Every Place WooCommerce Website
Image slider, portfolio with subcategories, blog and simple navigation make this WooCommerce theme a great choice for a furniture online store. The theme is extremely easy to customize and run, even if you are not familiar with WordPress, the admin system is very intuitive.
Spring Blossom: Flower Shop WooCommerce Website
Spring Blossom: Flower Shop WooCommerce theme is the best way to bring a local flower shop business into the online world, thus getting more exposure and more clients. The stylish and simple layout has a place for a logo and integrated Google Maps for the customers to easily find your offline location.
Simplify Your Life: Software Shop WooCommerce Template
Where would you look for your software? Online is the obvious choice. WooCommerce platform allows WordPress site owners to sell digital products directly from their website, isn't it convenient? The software shop WooCommerce template is a perfect example of such a website, and the best part – you can make it your own in just a couple of clicks.
Harmonizing Power of Tea Responsive WooCommerce Shop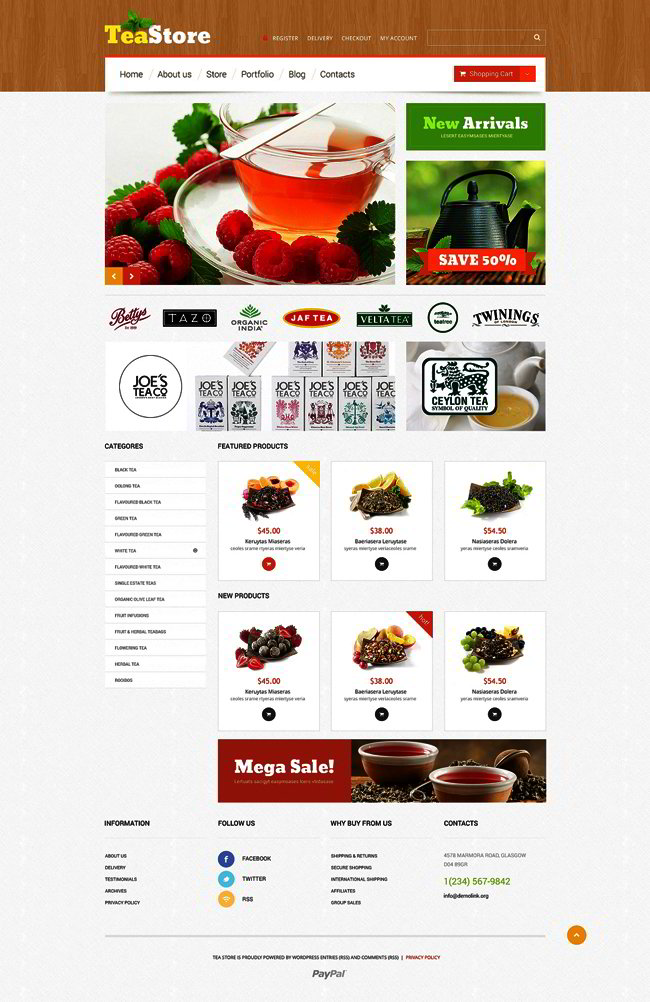 This tea store responsive WooCommerce theme looks very simple and balanced, its clean look brings a cozy atmosphere – just the thing a successful online tea store needs! There's a simple dropdown menu and a categories menu in the right sidebar and back to top button and integrated Google Maps are among the features.
Premium Smoking Experience WooCommerce Theme
This theme has high resolution photo background and big header area with simple drop-down menu and space for your logo or slogan or both. There are animation effects such as parallax and lazy load effect implemented. In a word – this WooCommerce theme is a great way to sell cigars in style.
Shining Princess: Fine Jewelry WooCommerce Webstore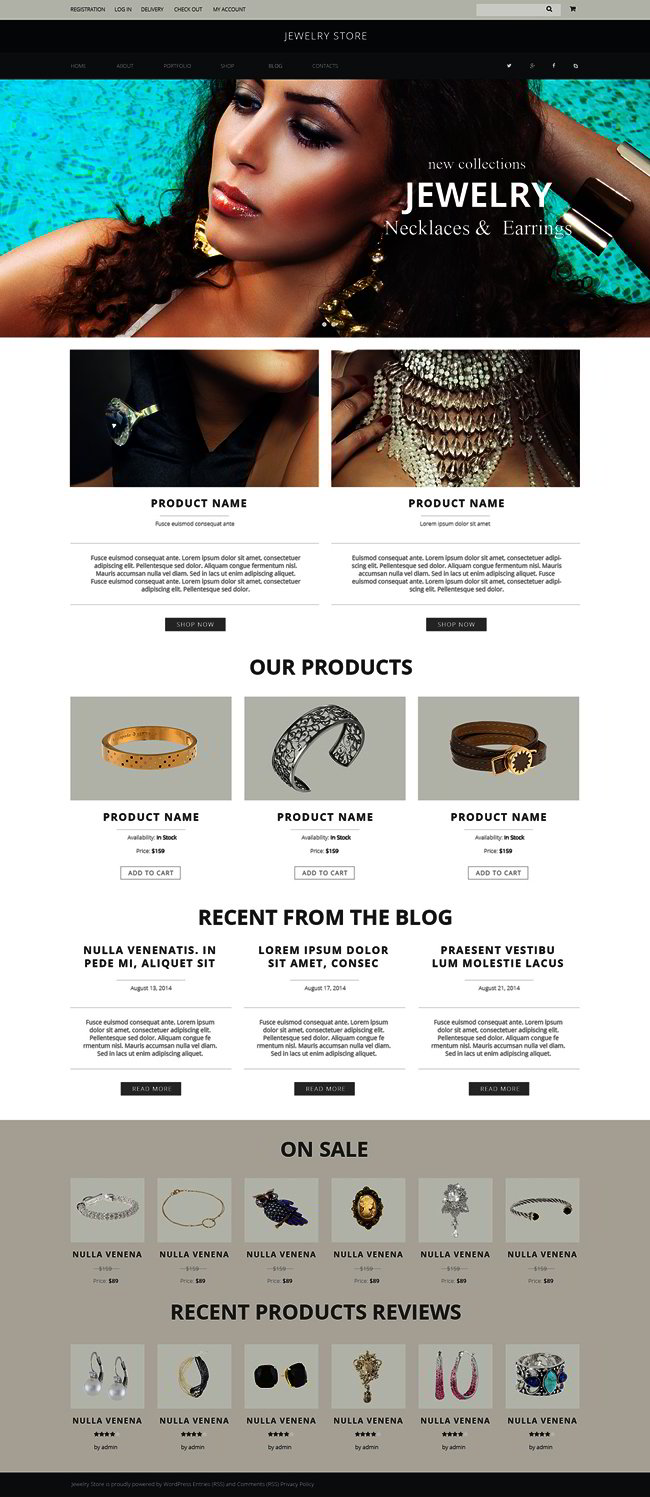 Shining Princess is a dream come true if you are planning to sell jewelry online. The design is simple yet stylish, it will definitely complement your masterpieces and the high resolution pictures slider at the top will let you showcase the best ones.
Biggest Gadget Selection Responsive WooCommerce Website

Biggest Gadget Selection has a classic 2 column layout and modern polygonal design. The color scheme is slick and stylish, the big image slider at the top allows you to showcase your best sellers and promo announcements.
Fastest Medical Help: Ambulance WooCommerce Template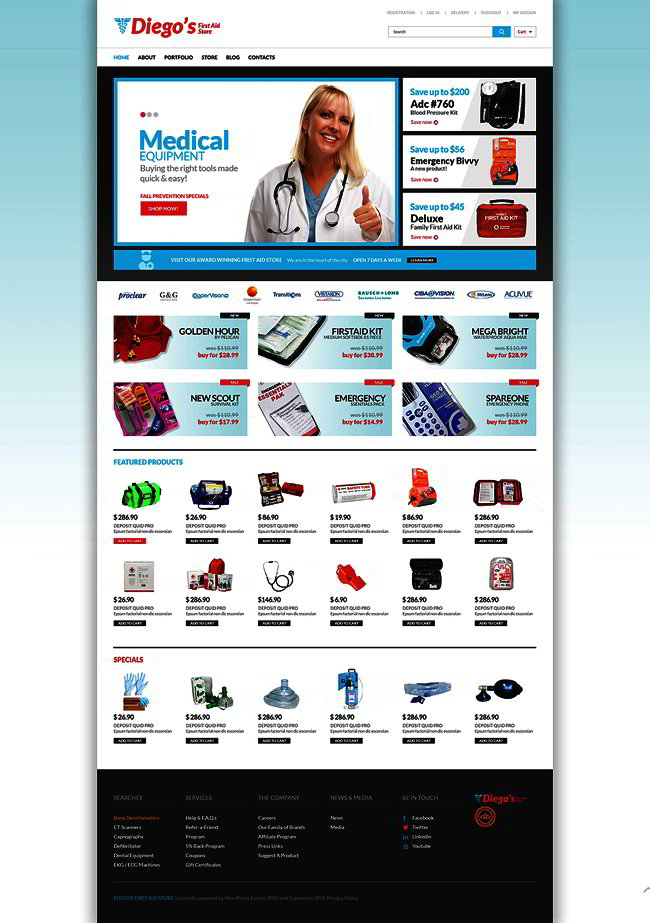 If you are in the medical equipment business and were looking for a way to sell your products online – you've just found it! This medical WooCommerce theme has everything you might need – a products gallery, a contact form, a slick design and most important – it has a great shopping cart system.
Presenting Oneself: Fun T-Shirts WooCommerce Webstore Design

I love how the hero header trend is implemented here, this is the best example of how it should be used, there's even a place for your logo in the center. The horizontal navigation bar won't let your customers get lost on the website and the product gallery is designed to showcase your creative t-shirts in the most flattering way.
Organic Groceries Online Store WooCommerce Theme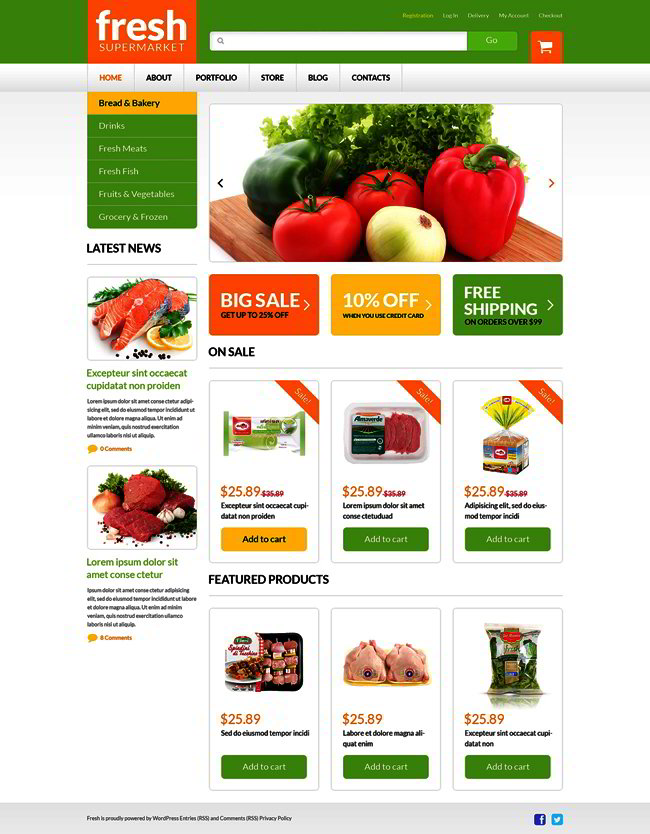 One would think farmers market is the only place you could buy organic foods at. But the modern world dictates new rules, more and more people look to buy everything online, organic food included. This Organic Groceries Online Store WooCommerce Theme is a great way to start your online business.
Best-equipped: Building Materials WooCommerce Site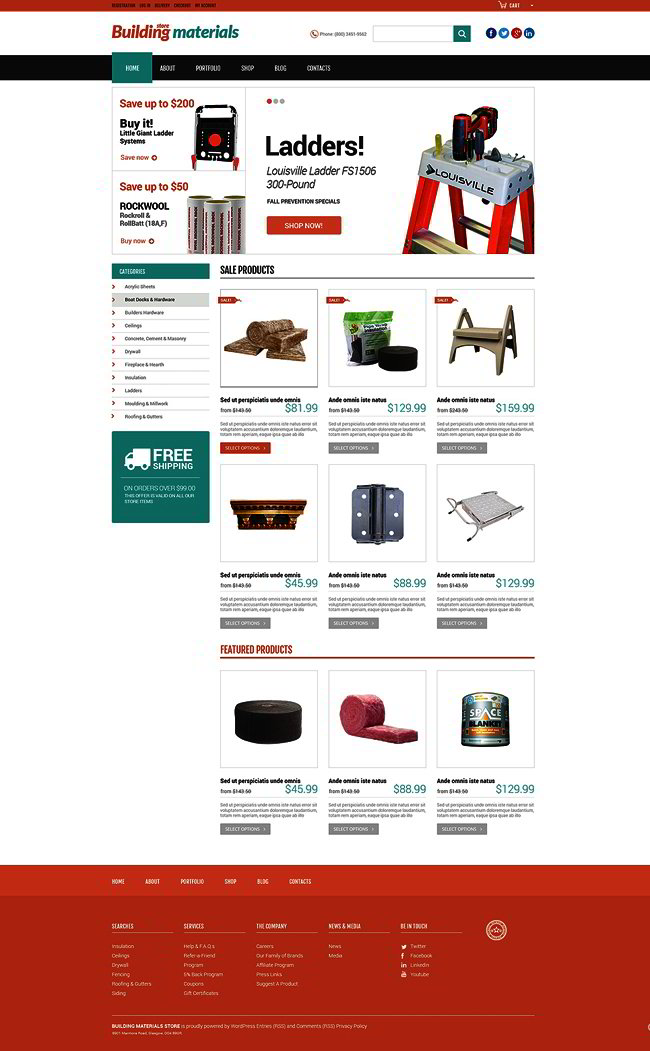 There's nothing irrelevant, nothing frivolous in this minimalistic design, after all building materials is not a frivolous subject. The color scheme is simple and you can easily customize it to fit your brand colors, the navigation is user-friendly and the gallery type can be changed to accommodate your products in the best way.