Why WordPress is the Best Choice for Your Next Project
In 2003, WordPress started as an international tool for blogging. While people up to the present day still think that it is still a blogging platform, WordPress has evolved as the world's largest self-hosted Content Management System. In a nutshell, a CMS is a web application that facilitates managing, editing, and adding of content for users who are not tech-savvy.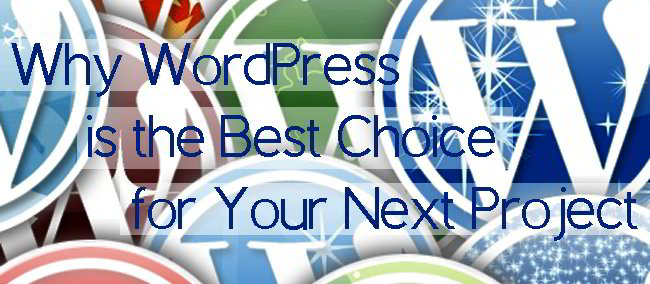 You may not be aware of it but some of your favorite sites are powered by WordPress. The web application is used by millions and millions of people throughout the globe because of its many advantages. If you are looking to start a new project, the following reasons will convince you that there is no need to look any further:
WordPress is Free
Some of the best things in life are free and somewhere in that list, you will find WordPress. You can access the web application without thinking about annual fees. As a matter of fact, you can download the WordPress application and host it on your personal domain absolutely free. There is no need to worry about financial issues when starting your next big project. You can publish your 2 cents on your subject of expertise for millions of people to see without paying a dime.
If you're searching for more professional solutions to build a website, for example for your yoga studio, take a look at these yoga WordPress themes.
No Technical Training Required
Another reason why people of all ages love WordPress is its user-friendly design. After installation, the uncomplicated interface allows users with any background to effectively manage, edit, and add content. For your next big project, you can benefit from the simple menus and interface of WordPress. You no longer need to hire a web designer to help you in selecting the theme, structure, and font that you want to use in your website.
Quick Learning Curve
If you were able to learn how to use Microsoft Word, then you will have no problems learning WordPress. Familiarizing yourself with the process of editing content, adding images, and posting new material is not a complicated procedure. In fact, expert WordPress trainers can teach a novice to understand the entire web application in less than one hour.However, if you want to do things on your own, you can check out tutorial videos at YouTube. Watching these instructional videos will definitely reduce your learning time so that you can focus more on developing your project.
WordPress is Potent
Aside from developing WordPress as an open source project, the web application is guided by a second principle. Creators have worked long and hard to keep its core code light and fast while at the same time providing a rich structure that will allow the expansion of applications and SEO Friendly WP Templates. In other words, you can start creating your online presence with a fundamental WordPress page.
After providing the content, you can choose from thousands of free plug-ins offered by WordPress that can enhance the functionality of your website. For example, you can add plug-ins so that you can easily share content to social media like Facebook or Twitter.
Moreover, if you are not satisfied with the current design, you can switch the theme and change the look of your site in an instant. Although some beautiful WordPress themes require payment, WordPress gives you a head start for your project by offering professionally crafted designs without charge. As a result, there is no need for you to consult with a professional web developer to get your project started. You get to save hundreds dollars which you can use for the improvement of your project.
Ease of Access
If your next project requires you to be on the go, then that is another reason why WordPress style is ideal for you. The web application is also browser based, which means you can edit the structure of your page, add content, or perform whichever modification from any computer with internet connection.
Repeat Visitors
After publishing your content, you will be surprised that people who you have never met before are hitting the like button or commenting on your page. The next thing you know, more and more users are following your website. The Real Simple Syndication of WordPress is vital in maintaining your audience because those who follow your website will automatically receive an email whenever you post something new. Consequently, the system motivates your followers to consistently view your website every time you post new material.
Travel Agency WordPress Template
Mobile Ready
Many people are glued to their mobile devices and for your next project, you would want to exploit this trend. Fortunately for you, WordPress is also suitable for mobile users. It is not necessary that you create another website just to cater to your audience connected through their handheld devices. All the advantages of mobile-friendliness you can observe in these charity WordPress themes.
WordPress is not just the blogging platform that people used to know. It has become the largest CMS that can be downloaded or accessed through a browser. Aside from being free, the web application is very easy to learn, use, and navigate. If that is not enough, then add to the list the potency, ease of access, mobile readiness along with the RSS system of WordPress. These reasons should more than convince you that WordPress is the best choice for your next project.