Boost Your Productivity With These Web Tools & Services
Black Friday and Cyber Monday are here, and if you are an active web designer, developer, or freelancer, you should swim in super Black Friday WordPress Deals and special deals for all kind of products.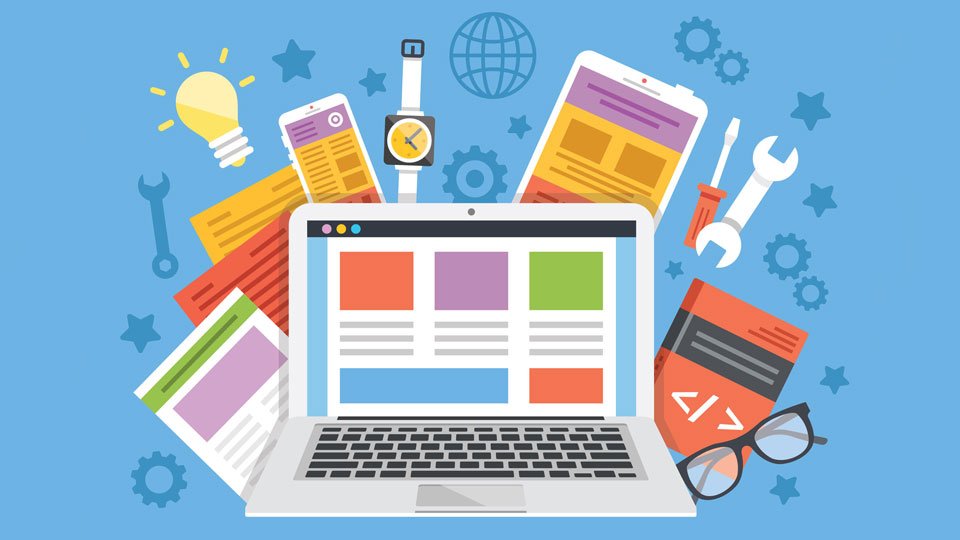 In this article we reviewed almost 40 web tools and services, free and premium (some with super discounts) solutions from the following niches: WordPress products, logo creators that can easily compete with talented designers, invoicing software, collaboration platforms that will heavily increase your teams productivity, and much more.
Get ready.
Free and Premium Bootstrap 4 Admin Themes & UI Kits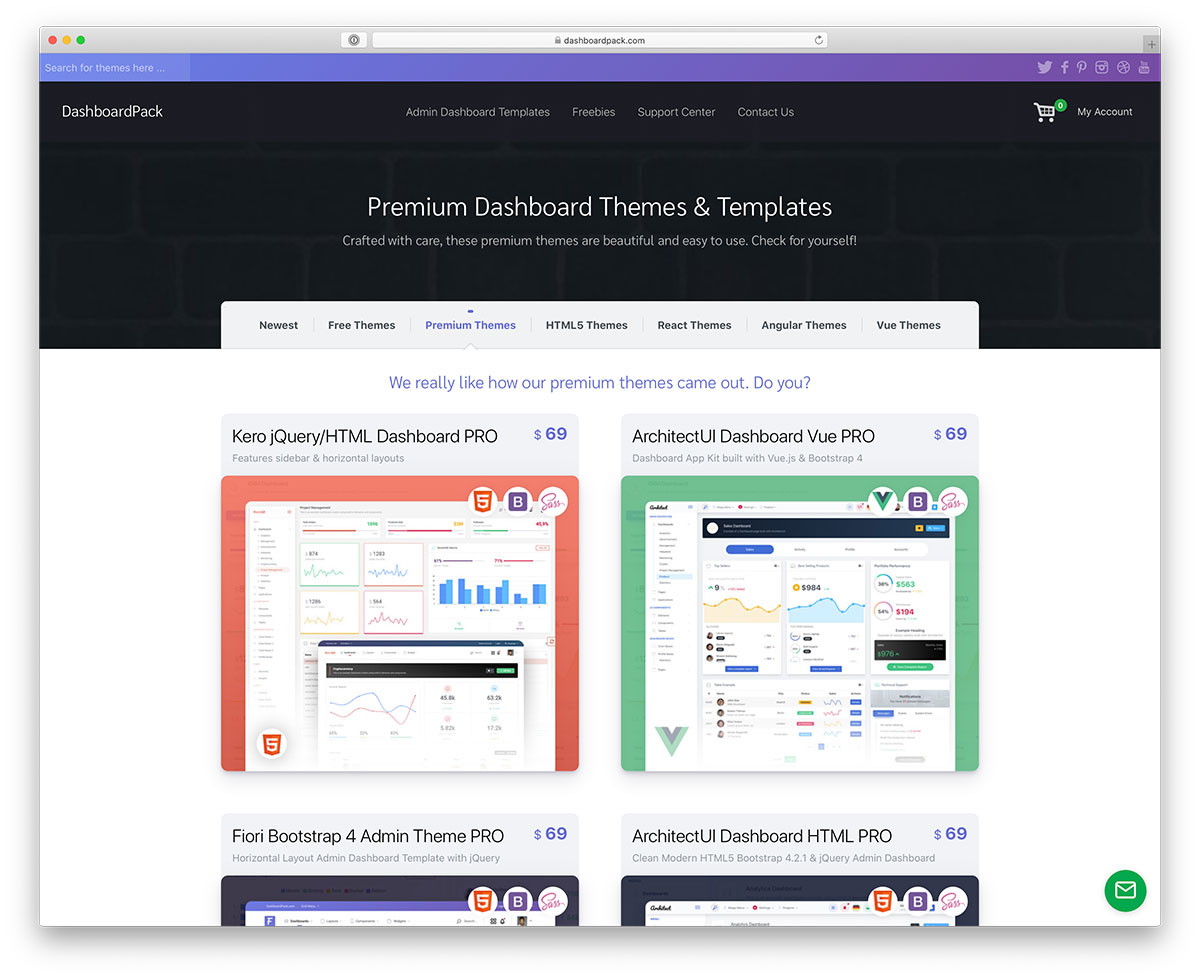 DashboardPack is a very well-known and appreciated developer of gorgeous and fully functional free and premium dashboard themes, based on HTML5, Angular, React, and Vue. All their themes are fully responsive, have multiple layouts and color schemes, are super simple to customize and use, and are loaded with great options. Have a live demo with the theme you like so you can see it in action.
Don't forget to check the Freebies section where 4 excellent dashboard themes are offered for free. Their quality is impressive, being extremely similar with the premium templates.
Between November 29 and 3rd of December, you have 50% discount for all templates and all license types (Personal, Developer, and Lifetime). Use this coupon code: MADBF50.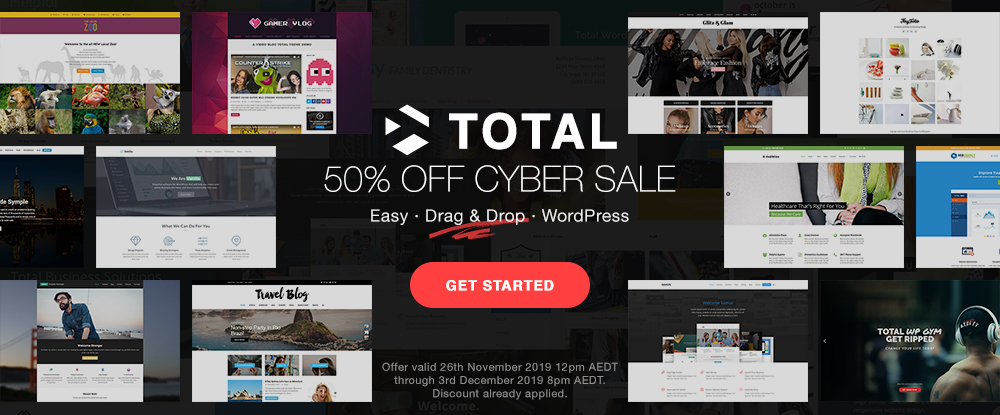 Total Theme is one of the most popular WordPress themes on the market, being a premium, flexible, and easy to use theme. This complete theme is loaded with over 40 demos (one-click installation), 80+ builder modules, 500+ styling options, a live customizer (you will see how colors, widths, typography and other main options look like before saving), and much more.
The quality of this theme is outstanding, many people who see the websites created with this theme strongly believe that behind the gorgeous websites are talented web designers, not a WordPress theme and normal people like me and you, who don't have any special coding skills or prior experience.
Create from scratch or edit one of the included demos, any path you follow you will highly enjoy. The process is simple and straightforward.
Limited time 50% off Total Theme offer valid 26th November 2019 12pm AEDT through 3rd December 2019 8pm AEDT. Discount already applied.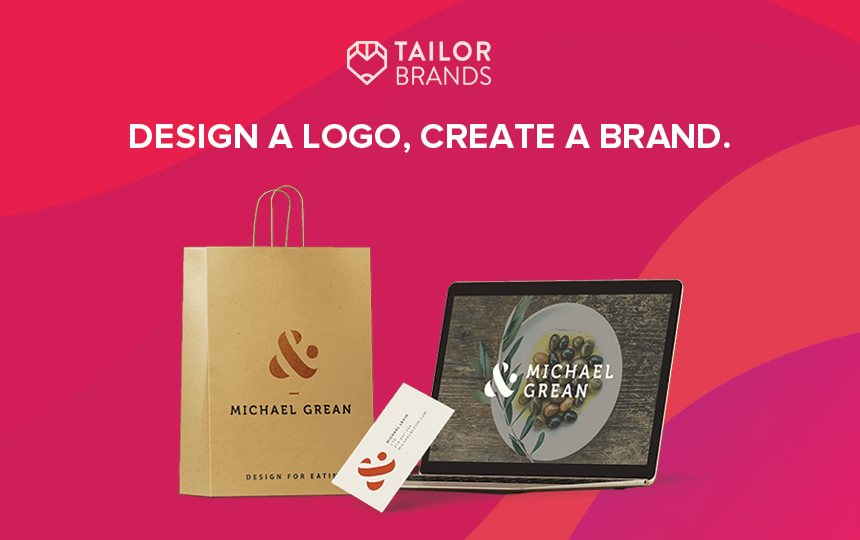 Getting a gorgeous and unique logo in 2019 is not as simple as you may think. It is true that there are hundreds of options (logo generators, hiring graphic designers, doing it by yourself) but it is complicated. Some options are not efficient, some are extremely expensive, while others are time-consuming.
Tailor Brands is the most popular logo design and brand identity maker on the market, being used by over 10 million happy people. This great branding is based on a powerful AI software that is making all the hard work for you. With 0 skills and previous experience, anybody can now create a gorgeous and unique logo and brand identity in a matter of minutes.
Write your logo name, optionally add a slogan, and choose between icon, name, or initial based logo, and after a few more simple selections, you will get tons of designs to choose from. Each logo is presented on different mediums (website, business cards, etc) so you can see how it looks like.
Use Tailor Brands to build your next logo.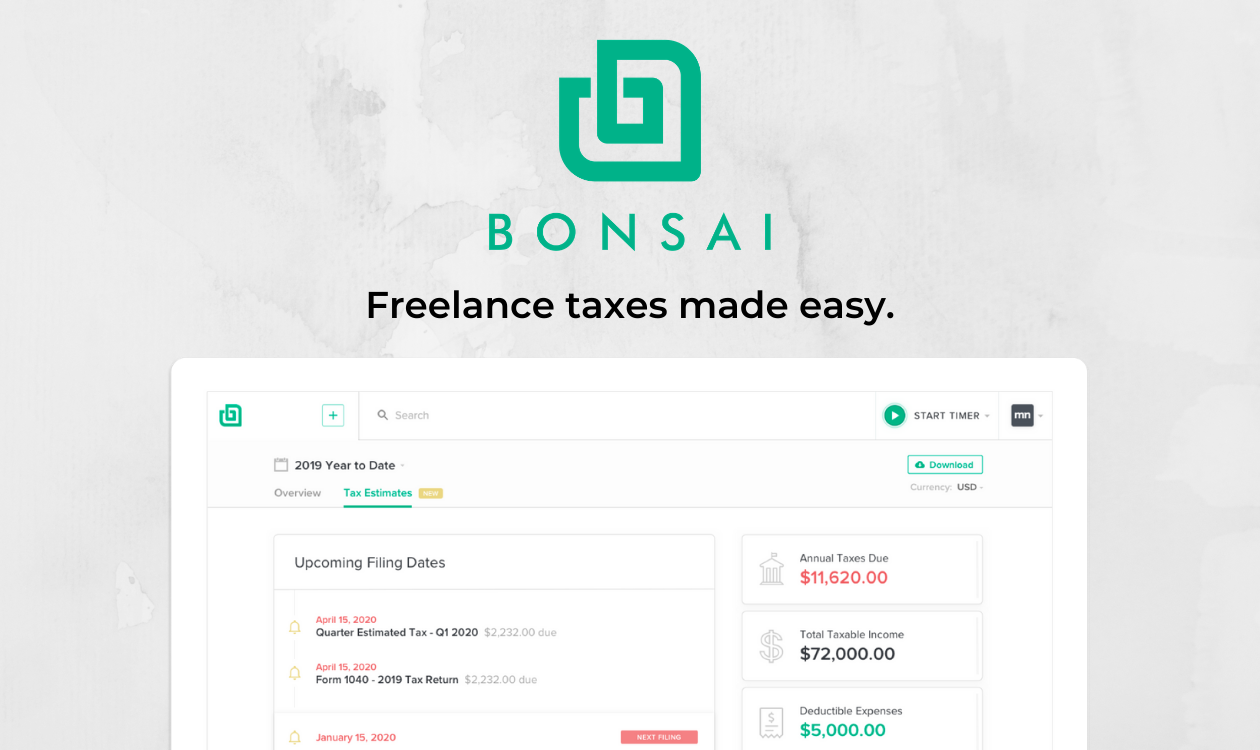 With the rising demand for freelancers over the past decade, it's no wonder that more and more professionals are turning to the work on your own terms life.
More than 100,000 creative entrepreneurs are using Bonsai as their main tool to manage their business.
Freelance taxes are a common pain point for freelancers, and Bonsai can take care of that now. You'll get on-demand reports with your tax estimates, be it for annual taxes or for the quarterly tax schedules.
Add to that the fact that the integrated deduction finder will spot all expenses that can be written off as tax deductions, and you're more than likely to enjoy next tax season.
Join Bonsai today to try the proven product features such as proposals, invoicing, time-tracking, and contract drafting.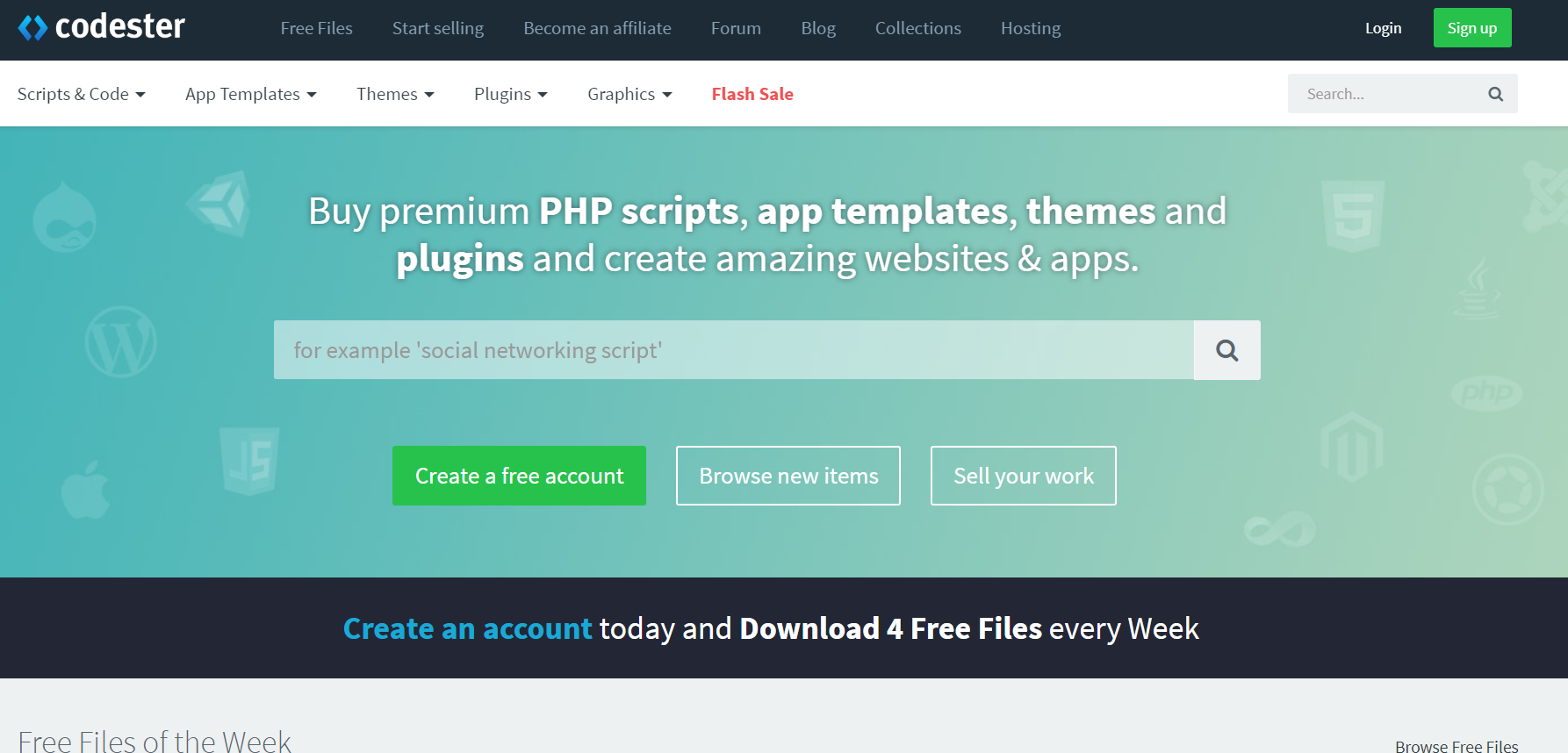 Codester is the right marketplace to visit whenever you are looking for tens of thousands of PHP scripts, codes, app templates, website themes, graphics, and much more. Always check the Flash Sale section where hugely discounted items are being sold.
Browse Codester and pick what you need.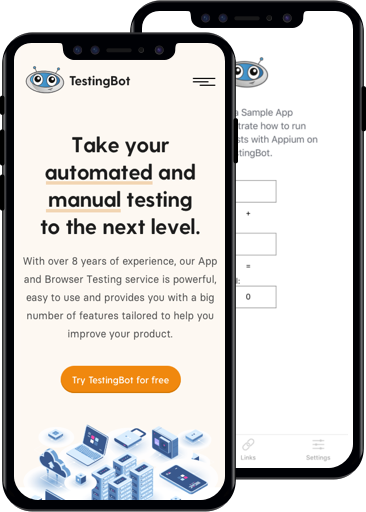 Trusted by huge companies like Microsoft, Fox, Grammarly, and used for over 6 million tests each month, TestingBot is a professional and popular service. You can use to run all kinds of tests: live web and app testing, visual and performance tests, real device testing, and much more.
Try TestingBot for free.
FunctionFox is a brilliant time tracking and project management software that you can use with 0 experience with great success, being very well known that this platform is the easiest to use and implement in your company projects.
Get a free demo today.
Taskade — Simple Tasks, Notes, Chat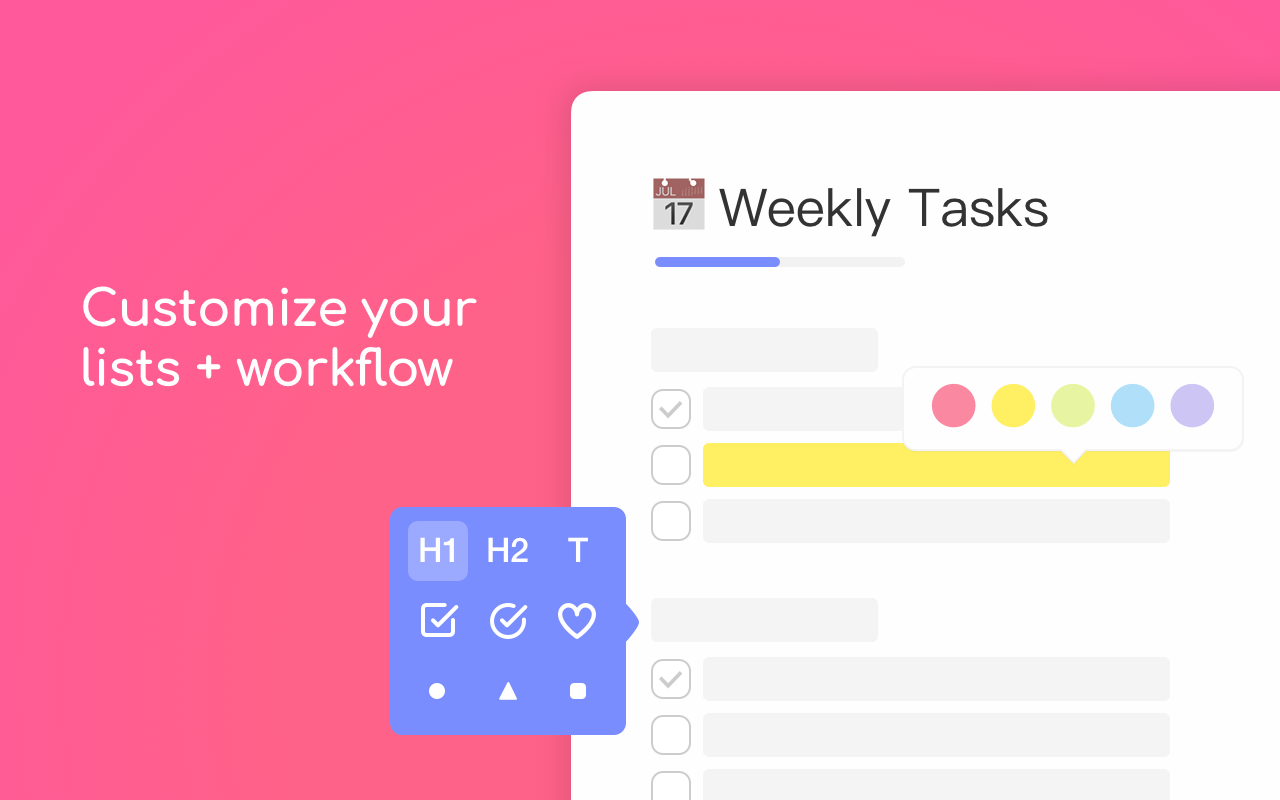 Taskade is professional online collaboration tool that is filled with tons of features and options, and which is totally free to use. For each project of yours, you will have your own workspace (created from 0 or edited from the included templates, there are hundreds).
Boost the productivity among your teams.

With AppyPie Chatbot Builder, anyone can create chatbots in 3 easy steps, without writing a single line of code and without having any special skills.
The Chatbot will offer a unique user experience to each client and present instant solutions to every query! Will respond automatically to each one of your customers in real-time and delight them with your efficiency while making them feel valued. Will add efficiency and smoothen the flow of customer support by building your very own chatbot for your website or mobile app – the no code way!
Start using AppyPie Chatbot builder.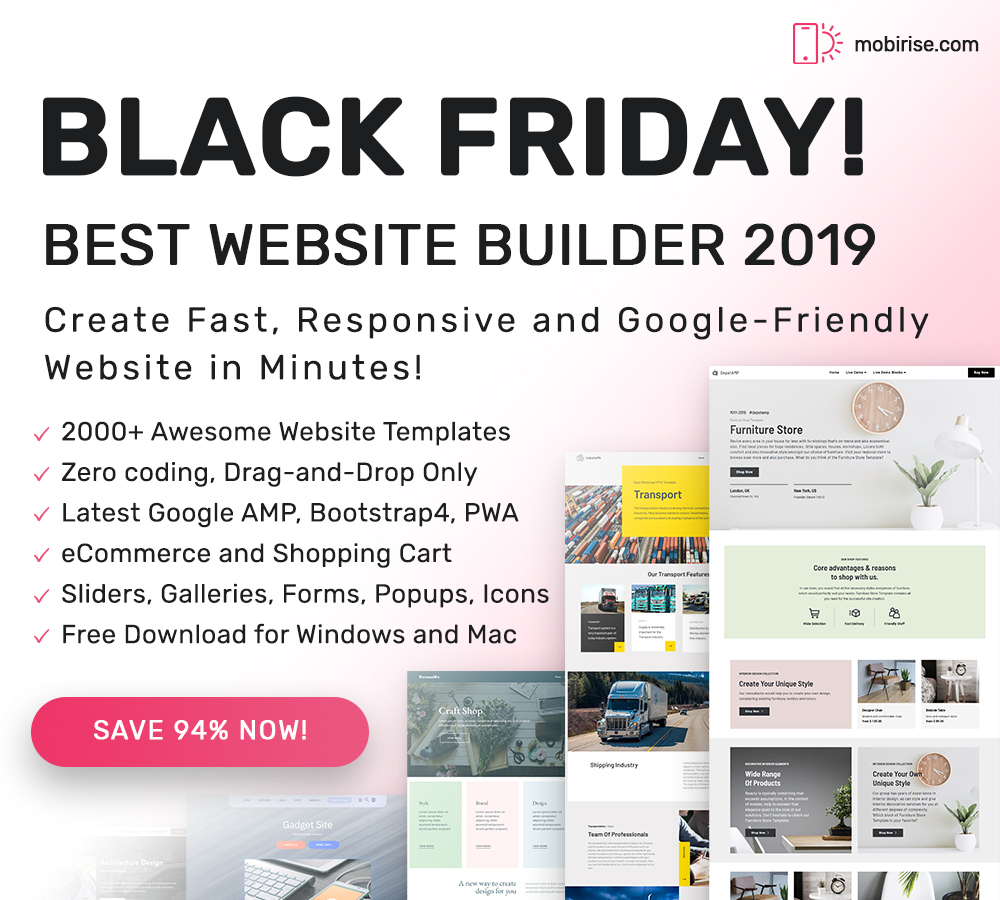 Mobirise is the right website builder to use if you don't have any coding or designer skills, and you want to build yourself a gorgeous and unique website in a few minutes. It comes loaded with over 2,000 awesome website templates, with sliders, galleries, forms, popups, icons, and much more.
Start building great websites with Mobirise.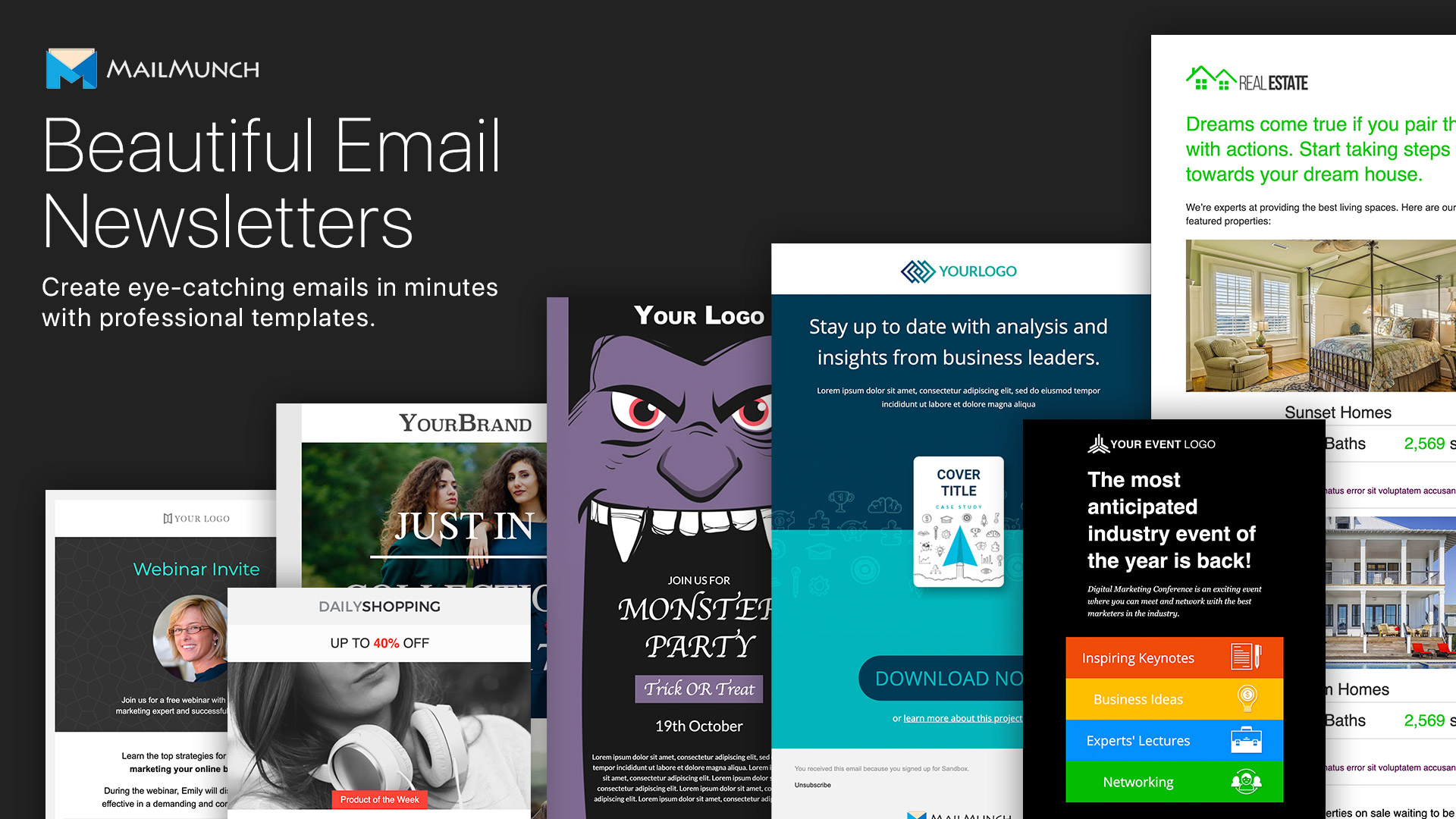 MailMunch is the leading email marketing platform that comes loaded with lots of gorgeous email newsletters templates, a drag-and-drop builder, and much more, including a drag-and-drop builder.
Use MailMunch to create gorgeous email content, you can do it with 0 coding skills.
Astra Theme – Elementor Templates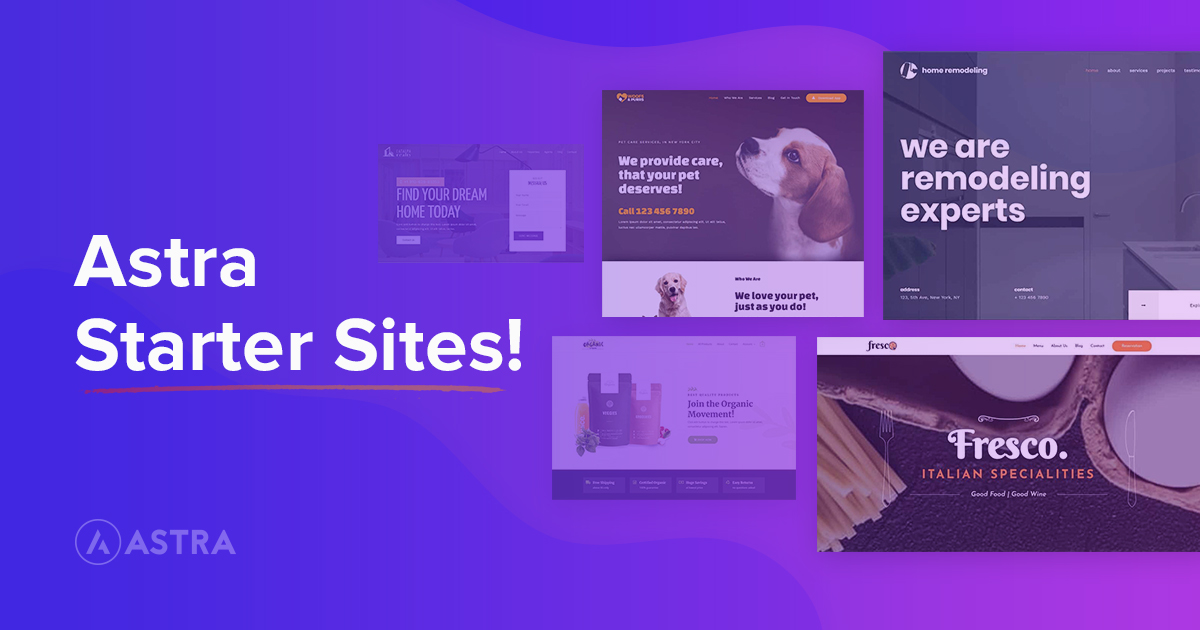 Astra will help you create a website that stands out of the crowd, adding over 100 free and premium Elementor themes. All these themes look awesome, having a pixel-perfect design, and will quickly help you boost conversions.
Supercharge Elementor with Astra special themes.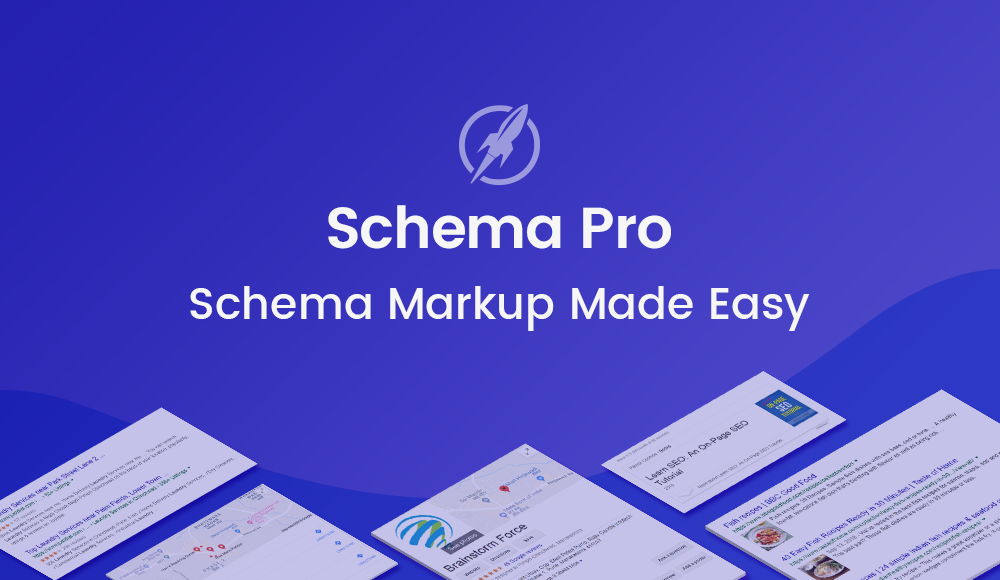 Schema Pro will help you automatically add schema markups to your website, in a matter of minutes, without having any special skills. Forget the times when it was super complicated and time-consuming, with Schema Pro you will make your website rank higher in search engines.
Rank Math SEO is a popular WordPress plugin that will help you make your website stand out of the crowd in search engines. After a simple installation and configuration, the plugin will autonomously take care of your website in terms of SEO.
Try it, it's free.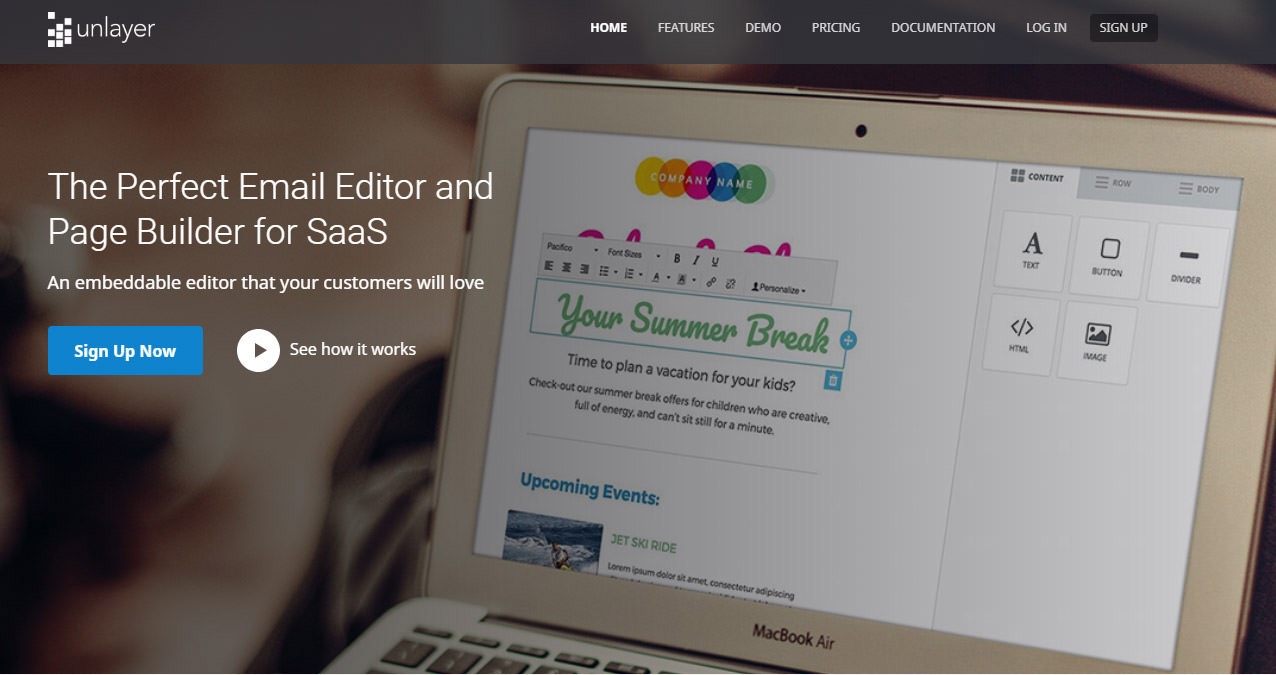 Unlayer is a powerful email editor and page builder for SaaS, being loaded with tons of features and options. Your website visitors will highly appreciate how easy it is to create high-converting email newsletters and landing pages, without having any coding or designer skills.
See how it works and embed on your website.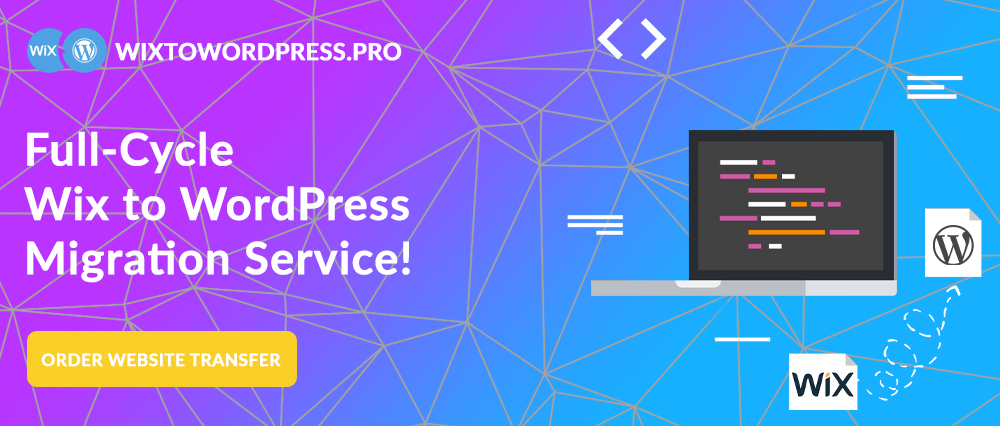 WixToWordPress.PRO aims at providing professional, reliable and quality services, when it comes to moving websites from Wix to WordPress.  The service has gained popularity with users willing to switch between the platforms due to its reputation, reliability, proficient team of developers and quality result. All the steps and actions are discussed with clients, who remain in charge of the process.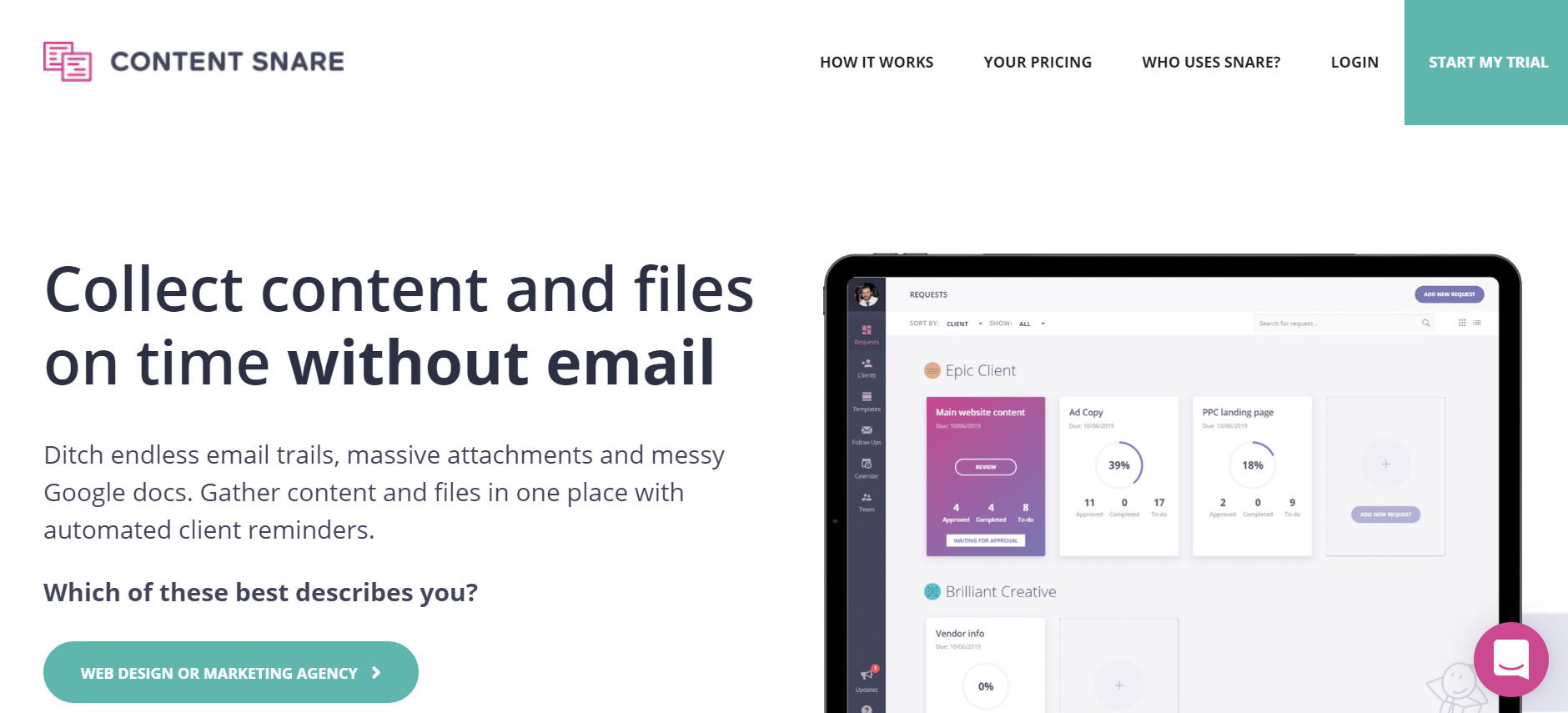 Content Snare will quickly help you collect content and files from your customers, on time, without losing time with emails and follow-ups. The platform will automatically take care of that, being a professional tool used by tons of agencies, marketers, developers, web designers, and many others.
The configuration is made in a few straightforward steps and it takes only a couple of minutes.
Start a free 14-day trial and see Content Snare in action.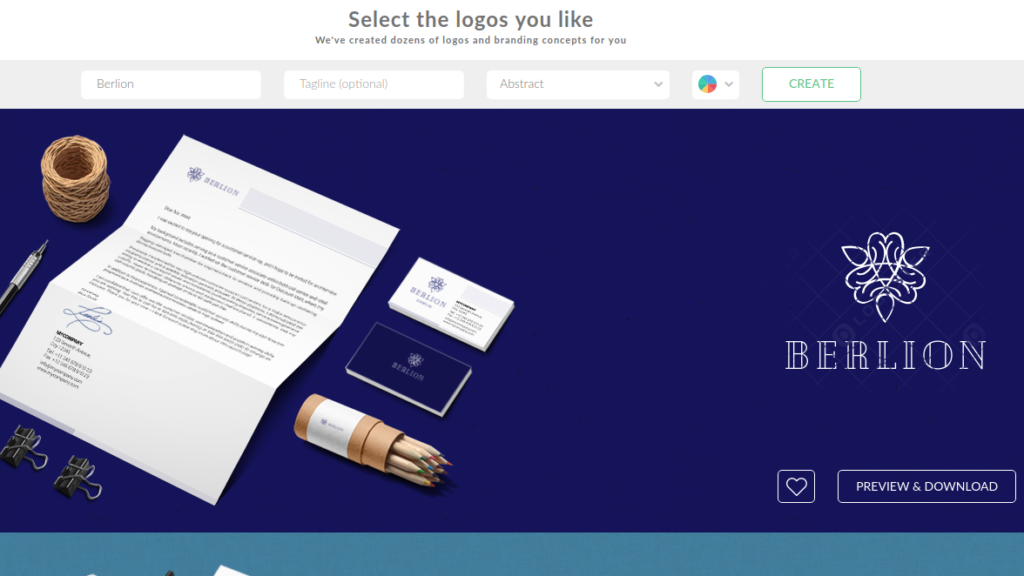 Logaster is a popular logo and brand identity maker that you can use to create unique designs in a matter of seconds, without having any special or designer skills. The powerful AI software will quickly help you create gorgeous designs for your website or marketing materials.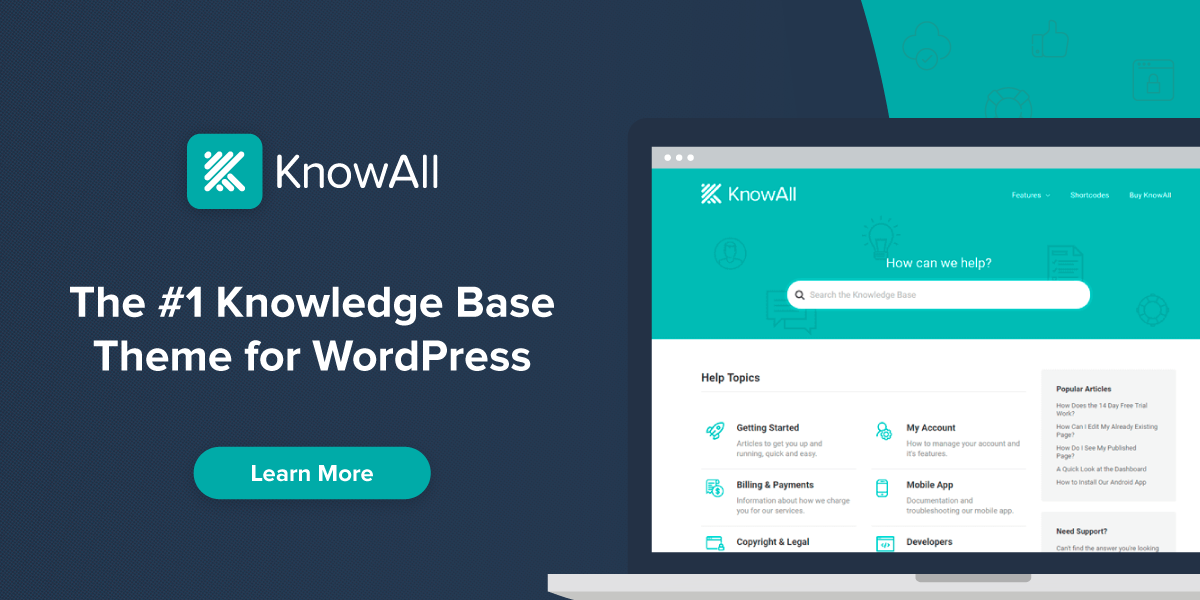 KnowAll is a powerful knowledge base for WordPress that will help you create a presales or support page, where potential customers will find more info about your products and services, and your existing customers will quickly find answers for their questions, without sending emails and phone calling your staff.
It's simple to use and you should implement it asap.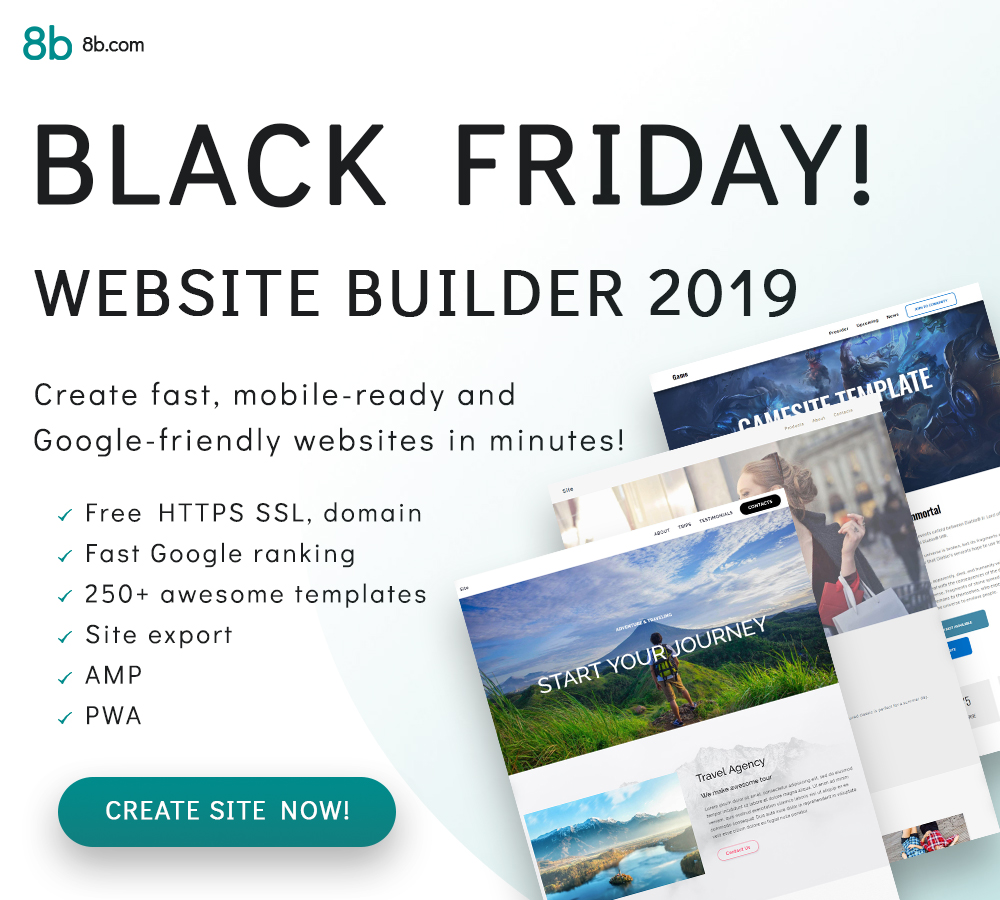 8b is a professional website builder that you can use to quickly create unique and fully functional websites that rank high in search engines, without having any coding or designer skills. The interface is clean and fast, and the 250+ templates and the drag-and-drop builder will help you a lot.
Create your next website with 8b.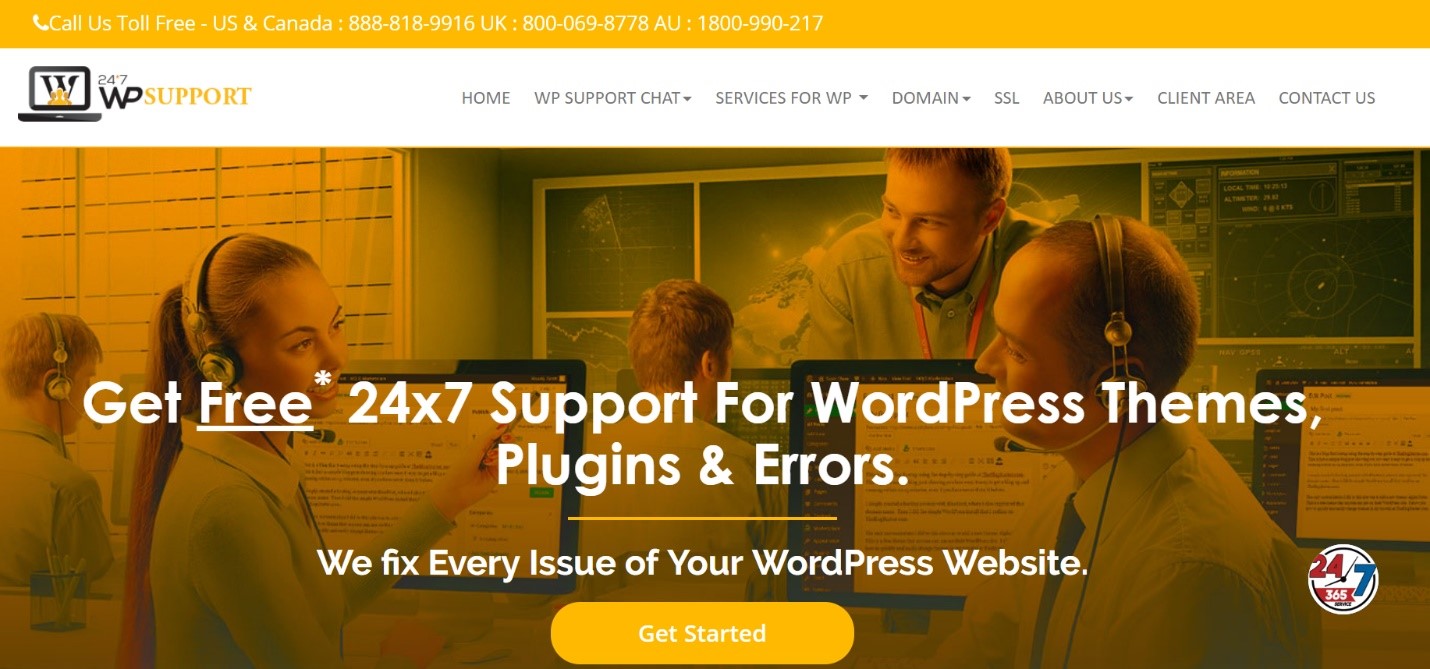 Looking to buy a new domain name or planning to switch to a different one? The 24x7wpsupport team is equipped to map your hosting needs. Choose from their list of available domains and go online. Easy installations and simple transfers, hosting a website with, 24x7wpsupport is both quick and hassle-free. You can also choose a hosting package to avail of all the development and support needs for your WordPress store and wear off the worry of connecting with the customer support.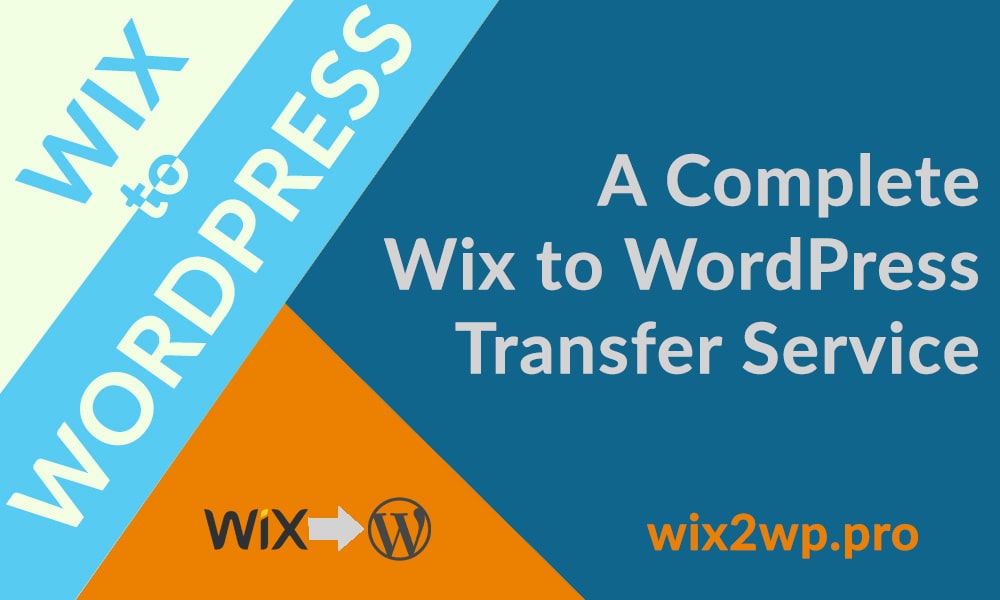 Wix2WP.Pro allows for quick, simple and convenient website transfer from Wix to WordPress. What you need is to order website transfer is to send free online request and wait until the team of developers gets in touch with you. They will review the details of your project to create the plan of actions that ensures 100% result. The process of website migration is quick and easy, and it is you, who controls the process.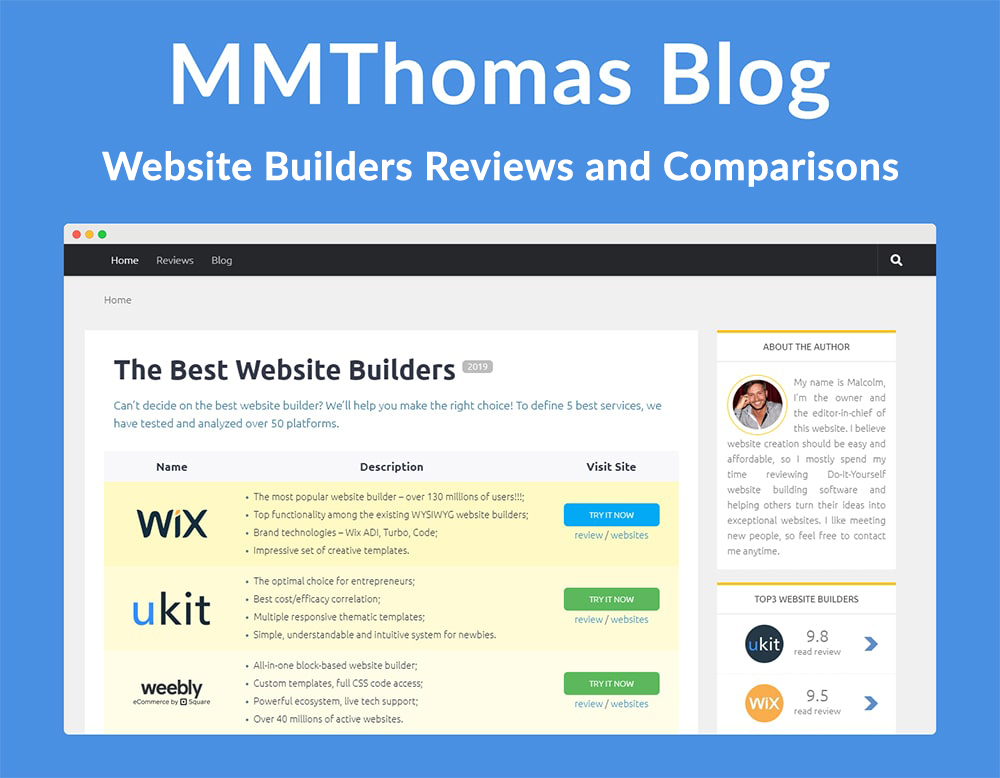 MMThomasBlog.com grants access to the collection of reviews and comparisons of website builders, which are written with the needs of web designers in mind. The resource also unveils the secrets of website development by means of analyzing and comparing the most popular DIY web building software. There are multiple posts, which deliver useful and updated information about website builders, their flexibility, simplicity, pricing aspects, designs and other parameters that matter a lot for effective website development.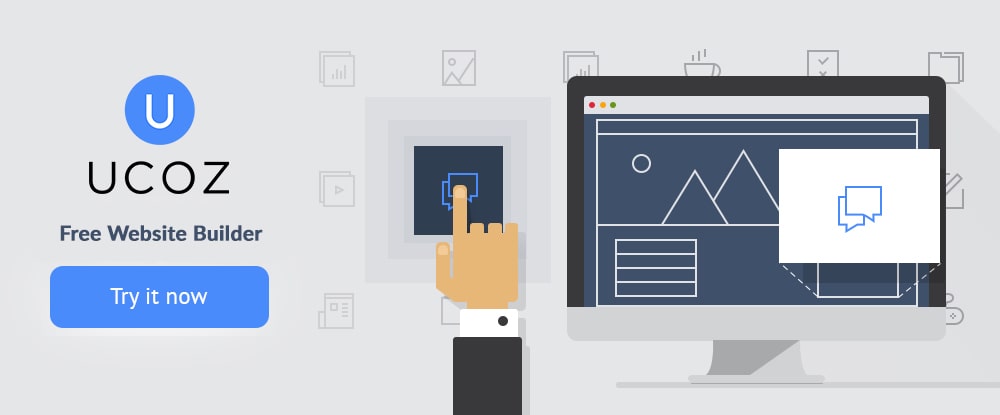 uCoz is a top multi-purpose website builder that offers beautiful pre-populated templates, a bundle of modules, a user-friendly DIY editor, free hosting, RSS import and export, full HTML and CSS control, and SEO features and more. It's an extremely time- and money-saving way of crafting a professional-looking website, even if you have no experience with or knowledge of code. Check it out yourself!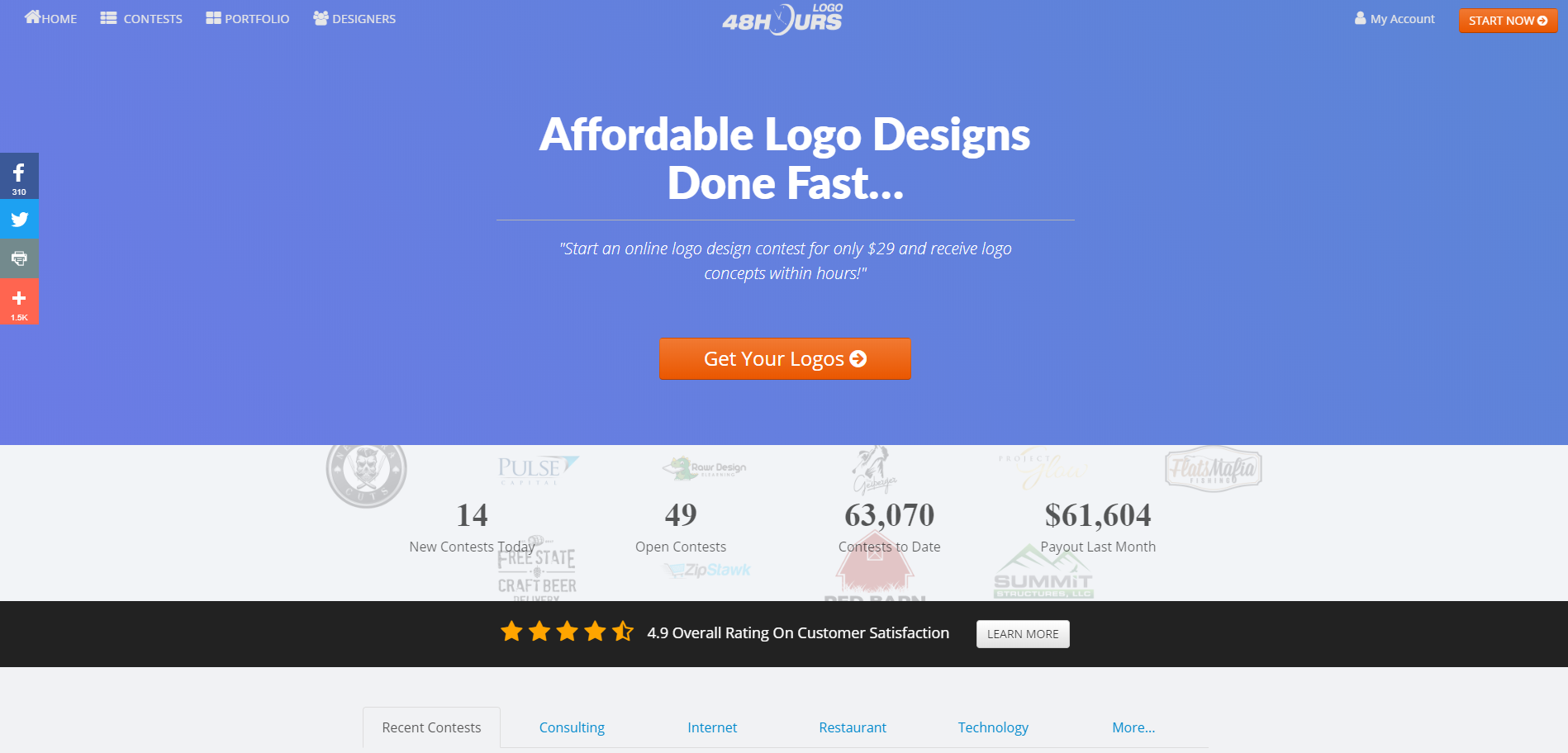 48HoursLogo will help you with affordable logo designs, made by real people (not computers), in maximum 48 hours. You will launch your own logo design contest in which graphic designers compete and send you logo designs to choose from.
Get your logos now.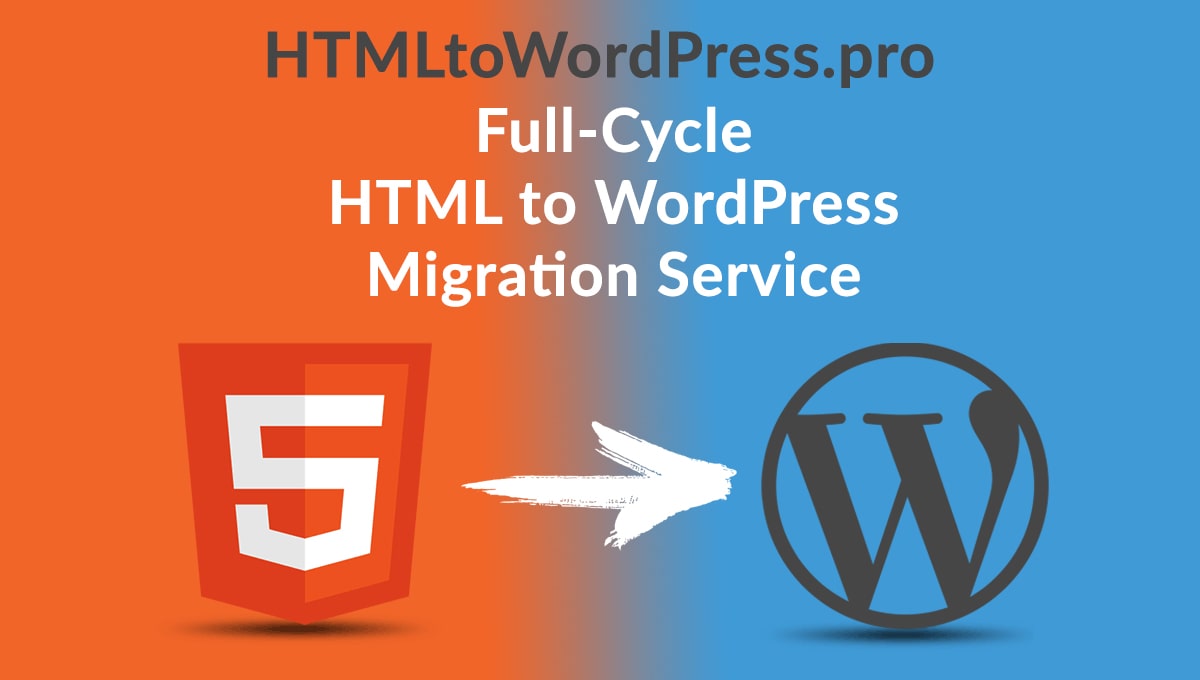 HTMLtoWordPress.Pro focuses on moving websites from HTML to WordPress with regard to their special parameters, characteristics and specifications. The service can successfully handle the conversion of all HTML-based projects, irrespective of their complexity rate and area of specialization. The experts analyze each project with precise attention to determine the plan of actions, cost and duration of the process.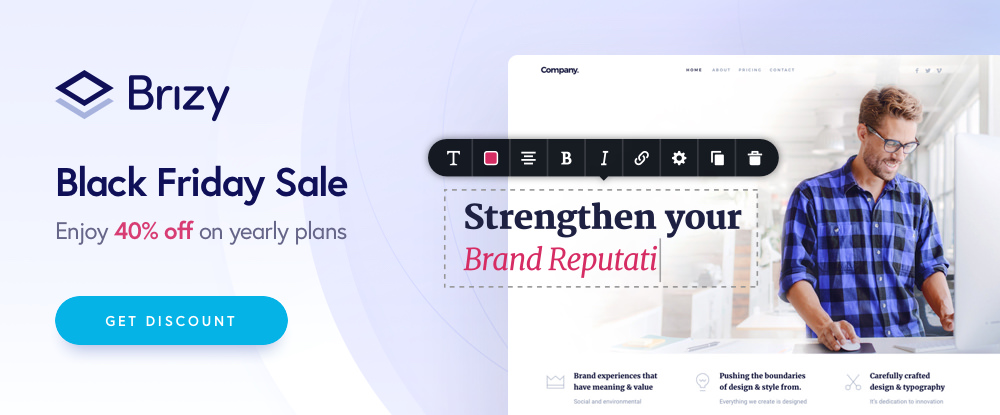 Looking to create high-converting landing pages and multipage websites but you lack the coding and designer skills? No worries, Brizy is the best page builder on the market that you can use, being loaded with over 750 premade blocks, 150+ page layouts, a drag-and-drop editor, and much more.
Use the discount Code: BF40OFF in the shopping cart on https://www.brizy.cloud/#pricing – available from 29 Nov to 2 Dec. You also get access to Brizy PRO WordPress plugin with your Brizy Cloud purchase.

WP2Wix.Com specializes in delivering professional WordPress to Wix migration services, which are completed by the best experts. They are concerned with high quality assurance and, thus, strive to provide high level of professionalism, when working on the accomplishment of client projects. Just apply for a free quote and wait until the team gets in touch with you to specify the details.
Shella – Ultima Fast Responsive Shopify Theme
Shella is the most used fashion theme for Shopify, being loaded with everything you need: tens of skins and page layouts, dedicated elements for fashion, a clean interface and easy to use editor.
With Shella you can easily make a website that stands out of the crowd.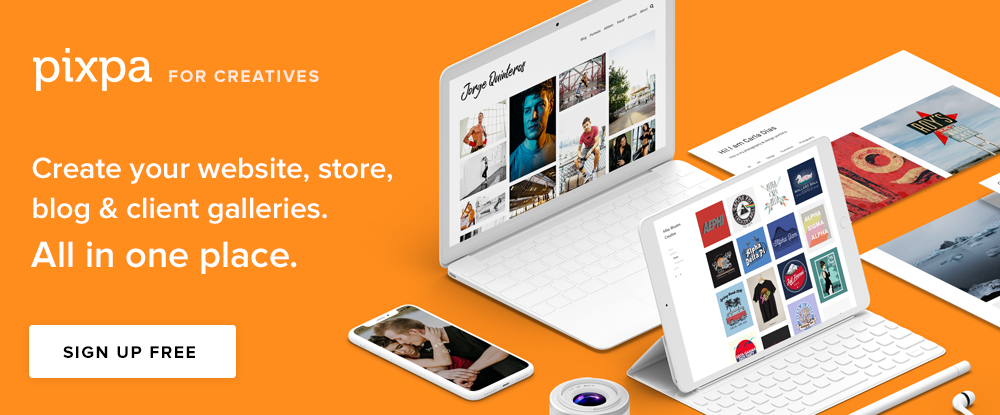 Pixpa will help you create your website, store, blog, and client gallery, all in one. No need to have any coding skills to create superb and fully functional websites. You will use the included gorgeous templates and the drag-and-drop builder to create your next websites.
Try it.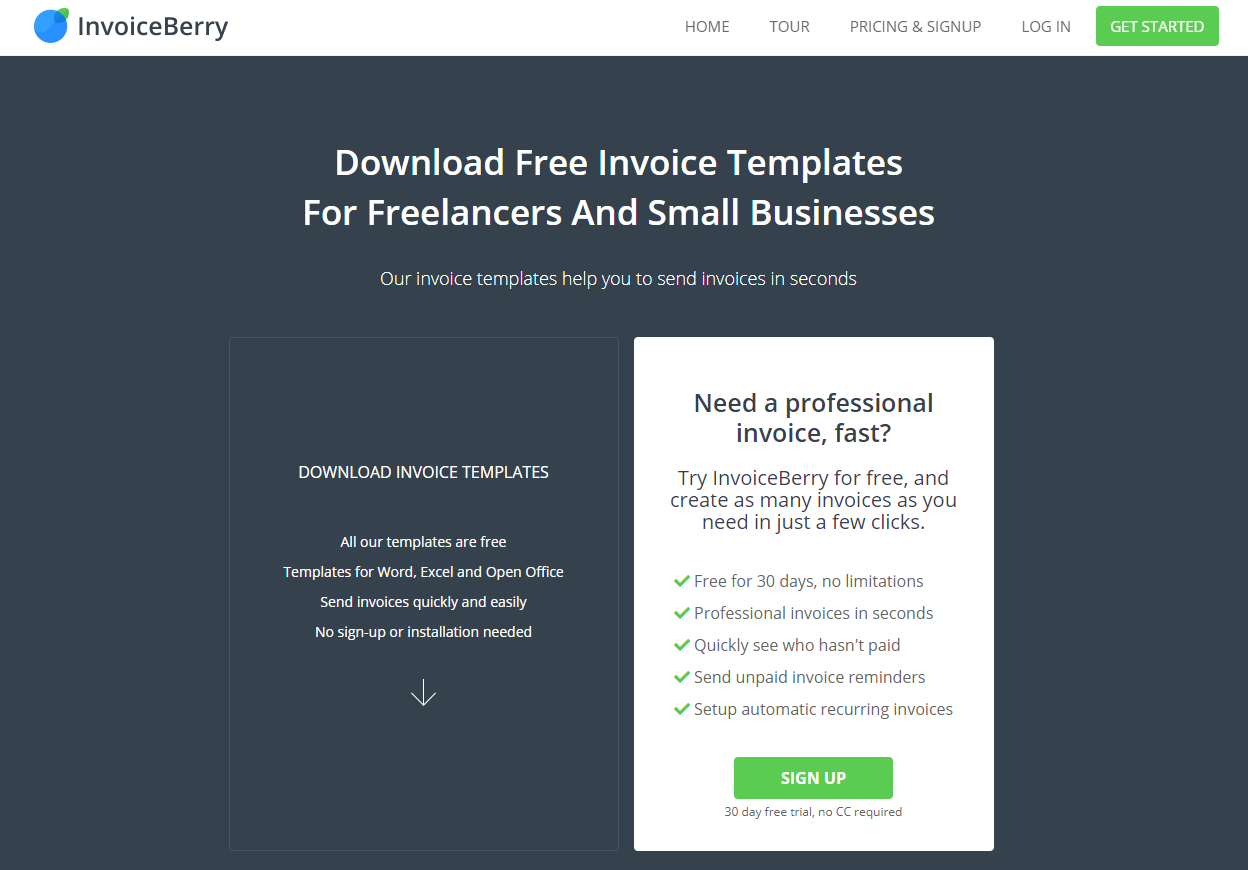 InvoiceBerry is a professional invoicing software that you can use for creating and sending fully customized invoices, to track expenses and payments, to create reports, and much more.
Sign up for the free 30-day trial, no credit card required.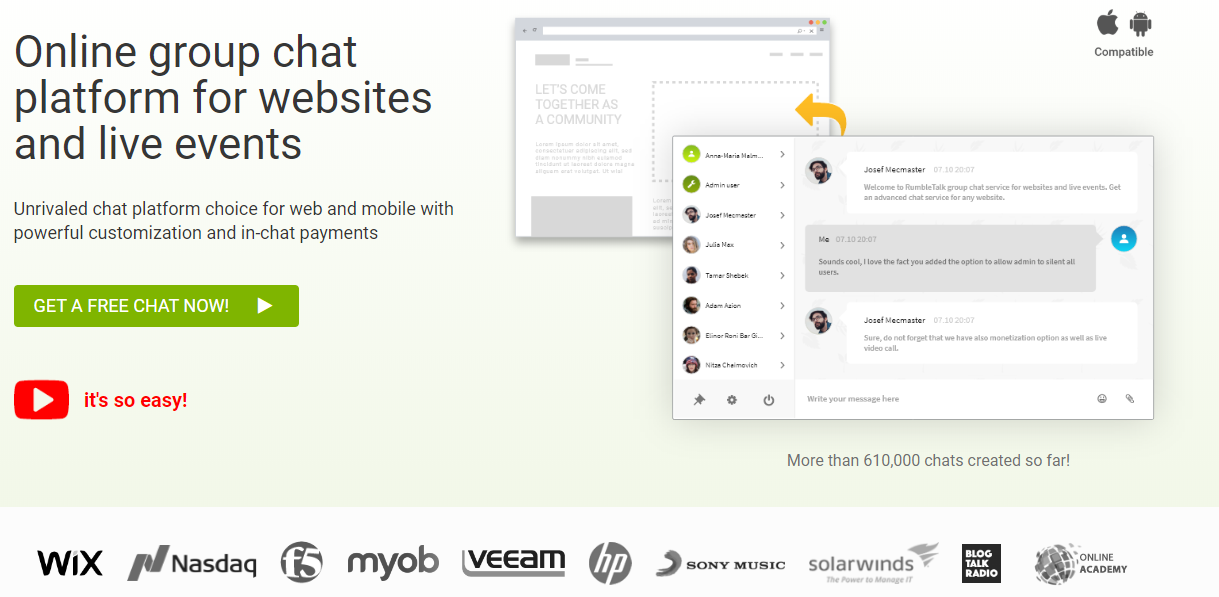 RumbleTalk is the easiest way to quickly add an online chat to your website and engage your audience. You need 0 coding skills and only 2 minutes to succeed.
Get a free chat now, you can easily boost conversions and make your existing customers happier, everybody loves a direct and easy contact.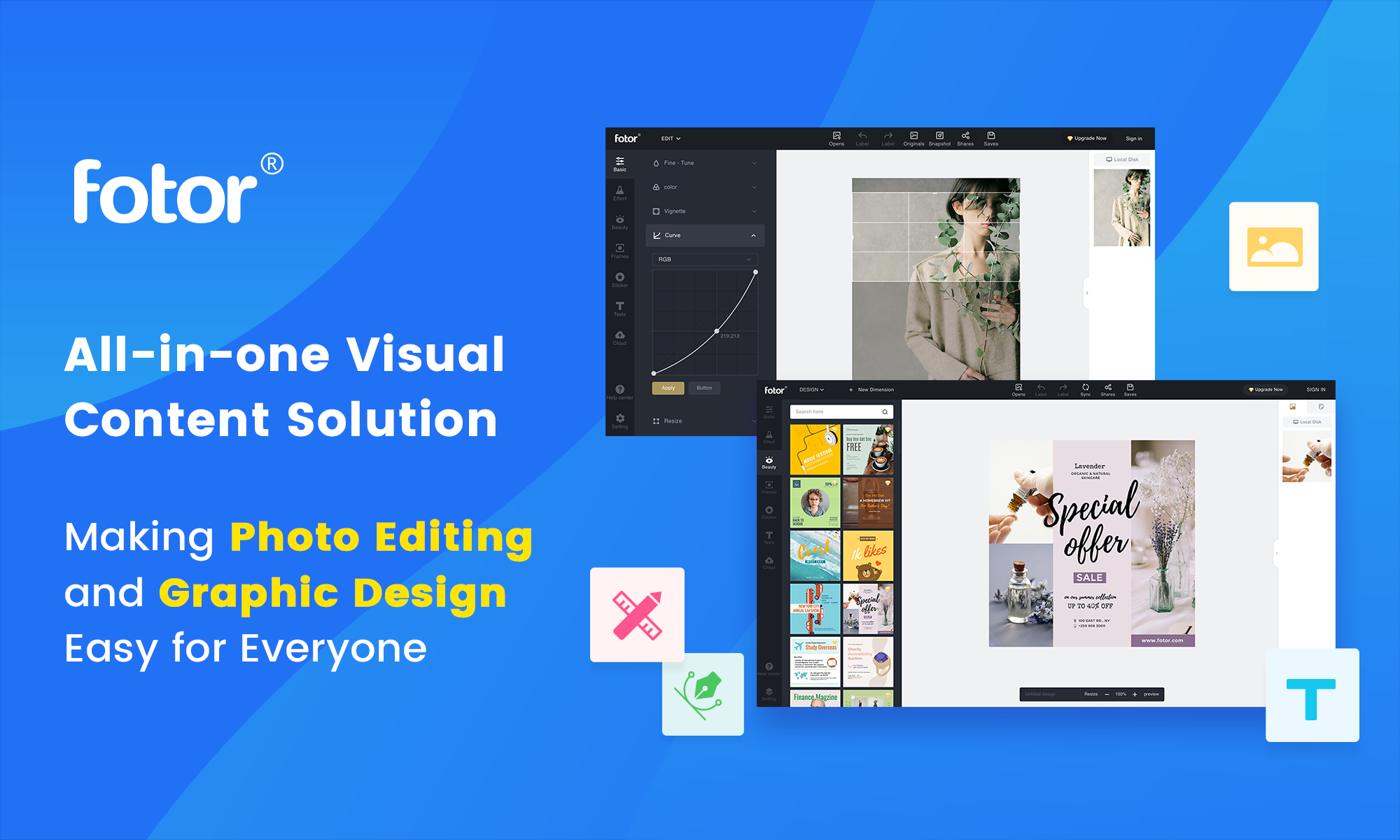 Looking to create exciting content for your social media channels, websites, and marketing materials? Fotor is used by over 300 million users to create and edit gorgeous photos that engage.
Start creating great photos with Fotor, you don't need any designer skills, the platform will help you with everything.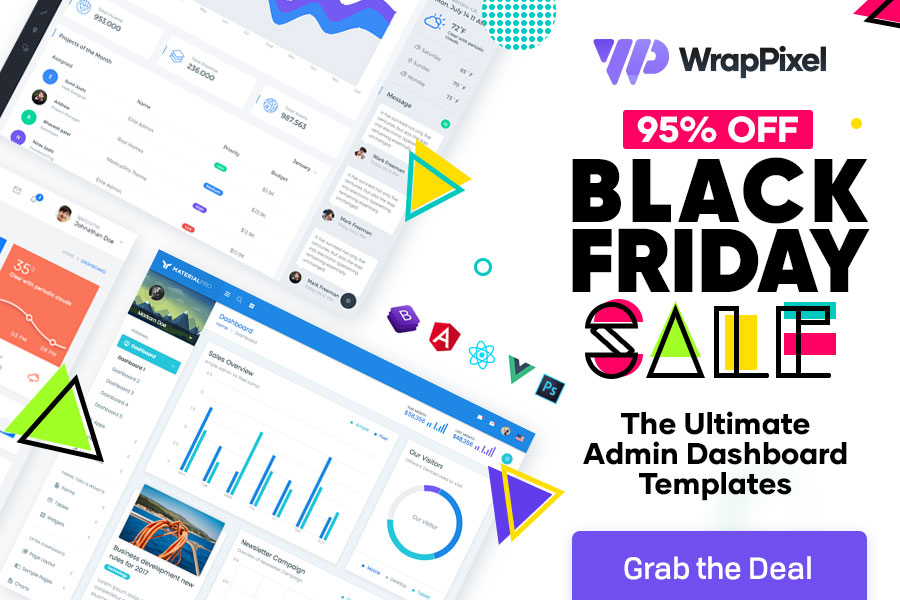 WrapPixel is the website you should visit whenever you need free and premium Bootstrap, Angular, React, Vuejs admin templates, plus UI Kits. They have top quality products, many being unique in this niche.
For Black Friday, they are selling a huge bundle with 24 premium items with 95% discount. Grab the deal.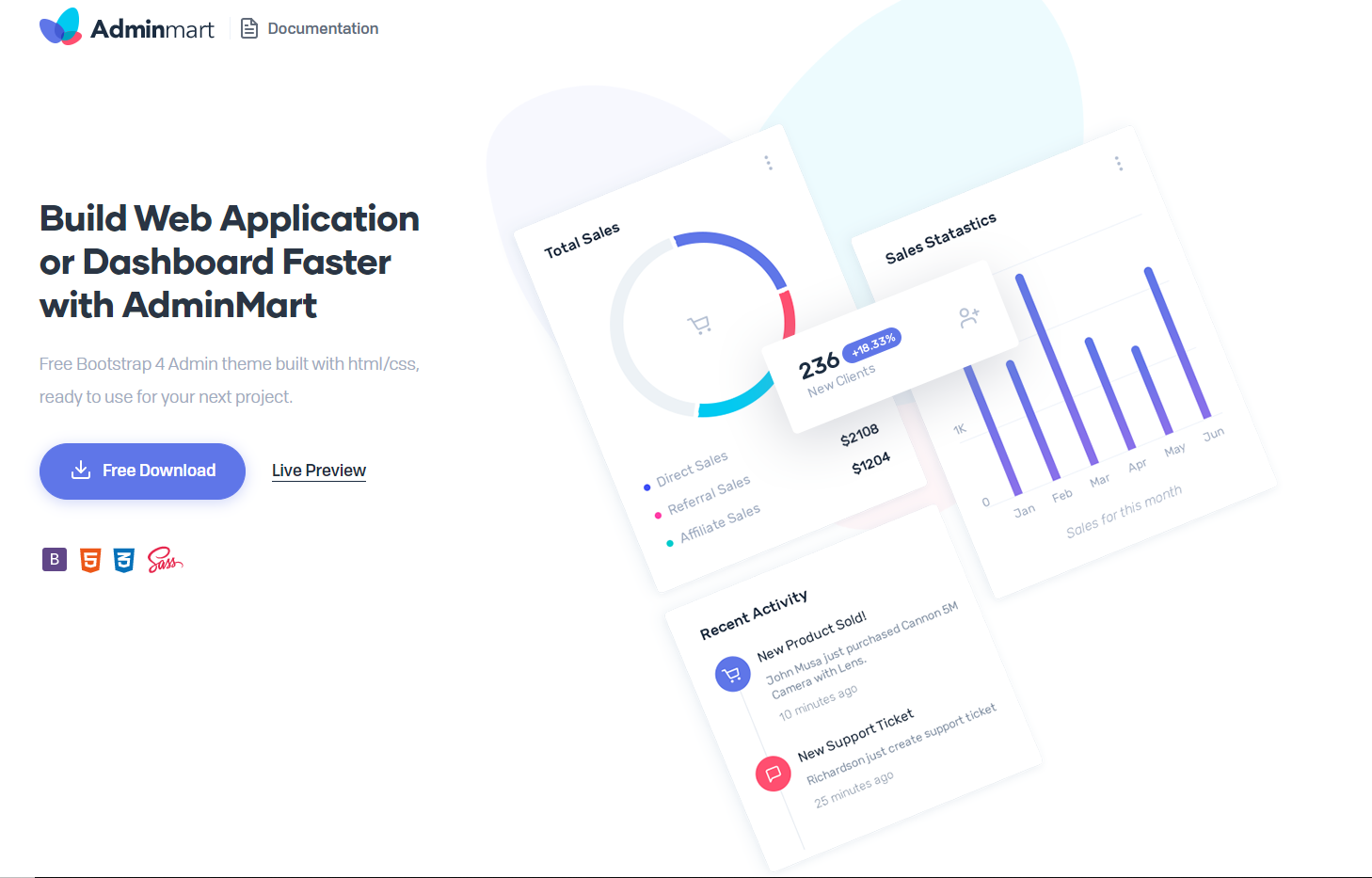 AdminMart is a free Bootstrap 4 admin used by lots of people to quickly create web applications and dashboards, in a much faster manner. It comes loaded with over 25-page layouts that will help you start.
Free download.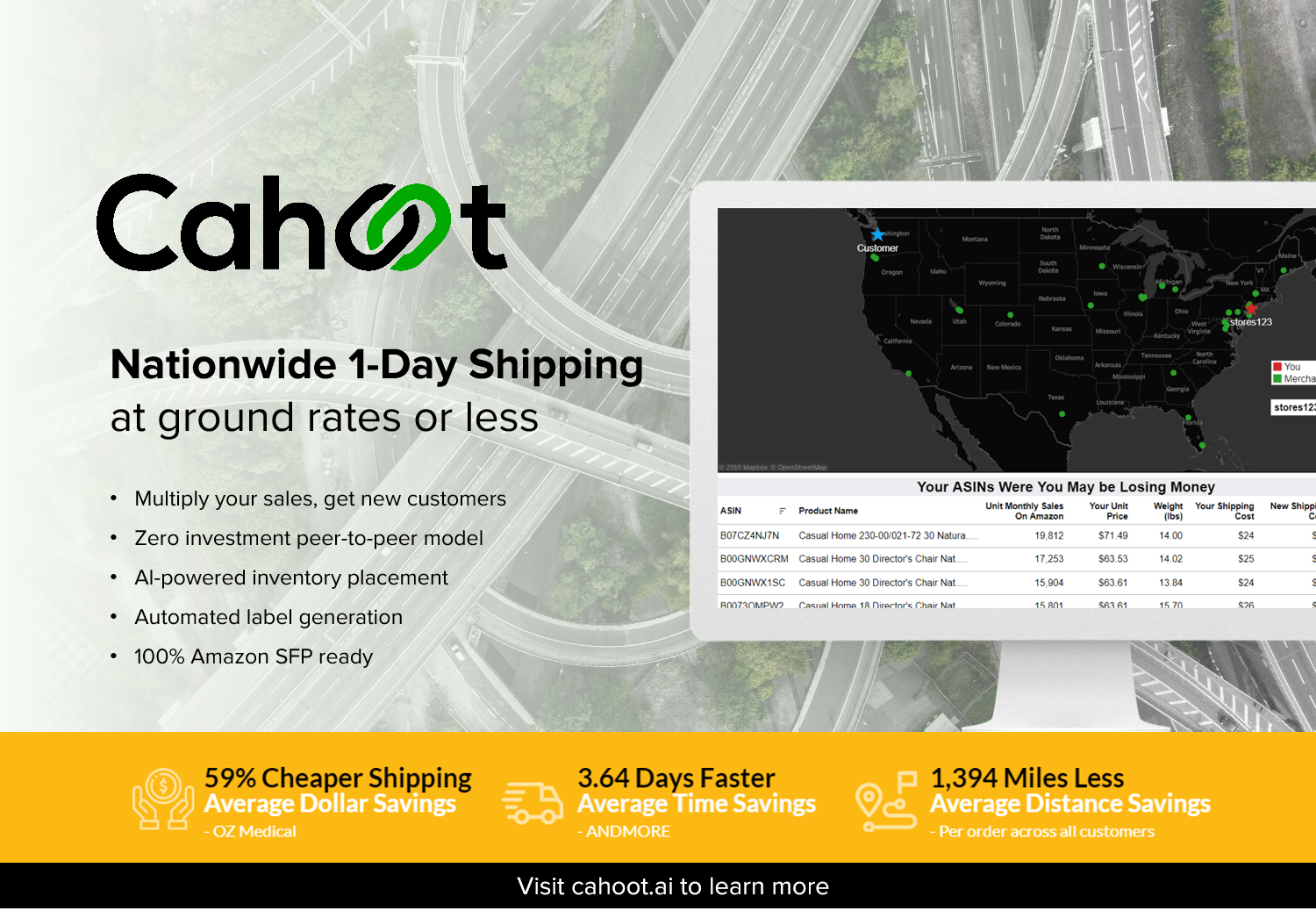 Cahoot's peer-to-peer network boosts seller's revenues and margins by enabling profitable 1-day and 2-day free shipping. Cahoot enables third-party sellers to exchange storage and fulfillment services. In addition to the network, Cahoot is supported by a robust shipping software that automatically generates the best shipping labels at the lowest price possible.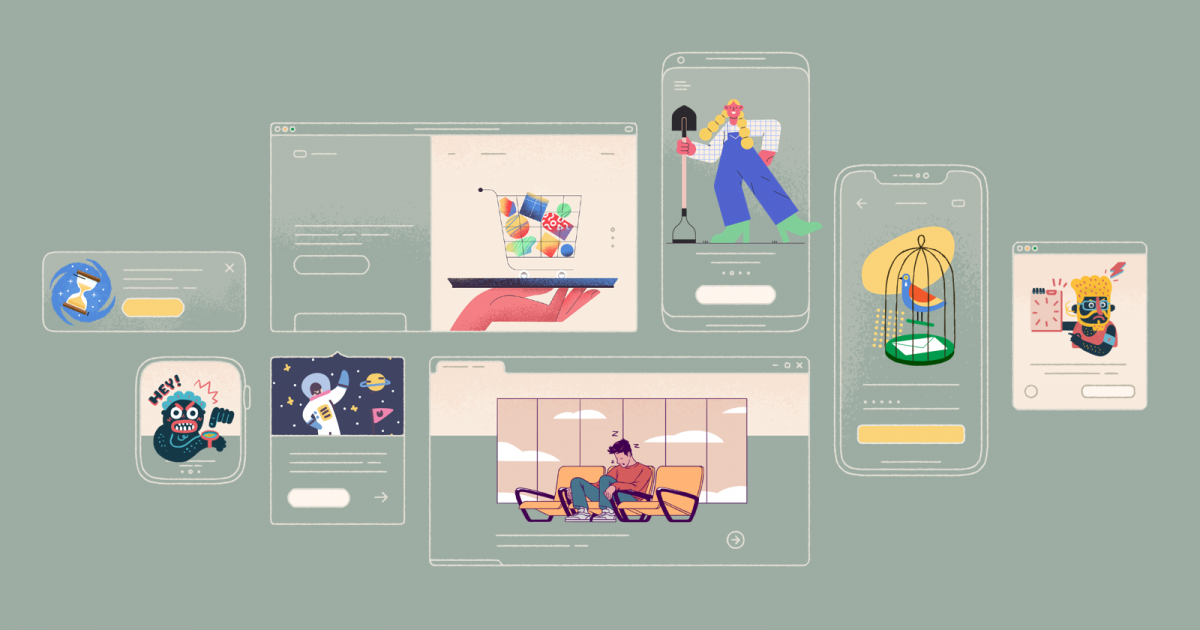 Ouch Vectors is a diverse library of free vector illustrations in over 20 design styles. It helps to overcome the problem of the boring content for creators who can't draw or teams without illustrators. The trendy vectors cover typical UX screens, notifications, and messages. As well, they work effectively as graphics for landing pages, emails, newsletters, and blog articles.
Gutentyle WordPress theme comes loaded with a handful of custom elements and page components that let you build versatile web pages on your own. It's fully based on the Gutenberg page builder. By means of custom layouts and post types, you can personalize your site's pages just the way you need it.